'When I Look Out To This Audience, Our Future Is Bright'
Tim Ryan, US chair and senior partner of PwC, urges Sawyer Business School graduates not only to point out problems but to implement solutions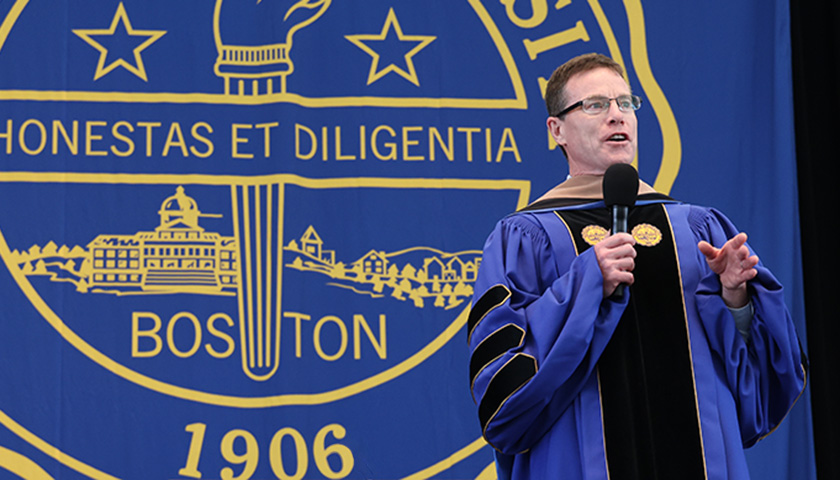 Tim Ryan told graduating students of Suffolk University's Sawyer Business School that he learned his most important lesson about leadership not in business school, but as a teenager, while working at a Roche Bros. grocery store.
"Leading people and raising your family isn't about making people like you," Ryan said. "It's about creating environments where everybody can realize their full potential to the best of their ability."
Ryan said he has carried that lesson forward with him throughout his career as the US chair and senior partner of PwC. He received an honorary Doctorate of Commercial Science at the Sawyer Business School ceremony, one of three Suffolk commencements held at Boston's Leader Bank Pavilion on Sunday, May 22.
Read Tim Ryan's Speech Transcript [PDF]
'Don't sit on the sidelines'
Ryan encouraged the Class of 2022 to be bold in their careers, to be ready not only to point out problems but to identify solutions and help implement them.
In 2016, shortly after he was elected senior partner at PwC, Ryan said he faced just such a moment. That summer had seen a wave of shootings in Dallas, Minneapolis, and elsewhere. After consulting with his team, Ryan decided to shut the firm down for a day so that the entire PwC community could talk frankly about race.
Although he was warned the plan could "blow up in my face," Ryan called the day a revelation: "We learned about each other, about the baggage that we carry, the worries that we have, and it made us better."
Most significant of all, he said, was the Black PwC employee who approached him at the end of the day and asked him to think even bigger, and consider how he could influence change throughout the business world.
"He was right," said Ryan, who went on to found CEO Action for Diversity & Inclusion. "Today we have over 2,800 [participating] CEOs, and we've convened over 3 million people to talk about unconscious bias and race across the country.
"That dream would not have started had it not been for one young man being bold, respectfully challenging me, and giving me a direction."
'I'm an optimist because of you'
Ryan also said he remains resolutely positive despite the enormous challenges confronting the world. That's because of the resilience and strength of character he sees among young people.
"The reason I'm an optimist is because of you. It's because of those challenges that you have overcome. It is because of your resiliency. It's because of the work you've done, not only in your studies but together."
Ryan said the Class of 2022 was more prepared to enter the workforce than any other generation before.
"When I look at what your generation is capable of, I am thrilled and excited. You're reimagining the possible. You're leveraging technology for good. You're working together. You are compassionate. And the work that you're doing to make our society better gives me nothing but optimism in our future."
His final piece of advice to the graduates: "Your most important work starts at home."
'You worked with us to bring us back'
Suffolk University President Marisa J. Kelly lauded graduates not only for their resiliency, but because "you worked with us to bring us back. The energy that you have brought to our campus as we emerge into a new normal is something I want to recognize and celebrate."
She also cited examples of everything that the Class of 2022 had accomplished, from creating startups to hosting big data workshops to continuing Suffolk's legacy of service at more than 80 nonprofit organizations.
Undergraduate student Commencement speaker Taylor Monteiro, who received her Bachelor of Science in Business Administration, talked about the extra challenges of being a first-generation college student and how "Suffolk University has made it clear we all belong here."
Read Taylor Monteiro's Speech Transcript [PDF]
Sawyer Business School graduate student Commencement speaker Gibson Laborde, who received his MBA, thanked Suffolk for being an early adopter of online education, giving him the flexibility to complete his degree as he raised a family, moved for a new job, and earned a law degree.
"Virtual classes became a necessity during the pandemic, and all of us had to change and adapt our methods of teaching and learning. We survived this challenge together," he said. "But Suffolk invested in online learning well before the pandemic, well before workplace flexibility became table stakes in global business. Suffolk had online programs when I first looked for them, in 2013, offering me and many others an education that we otherwise would not have pursued."
About Tim Ryan
Boston native Tim Ryan is a business leader, relationship builder, and innovator committed to building trust and solving important problems.
As US chair and senior partner of PwC, he is credited with reimagining the company for the modern era, leading a complete digital transformation to get ahead of the rapid pace of change in the industry by bringing people, capabilities, and technology together to support clients in trust-centered, long-term relationships.
During his first week as PwC chair in 2016, Ryan saw the need for more explicit conversations around diversity, inclusion, and equity in business and opened a firm-wide conversation about race in the workplace.
He went on to found CEO Action for Diversity & Inclusion, the largest CEO-driven business commitment to advance diversity, equity, and inclusion in the workplace. In 2021, he renewed the firm's commitment to Access Your Potential, to support a more equitable future for 25,000 Black and Latinx college students through advanced career, mentorship, technology, and career readiness training—including 10,000 who PwC US aspires to hire within the next five years.
Ryan serves on the boards of the Brookings Institution and the Financial Accounting Foundation. He is also chair of the Center for Audit Quality's Governing Board, a nonpartisan, nonprofit group dedicated to enhancing investor confidence and public trust in the global capital markets. He earned his BA from Babson College.
Commencement 2022
The Sawyer Business School Class of 2022 is composed of 908 new alumni, with 442 undergraduate and 466 graduate degrees awarded.
The ceremony was one of three Suffolk Commencements held on Sunday, May 22, at Boston's Leader Bank Pavilion. The University conferred a total of 2,066 undergraduate and advanced degrees, to graduates from 41 states and 60 different countries. Thirty-one percent of Suffolk's 1,104 undergraduate degree recipients are first-generation college students.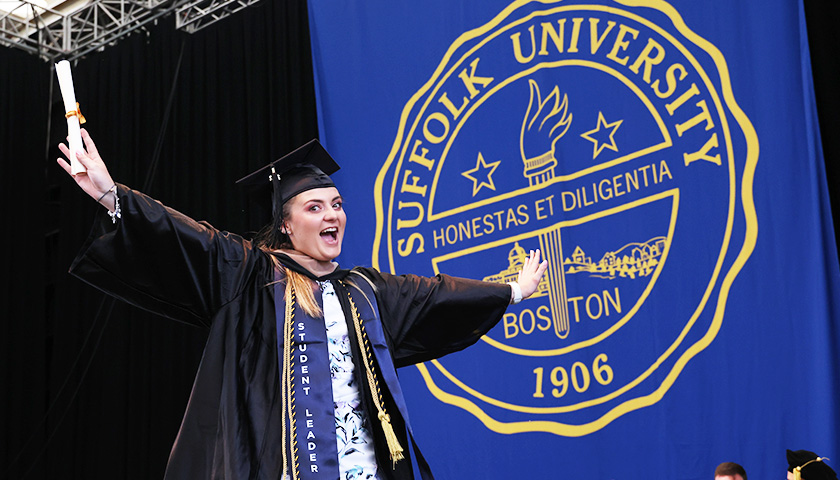 Sawyer Business School Commencement 2022 Images