'You Are Prepared to Be Our Next Greatest Generation'
Blue Cross Blue Shield of MA executive vice president Manny Lopes urges graduates to 'meet the moment' with authenticity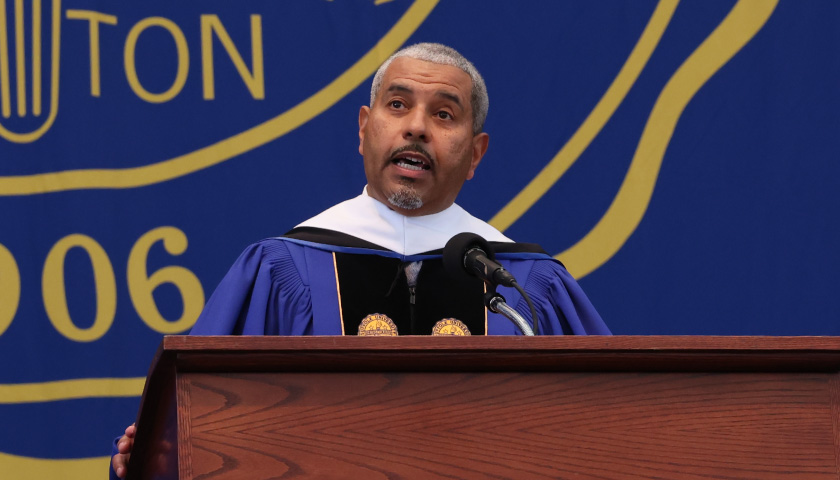 Manny Lopes, executive vice president for Blue Cross Blue Shield of Massachusetts and an advocate for greater access and equity in healthcare, encouraged graduates of the Suffolk University College of Arts & Sciences to embrace their authentic selves so they may better address the world's most pressing and complex challenges.
"Because [with] authenticity comes power. And with power comes the ability to effect meaningful change. This is the engine behind rising to meet the moment. As a community, we need you to be your most authentic you, whoever you are," said Lopes in his keynote speech at the Class of 2022 ceremony on Sunday, May 22.
"Think of it like this: Being yourself does all of us a great favor."
Lopes received an honorary Doctor of Humane Letters degree during Suffolk's celebration of the Class of 2022 at Boston's Leader Bank Pavilion.
Read Manny Lopes' Speech Transcript [PDF]
'Adversity helps us get comfortable in our authentic selves'
Lopes recounted his upbringing as the child of Cape Verdean immigrants in East Boston. He worked to help his family financially by delivering newspapers, cleaning squid, performing as a DJ, and eventually taking an entry-level job at the East Boston Neighborhood Health Center. That decision would change his life as he progressed through the ranks to eventually become CEO, earning an undergraduate degree and an MBA along the way.
Lopes shared that he'd grappled with feelings of insecurity he now recognizes as "Imposter Syndrome," and faced negativity from others as he advanced in his career.
"At many turns I was told I wouldn't succeed, I wasn't the right color, I didn't come from the right background," said Lopes. "Ultimately, I had to figure out how to be me, even if it meant that others didn't like me."
Lopes noted that the Class of 2022 has had to contend not only with the pandemic, but with "fighting for racial justice and equity, fair treatment of LGBTQ community members, for voting rights and human rights, for gender equality, and for the rights of women to make their own decisions."
"You, we, are not looking to replace anyone and we won't be replaced."
He shared his own experiences with racial profiling, including being arrested and charged with possessing a stolen vehicle when, in fact, he'd rented the car—an incident he attributed to "driving while Black."
"I refused, and I still refuse, to be bitter. Bitterness slows us down," said Lopes. "Those experiences, and other challenges I've experienced, only made me more determined. They made me more me. I still face the insecurities of being human and trying to make a difference. But adversity helps us get comfortable in our authentic selves."
Lopes implored the graduates to use the "experiential and transformational" education they gained "on the frontlines" at Suffolk University to engage and be engaged with the world and find solutions to their communities' shared problems.
"The hard stuff makes us stronger. And you, through everything you've endured, the strengths you've developed, the community you've fostered—you, you, are prepared to be our next Greatest Generation," said Lopes.
"By confronting the challenges of our times, by continuing to rise to meet the moment, you too will lead us to new political courage, creative accomplishment, technological advancement, and a more equitable prosperity."
'You are Suffolk ready, and you are a powerful force for good'
Suffolk University President Marisa J. Kelly celebrated the Class of 2022 as they completed a "rollercoaster" college experience, from in-person, to remote and hybrid, and finally back to in-person classes. Kelly marveled at their adaptability and expressed gratitude for their role in bringing life back to campus—and to the City of Boston.
"As you enter a work world that has also changed dramatically since the start of the pandemic, your ability to innovate, your willingness to engage and build community, and your extraordinary resilience will serve you incredibly well," said Kelly. "So will your commitment to creating a more equitable, just, and inclusive society. You will bring that commitment to the organizations and industries in which you work, and you will make them better. You are Suffolk ready, and you are a powerful force for good."
'Carry compassion with you and never let it go'
College of Arts & Sciences student Commencement Speaker Matyas Csiki-Fejer—who received an undergraduate degree in political science & legal studies and earlier this year became the first-ever Suffolk cross country runner to earn All-American status—acknowledged the many daunting personal and societal challenges of the past four years as he celebrated the support networks that helped students get to this moment.
"Both online and in-person support communities blossomed in a way I never would have expected. The idea of solidarity, the value of supporting others, even those you may not know personally, has become more important than ever before," said Csiki-Fejer, noting that it's "much more acceptable to ask for and to receive help from strangers than it was 10 years ago."
Csiki-Fejer spoke about the value of supporting one another using the example of traversing Suffolk's Boston campus in the winter cold.
"If you're walking alone on a windy day, you're going to be miserable. But if you're making the trek with two other people, suddenly the wind is funny. Suddenly it's a shared struggle that you can bond over and pull each other through," he said, closing by imploring his fellow graduates to continue to lift others up.
"Wherever you go, whatever you do, carry compassion with you and never let it go."
About Manny Lopes
Manny Lopes has a long history of working to improve healthcare quality, access, and equity for residents of the Commonwealth of Massachusetts.
Since 2021, he has served as executive vice president for public markets and government relations for Blue Cross Blue Shield of Massachusetts, the largest private health plan in Massachusetts.
Previously Lopes served as president and chief executive officer of East Boston Neighborhood Health Center, the largest community health center in Massachusetts and one of the largest in the U.S. Under his leadership, the center increased its numbers of patients served by nearly 40 percent and added two new state-of-the-art facilities.
Lopes is the co-founder and founding chair of the Community Care Collaborative, the largest Medicaid ACO in Massachusetts, and co-founder of Advocates for Community Health, a national advocacy organization for innovative health centers focused on equity and impact.
He is a former chair of the Boston Public Health Commission Board, and serves on both the Greater Boston Chamber of Commerce and the Institute of Contemporary Art's board of directors. He received his MBA from Northeastern University's D'Amore-McKim School of Business.
Commencement 2022
The College of Arts & Sciences Class of 2022 is made up of 780 new alumni, with 662 undergraduate and 118 graduate degrees awarded.
The ceremony was one of three Suffolk commencements held on Sunday, May 22, at Boston's Leader Bank Pavilion. The University will confer a total of 2,066 undergraduate and advanced degrees, to graduates from 41 states and 60 different countries. Thirty-one percent of Suffolk's 1,104 undergraduate degree recipients are first-generation college students.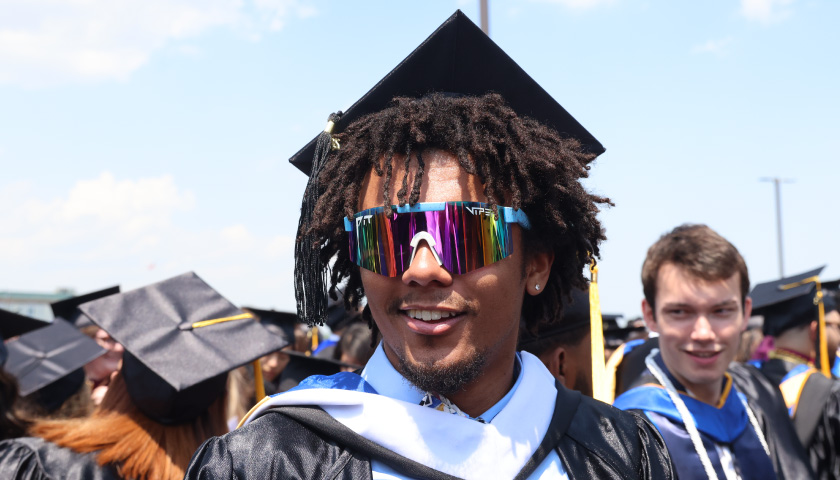 College of Arts & Sciences Commencement 2022 Images