The Nation Needs Suffolk Lawyers
In a divided country, US Ambassador Claire Cronin, JD '85, urges graduates to use the 'empathy muscle'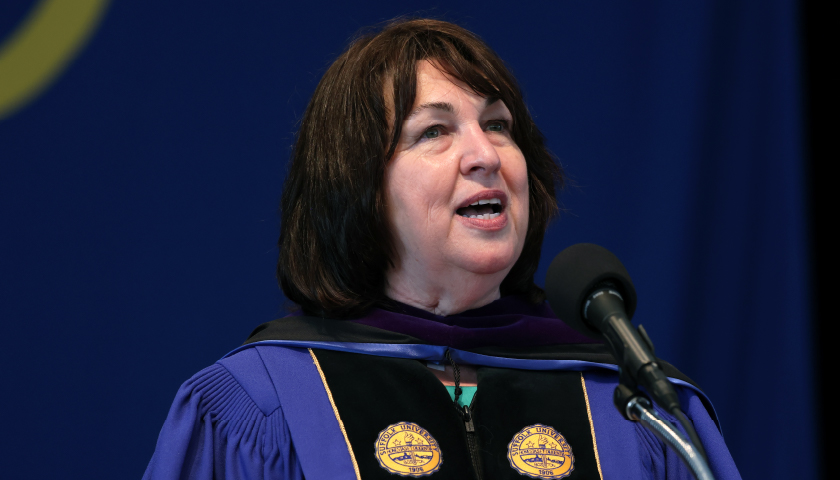 At a time when many view politics as a form of combat, Claire D. Cronin, the US ambassador to Ireland, used her Commencement address at Suffolk University Law School to celebrate not the partisan warrior, but rather the Suffolk lawyer—someone eager to look at different sides of an issue and willing to build relationships with people with whom they disagree.
"The ability you've honed during your time at Suffolk is both a perception muscle and an empathy muscle," she told the 378 members of the Class of 2022. "You've unlocked the ability to understand other people, their motivations, and what restricts them."
The Class of 2022 also learned new lessons in resilience during the Sunday, May 22, ceremony at Boston's Leader Bank Pavilion. The possibility of major thunderstorms delayed the ceremony, making it potentially risky to use the Pavilion's sound system. President Marisa Kelly promised the students the show would go on, even if they had to award the diplomas using a bullhorn.
When the weather cleared, a beaming Andrew Perlman, dean of the Law School, told the soon-to-be-graduates: "If there is any class that is prepared for just about anything, it is the Suffolk Law Class of 2022."
Read Claire Cronin's Speech Transcript [PDF]
'Relationships are everything'
Politics doesn't have to be a "dirty word," said Cronin, a 1985 graduate of Suffolk Law who received an honorary Doctor of Laws at the ceremony. "When it's practiced in its best and purest form, politics is empathy and relationships and people striving together to make things better."
It's a lesson, she said, that she learned in the legislature on Beacon Hill just a few blocks from the Law School. Prior to her ambassadorial appointment by President Biden in 2021, Cronin served as the Bay State's House majority leader and chaired the Committee on the Judiciary.
"Relationships are everything in the legislature," she said. "Educating yourself about how a state rep from a rural district in the western part of the state has different policy objectives than you, and why. About how an urban rep's constituents' needs differ from those of a rep from the Cape."
Cronin said it's much harder to see a person as an enemy when you have shared a meal, talked to their family members, and "had a meaningful conversation with that person and appreciate what makes them tick."
That kind of personal interaction makes it less likely for a politician to ignore the minority party's views, even in a state like Massachusetts, where Democrats have a lopsided presence in the legislature, she said.
Personal connections and opportunities for compromise are still possible on the world stage, she said, as well-trained, empathic lawyers like Suffolk Law's graduates fan out across the country and around the globe. "So much of the suffering in the world could be cured if we could impart to its leaders the lessons that you, my fellow Suffolk Law alums, are taking out into the world."
What the heroes across the street can teach us
Each day as she came in and out of her "beloved Suffolk Law," Sarah Howie, the law student Commencement speaker, looked out on the Granary Burying Ground, where John Hancock, Paul Revere, and other heroes of the American Revolution are buried.
The historic cemetery is "a constant reminder of the weight of our choices," she told the Class of 2022. "Walking out of those [Suffolk Law] doors, we came face to face with reminders of revolution, of resilience, and of perseverance. Each time we came into the building, we passed by the final resting place of those who, just like us, were compelled to change the landscape of their world."
Like the historic revolutionaries, "we must adapt, improvise, overcome, and persist," she said. "We must commit ourselves to their example. So, sign first like Hancock. Sound the alarm to injustice like Revere. Have a brewery named after you like Adams. Make your name something worth memorializing because your legacy starts today."
Howie, a native of Tampa, Florida, and a Suffolk National Trial Team member, graduated with distinction in the Trial and Appellate Advocacy concentration. She plans a career in plaintiff's personal injury law.
'You refused to turn away from the adversity around you'
In spite of the stresses of the pandemic, from financial burdens to personal loss, Suffolk Law's 2022 graduates found the mental reserves to serve the public in its time of need, said Suffolk University President Marisa J. Kelly.
"In these most trying of times, and in the face of significant personal obstacles, you have sought to help others. You refused to turn away from the adversity around you. Instead, you used your legal education and ingenuity to help others face some of their most difficult and complicated challenges," she said.
Suffolk Law provided nearly 40,000 hours of pro bono legal assistance through its legal clinics—services with a value of nearly $5 million dollars, she noted, including representing low- and moderate-income individuals in eviction cases, providing free legal aid for low-income survivors of domestic violence, and teaming up with Greater Boston Legal Services to help Haitian refugees apply for temporary protected status.
'Remember your resilience'
Suffolk Law Dean Andrew Perlman asked the graduates not to forget their experience during a historically challenging moment. "Remember your resilience and courage in the face of the deadliest pandemic in over a century. Remember how you completed law school under these extraordinarily difficult conditions. Hold onto that perseverance, that grit, and that determination. Those are defining traits of Suffolk Law graduates, and you have already proven that you have them," he said.
While some might look at the world today and despair, he said, Suffolk Law graduates can use their legal training to take on a host of challenges—among them, restoring social order and international norms in the wake of Russia's invasion of Ukraine and addressing climate change, distrust in science, and the rise in conspiracy theories.
"You will go about all of this work in big ways and small, but make no mistake that you will be doing this important work and helping to ensure that the world we leave behind is better than the one we have inherited, and that the veil of civilization is just a bit thicker," he said.
Read Andrew Perlman's Speech Transcript [PDF]
About Ambassador Claire Cronin, JD '85
As the current US ambassador to Ireland, Claire D. Cronin, JD '85, has spent her career in public service carrying on a proud legacy of breaking barriers, improving access to education and healthcare, and advancing civil rights.
Prior to her ambassadorial appointment, Ambassador Cronin served as a member of the Massachusetts House of Representatives and was the first woman to serve as House majority leader. She also chaired the Committee on the Judiciary, where she was the architect of major criminal justice and police reform bills, among other significant legislation.
She worked to increase protections and services for victims of domestic violence and was a vocal advocate for veterans and their families.
Public service is not only a core value for Ambassador Cronin, but also a cornerstone of her family's history. Cronin's great-uncle served as the first blind legislator in the Massachusetts House of Representatives. Her uncle, C. Gerald Lucey, served in the Massachusetts House of Representatives and was later elected mayor of Brockton.
She is the recipient of multiple honors and awards, including the Massachusetts Bar Association Legislator of the Year, the Massachusetts League of Community Health Centers Leader Award, and the Equal Justice Beacon of Justice Award. She earned her BA from Stonehill College and her JD from Suffolk University.
Commencement 2022
The Suffolk University Law School Class of 2022 is made up of 378 new alumni. The ceremony is one of three Suffolk Commencements that were held on Sunday, May 22, at the Leader Bank Pavilion in Boston. The University conferred a total of 2,066 undergraduate and advanced degrees.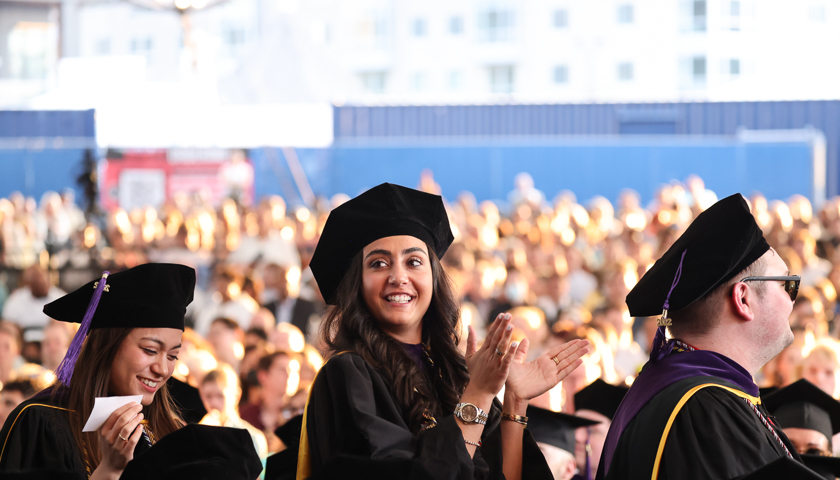 Law School Commencement 2022 Images