Speaking Out for Ukraine
Ukrainian student Nika Chelnokova uses what she's learned in her Social Change course to help rally support for her homeland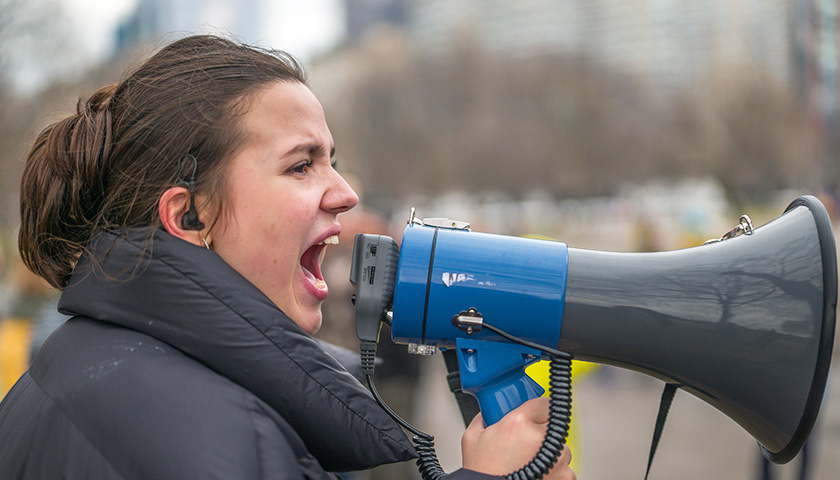 Nika Chelnokova has never enjoyed public speaking. Class presentations, even to small groups, make the rising Sawyer Business School senior uncomfortable.
But earlier this year, Chelnokova found herself somewhere she never imagined she would be: leading a rally of several hundred demonstrators gathered on the Boston Common to protest the Russian invasion of Ukraine—her homeland. Chelnokova organized the rally together with Ukrainian students at Suffolk and other area universities to help raise awareness and relief funds. On March 10—the same week that Russia began shelling the Ukrainian capital of Kyiv, where her parents and brother still live—Chelnikova grabbed a bullhorn and delivered an impassioned speech decrying Russia's unprovoked attack.
"It was an incredible moment in front of the crowd," Chelnokova says now. "I felt that it wasn't a speech, it was a conversation. And people started clapping and cheering. I felt the power of support."
This kind of social organization isn't totally new to Chelnokova. In fact, during the spring semester she took the Social Change course taught by Professor Leann Baldwin, which exposes students to contemporary social issues and movements and examines the roles of governments, businesses, and nonprofit organizations in addressing those problems. And as a marketing major, Chelnokova is already familiar with many of the skills she needs to help her write media advisories, organize events, and raise money.
"We were learning about social movements two weeks before everything happened," she says. "So once things started over in Ukraine, I started talking with Professor Baldwin to see what I could do to make things happen."
Demonstration education
Chelnokova says she used her Business School classes to guide her, including accounting (to help with tracking donations) and organizational behavior (to help keep protesters focused).
"It's really a professor's dream to see a student take what they're learning in the class and apply it to real life," says Professor Baldwin.
Chelnokova plans to stay in Boston this summer and continue organizing meetings. Her parents and her brother remain in Kyiv, because Ukrainian martial law forbids all men between 18-60 to leave. And she won't be traveling to Ukraine.
"I want to see my family and friends there," she says, "but my father won't let me because he is worried about my safety."
So, for now, Chelnokova is keeping Ukraine close to her heart—and working hard to make sure that it stays top of mind for Americans.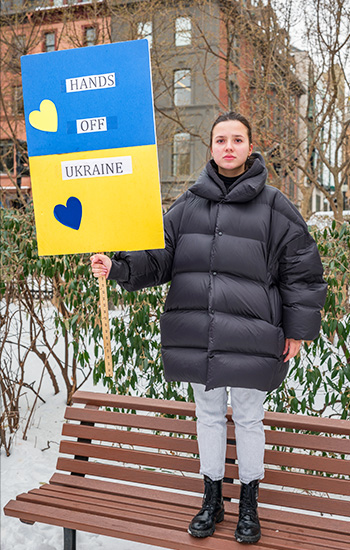 Contact
Greg Gatlin
Office of Public Affairs
617-573-8428
Ben Hall
Office of Public Affairs
617-573-8092