Suffolk honored recent alumni at its annual 10 Under 10 Recognition Night—the first in-person ceremony in two years
As director of finance at Chica Project, a Boston nonprofit that works to close the opportunity divide for young Latinas and women of color, and the founder of the Nur Collective, an organization supporting first-generation trailblazers, Lina Cañon, BA '13 had clearly earned her place at this year's 10 Under 10 awards ceremony.
As she accepted her award on May 12, she couldn't resist a joyful quip: "I am grateful to be recognized today alongside so many amazing alumni, like my friend, Brian Lim," she said. "It was Brian who taught me about humility—'always a student, never a master'—but we're looking real masterful now, aren't we?"
Her statement encapsulated the feelings of gratitude, accomplishment, and triumph that permeated Sargent Hall's Blue Sky Lounge at the end of an unusually demanding academic year. The annual 10 Under 10 event celebrates ten Suffolk alumni who graduated in the past decade and who are already making their mark in their careers, their communities, and through their service to Suffolk.
Nominated by faculty, staff, and their peers, the honorees are selected by Suffolk's Graduates of the Last Decade Council, who organized the evening event with the Office of Advancement. Because of the pandemic, this was the first 10 Under 10 ceremony to be held in person and with a full audience in two years.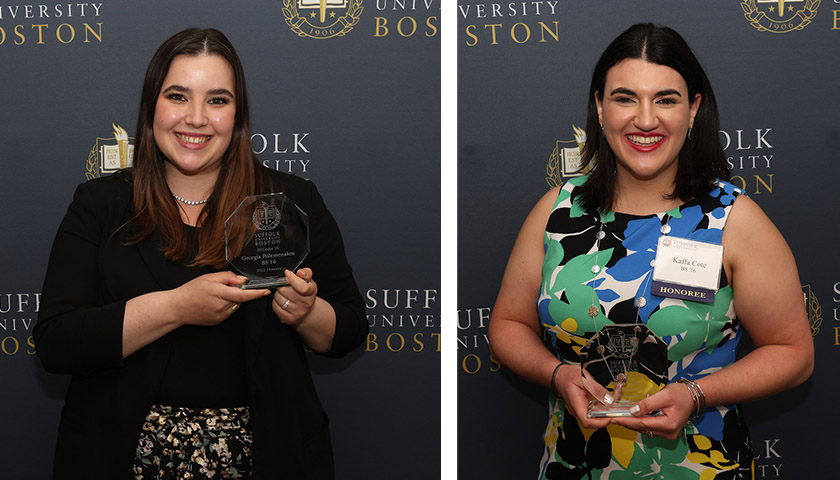 The honorees spoke with emotion about those who raised and educated them. Brian Lim, BSBA '13—breakdancing champion, community organizer, and co-founder of The Flavor Continues, a nonprofit that serves the street and club dance communities—thanked his parents, who came to America as refugees from Cambodia. He dedicated his award to the street dance community, which, he said, embodies much more than entertainment. "When we think about [dance]," he said, "we think about community-building. We think about education. We think about diplomacy, entrepreneurship, and liberation of the people."
Jeffrey Lopes, BS '12, noted that he and his twin brother—also present at the ceremony—both graduated from Suffolk as first-generation college students. Lopes, who went on to earn an MPA from Suffolk and a doctorate in law and policy from Northeastern University, is now a detective with the Boston Police Department and president of the Massachusetts Association of Minority Law Enforcement Officers. He was drawn to public service, he said, "because without solutions, compromise, and innovation, we cannot effect change. Suffolk University developed that part of my personal foundation and belief system, which has led me to become peace builder and a bridge builder."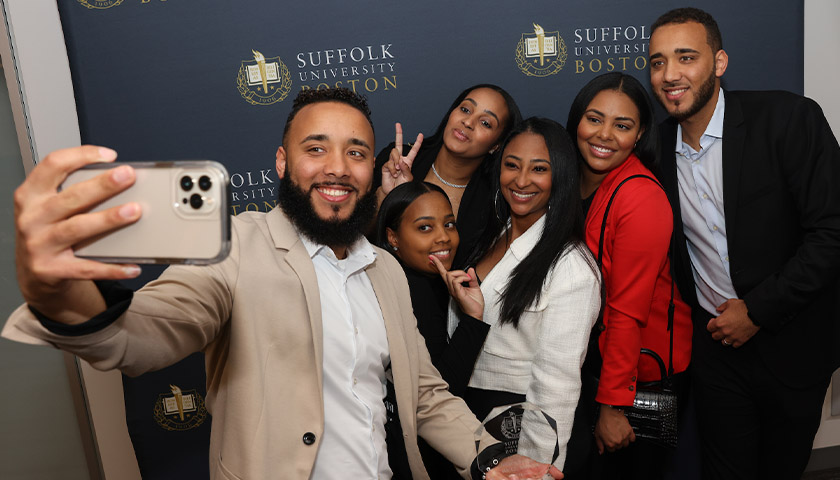 "My professors and my classmates gave me a diverse global perspective that I didn't even know I was missing," said Megan Tranfaglia, BSBA '14, MBA '15, who graduated summa cum laude with an MBA from Suffolk and now works as a digital marketing leader at Aruba, a Hewlett-Packard Enterprise company. Another award recipient, Paulo-Vitor Paraguay, BSBA '12, operates The Kandy Korner, one of Cape Cod's most popular candy and ice cream stores, which he bought and managed while still a Suffolk student. An active member of many organizations to improve civic life in Hyannis, he credited his family, his mentors, and his community with his success and his drive to give back.
Matt Durkin, BA '17, MPA '22, was honored for establishing the Durkin Foundation, a nonprofit organization that assists those impacted by Alzheimer's disease. The organization also provides skills training to people with intellectual disabilities, and helps US veterans gain access to job placement services and mental healthcare. In a moving acceptance speech, Durkin quoted former Secretary of State Hillary Clinton, saying: "Do all the good you can, for all the people you can, in all the ways you can, for as long as you can."
Award recipients also included Kaffa Cote, BS '16, a senior associate scientist at Pfizer who worked on production of their COVID-19 vaccine; and Georgia Polemenakos, BS '16, who, as part of Governor Charlie Baker's administration, was tasked with ensuring access to personal protective equipment for Massachusetts residents and frontline workers. Both are currently pursuing master's degrees while working full-time. Nicholas Fernandes, BS '21, was honored for founding a startup that distributes feminine hygiene products to women's shelters and works to educate men about women's health. Tai Le, BSBA '14, who founded an award-winning eponymous fashion label, was working from Vietnam and unable to attend.
Suffolk President Marisa Kelly praised all the honorees, noting that at this time of year "we are celebrating two sides of the same coin: our graduating students and our successful alumni. That is why we exist as an institution."