Coming Full Circle
Bay State leaders gather at Suffolk Law to honor attorney George N. Keches, JD '75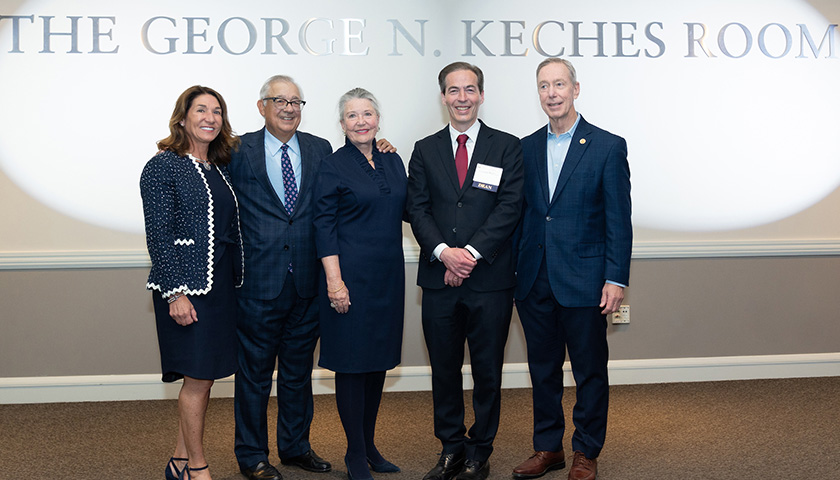 The Suffolk Law community and a group of Bay State political leaders gathered on May 25 for what Lt. Governor Karyn Polito called a "full circle moment"—the naming of the school's chief gathering spot, the first floor function room of Sargent Hall, in honor of attorney George N. Keches, JD '75.
Keches and his wife, Ann Maguire Keches, have pledged $1 million to Suffolk University Law School to create two new scholarships focused on first-generation students with financial need. The closure of the circle Polito referenced comes 47 years after George Keches graduated from Suffolk Law. In the early 1970s, Keches, a young Judiciary Committee staffer in the Massachusetts Legislature, was given the chance to attend law school and embark on a legal career by then-Dean Judge John E. Fenton, Jr.
The lieutenant governor joined US Senator Ed Markey, US Representative Stephen Lynch, Suffolk University President Marisa Kelly, Suffolk Law Dean Andrew Perlman, and incoming Black Law Student Association President Kerimal Suriel Guerrero (Class of 2023), all of whom shared remarks. David J. Sargent, University president emeritus and a crucial role model for George Keches, was also in attendance and was acknowledged for his long service. The dedication took place before a large crowd that included Keches family members, friends, and law firm colleagues, as well as Suffolk Law alumni.
Passion to level the playing field
Senator Markey, who became friends with George Keches in the 1970s when both were working in the Massachusetts State House, appeared via video to thank the Kecheses for "their passion to level the playing field and ensure all have access to a legal education."
Lt. Governor Polito described the Kecheses as the kind of people who nurture relationships, year after year, in a way that few make time for: "We all know that if we needed to help someone that we couldn't help ourselves—we all called George. And George can inevitably find that path to make sure that someone gets an opportunity."
She thanked the couple for "investing in young people who just have dreams that they want to see come true."
Using the law to lift others up
Representative Stephen Lynch first met George Keches 44 years ago, when Keches served as Lynch's lawyer.
"I was a young ironworker and I had been injured on the job, and that's when our relationship began," he explained. "You have no idea how important that is unless you're on the receiving end. And I saw how our [union] families were lifted up. They were protected, medical bills were paid, compensation was delivered. And those families, because of George and Ann's representation, are in much better shape now than they would have been otherwise in a very, very dangerous trade."
'A great reflection of humanity'
Kerimal Suriel Guerrero, a rising 3L, thanked the Kecheses for giving first-generation college students a chance to attend law school and the opportunities a law degree unlocks.
The standout student shared her story of arriving in the United States from the Dominican Republic with her family at age 5.
Her dream of attending law school would have been impossible without a scholarship like those the Kecheses have created, she said, and Suffolk Law delivered one, with full tuition coverage. "The key factor I want you to take away," she said, "is that there are thousands, maybe even millions, of families just like mine that simply need a little bit of help to find their way."
"I want nothing more than to have the ability to follow in your footsteps one day and support my alma mater just as you are doing today," she said.
Paving a path to opportunity
Dean Andy Perlman drew a direct line between Keches and Suffolk's founder, Gleason Archer. Perlman explained that when Archer had trouble paying for his own education due to medical expenses, "another man named George—someone named George Frost—loaned him the funds to complete his law school education." Later, when Archer sought to repay those funds, Frost declined, telling him instead to pay the gift forward, which led Archer to found Suffolk Law School in 1906.
"George, you are carrying on Frost's legacy," Perlman said. "You are paving the way so that others can achieve the kind of success that you have had throughout your life and career."
President Marisa Kelly noted how fitting it was to have a central University meeting space named after someone doing so much to support students. She also paid tribute to Keches's mentor, University President Emeritus David J. Sargent, noting his transformational impact on both the University and the Law School.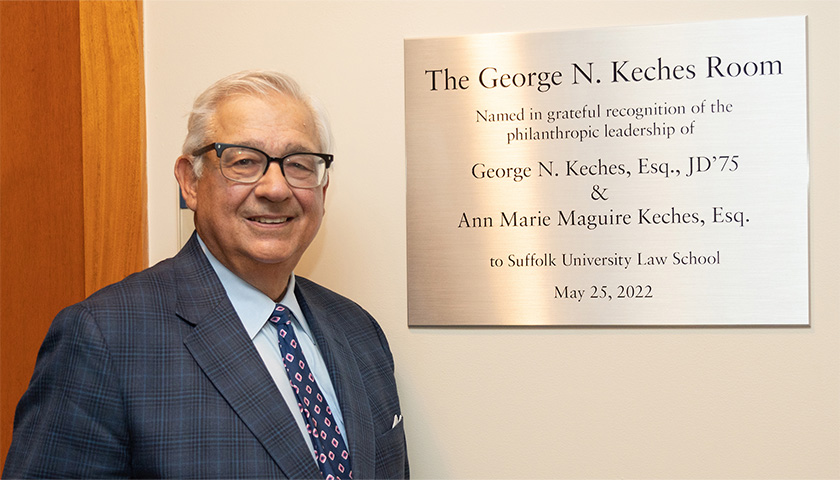 'A legacy that will endure'
George Keches spoke of the enduring personal impact that Sargent had on him and his legal career.
"I've modeled some of my speaking techniques and what I've tried to achieve in life on President Sargent," Keches said. "When you were lucky enough to take one of his courses or be in a room where he was giving a speech…you were in the presence of greatness."
He described the new scholarship program as a way to create "a legacy that will endure," offering a new set of students a chance to practice the profession. The scholarship funds and the evening's honors wouldn't have been possible, he added, were it not for his wife, Ann Maguire Keches. Her legal successes, as "one of the two female attorneys who broke the ceiling in practicing litigation law in the eighties," allowed him to take a chance and launch his own firm, he said.
About the scholarship fund
The fund will support Law School students from Massachusetts who represent the first generation in their families to complete an undergraduate education and who have demonstrated financial need. An additional $50,000 will establish a memorial scholarship in honor of George Keches's friend and fellow Suffolk Law alumnus, the late Thomas F. Healy, JD '79, a former assistant district attorney for Bristol County and member of the Massachusetts Judicial Nominating Council. The Thomas F. Healy, JD '79, Endowed Scholarship will also benefit Law School students with demonstrated financial need.
More about George Keches
George Keches is the founding partner of Keches Law Group. With more than 30 attorneys, the law firm is one of the largest plaintiffs' personal injury practices in Massachusetts. He was the youngest commissioner ever appointed by a Massachusetts governor to the Department of Industrial Accidents, which oversees the adjudication of workers' compensation cases. He taught workers' compensation law as a professor at New England School of Law for over 13 years. He also served as chair of the Workers' Compensation Committee of the Massachusetts Academy of Trial Attorneys, and has lectured extensively to attorneys in various legal education forums including the Massachusetts Bar Association and Massachusetts Academy of Trial Attorneys.