Leaving behind friends and faculty can be emotional for new graduates. For Sayler Tyson, saying goodbye to her neighborhood in Boston's North End was just as difficult.
When Tyson was choosing a college, she was adamant: No giant lecture halls where she'd get lost in the crowd. She'd been one of just 60 graduates of her Austin, Texas, high school class and loved the close-knit environment. But Tyson, who at 17 had saved for and taken a month-long service trip to Nepal by herself, is also an adventurer at heart. She wanted to become immersed in a new city.
She chose Suffolk University's Media & Film program because it felt like the best of both worlds, with easy access to downtown Boston and small classes where she could get to know her professors. Before enrolling, she even came back in the middle of February to make sure she still loved the campus in the depths of winter.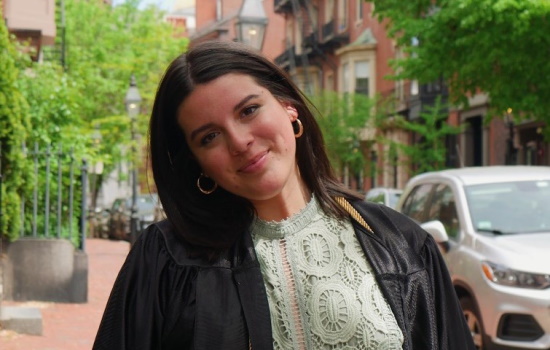 Sophomore year Tyson and her friends found an apartment in Boston's North End neighborhood, and they haven't budged since—through classes, internships, the pandemic lockdown, and some of the best Italian meals in the city.
Over the next three years, Tyson grew accustomed to seeing the familiar faces on her street as she walked to class. Some folks have lived in the neighborhood their whole lives. They chat when she stops for a coffee, and they ask after her if she's been away. One local character even became the subject of a short film Tyson would enter in festivals around the world.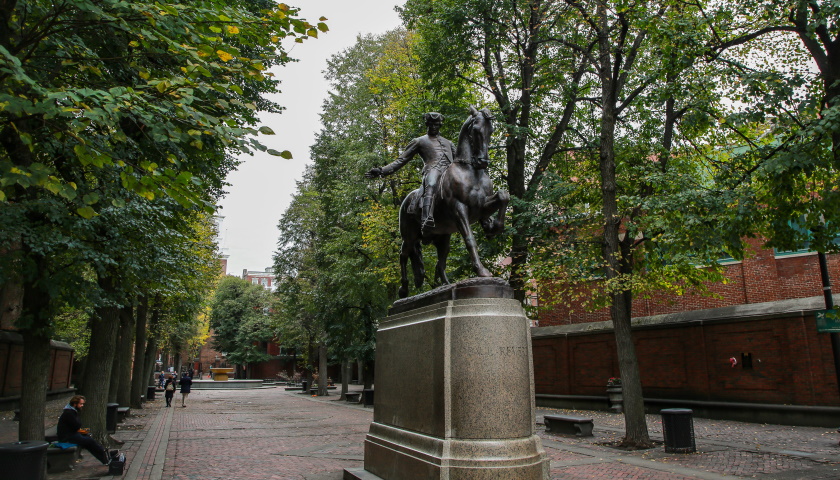 'The Good Guy'
Everyone in the North End knows Richard Spagnuolo, says Tyson. A quintessential "neighborhood guy," Spagnuolo is quick to strike up conversations with passersby as they stroll past the sidewalk bench where he often holds court. He's known for his colorful language, flashy style, and attention to the comings and goings of one of the city's busiest areas. Last year he received 286 votes in a longshot bid for mayor of Boston.
When Tyson was brainstorming topics for a short film in this year's Film Production 2 course, her thoughts turned to Spagnuolo.
"When you see him in person you feel very conflicted," says Tyson. "You're drawn to him, but you don't know if you can believe what he says necessarily. We wanted to recreate that feeling on film."
The result is "The Good Guy," a short film by Tyson and classmates Ryan Garton, Yongyi Ruan, and Jack McCoy. It captures the contradictions of the art-loving, self-professed "good guy" who discusses his complicated relationships with family and the law, and freely admits to dishonesty and hyperbole. The story becomes darker as the short film progresses. It's an intriguing, if unsettling portrait.
Tyson and her classmates leaned on Professor Jeremy Levine, an award-winning filmmaker, for help storyboarding the film. "We had sound bites from interviews that we just didn't really know how to make into a story," says Tyson. "Professor Levine got out a whiteboard and helped us draw out all of our points and put it into a narrative that made sense.
"He didn't give us specific boundaries. He let us take it where we wanted to and then helped us shape the story we wanted to tell."
The group entered "The Good Guy" into over a dozen film festivals around the world, and made it to the finals of the UK's Lift-Off Film Festival. Most festivals this year were virtual, Tyson explains, so they could apply to more and gain wider exposure for the film. Still, she misses the ability to connect with people in other cities in person and looks forward to travel opportunities opening up as the pandemic wanes.
"I've always traveled alone because it pushes me to go talk to different people and get outside my comfort zone. I love developing new friendships with the people I meet along the way and hearing their stories."
Sayler Tyson, '22
Media & Film
Her next chapter
Tyson initially planned to take a remote position and focus on travel after graduation, but working so closely with Suffolk faculty and classmates shifted her priorities. She realized she wanted the chance to develop mentoring relationships, and she is finding them in her role as a partnerships coordinator for C3 Presents, the Texas-based company that produces large-scale events such as Lollapalooza, Austin City Limits, the Bonnaroo music festival, and the Aspen Food & Wine Festival.
"This is really a dream job for me, because I get to curate amazing experiences for audiences while working alongside talented, creative people," says Tyson, who works on marketing projects with brands and festival organizers.
The best perk? She'll travel frequently for events, meeting new people and making connections while learning the ins and outs of event production.
The Last Supper
While Tyson embraces her future back in Texas, her North End neighborhood will always hold a special place in her heart. As she prepared for her next adventure, she took in some final Boston experiences. Dim sum and Senior Week festivities with her friends. Lunch with her advisor, Professor Micky Lee. And one final dinner in her adopted neighborhood.
"Just off Endicott street there's a really cute Mom and Pop place called Tony and Elaine's. The owner Tony sits in the corner, eats meatballs, and does crossword puzzles. That had to be my last meal in the North End."