Musical MVP
Now in her second season as an official deejay for the Boston Red Sox, Suffolk alumna Liv Dulong has fans dancing in the aisles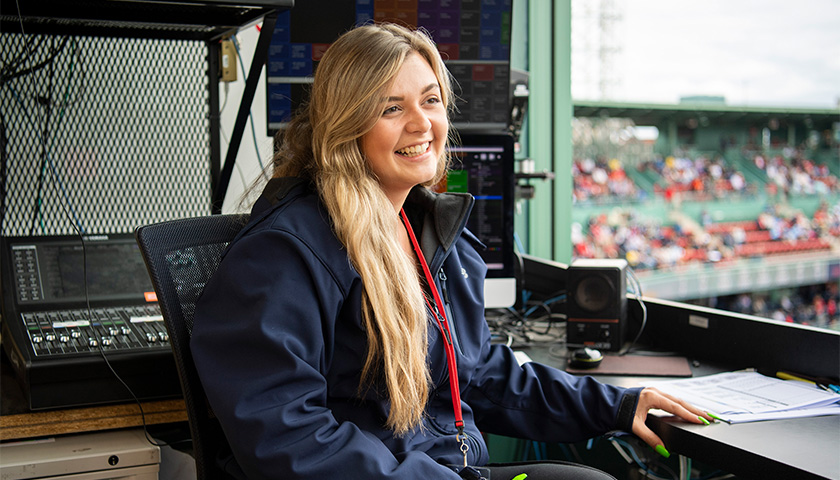 Liv Dulong, BS '21, is a crowd pleaser.
Dulong, a self-taught deejay, has a gift for getting others to get up and move. As a Suffolk student, she regularly deejayed at campus events where her upbeat personality and wide range of music choices were an immediate hit with students, faculty, and staff.
"It was a great way to build my confidence as a deejay and learn how to cater my music selections to different audiences and occasions," she says.
Dulong is now applying those lessons in front of a much larger crowd as a deejay for the Boston Red Sox.
When 15-year veteran deejay TJ Connelly left the team after the 2020 season, the Red Sox searched far and wide to find his replacement. A friend told Dulong about the job opening, and she "applied on a whim," despite having no experience deejaying for a pro sports team.
Following an extensive interview process, Dulong was offered the job two weeks prior to Opening Day of the 2021 season.
"I was ecstatic," she says. "I really didn't believe it until I actually stepped foot into the Fenway Park control room."
"There were three top things that stood out about Liv—her love of baseball, her knowledge of music, and her personality," says John Carter, vice president of Red Sox Productions. "Baseball is a slow game, but as a deejay you have to be fast in reading the crowd and keep the energy going. Liv's ability to do all of that and quickly anticipate her next move has been fantastic."
Creating a fun, hip atmosphere
Dulong was hired along with two other deejays, Kahleil Blair and Jeff Jackson, and the trio rotate during home games throughout the season. The music they play reflects Boston's changing demographics, with soundtracks aimed at younger, more diverse crowds.
"The world is always changing, and music needs to be constantly evolving as well," says Dulong. "I'm a big fan of the variety of music we are bringing into the park. It's something for everyone to feel good about."
"We have a diverse team roster from all around the world, so our goal is to have an inclusive music venue for all of our players and fans," says Carter. "Through music, Liv and our other deejays play a vital role at every game in complementing what our players do on the field, and creating a fun and hip atmosphere for our fans."
Seated in the Red Sox press box alongside her computer and audio board, Dulong has a commanding view of both the on-field action and the crowds. She arrives at the park early on game days to choose which songs she wants to play, starting with batting practice; she also preps the players' walk-ups, making sure they are up to date and ready to go. During the game, she pulls from dedicated folders of music, alternating between songs that make people want to dance and songs that make them want to sing along.
"The whole point is to keep everyone engaged, especially in the slower innings," she says. "It's easy to keep the crowd excited when the game is exciting. The real challenge is grabbing their attention at slower moments." Her go-to song list includes "Time to Groove" by Majestic with Nonô, "Bongo Cha Cha Cha" by Goodboys, and "Massive" by Drake. When the Sox turn a double play, she reaches for "It Takes Two" by Rob Base and DJ EZ Rock. And she makes sure to play "Sweet Caroline" before the bottom half of every eighth inning and "Dirty Water" after every Red Sox victory.
The sight of thousands of people dancing in the stands late in a game "absolutely motivates me the most," she says.
Summa cum laude station manager
Dulong knows her way around Fenway Park: That's where she received her bachelor's degree, summa cum laude, in broadcast journalism during Suffolk's 2021 graduation ceremonies.
As a Suffolk student, Dulong held numerous leadership positions, including general manager of Suffolk Free Radio (WSFR), the school's award-winning online radio station, where she honed her skills as a deejay.
"I remember Liv talking about how excited she was to bring people together by playing music," says Casey Mulcare, director of the Office of Student Leadership and Involvement. "She was always so positive and full of energy. I'm not the least bit surprised where she is today with the Red Sox."
While Dulong would like a career in the radio industry, for now she's thrilled to be cranking the tunes at America's most beloved ballpark.
"Baseball is my favorite sport and the Red Sox are my favorite team," she says. "It's a dream come true to be able to incorporate my love for baseball with my love for music."