"Much Ado" About Suffolk Night on the Common
Bard and Boston meet for reimagined version of 16th century romantic comedy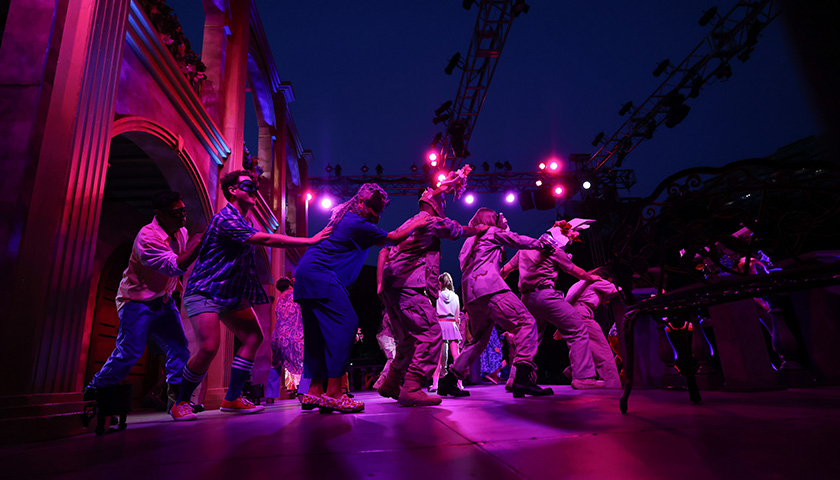 Hundreds of theatre lovers gathered to enjoy the first-ever Suffolk Night on the Common for an updated version of Much Ado About Nothing by the Commonwealth Shakespeare Company, featuring 1990-inspired costumes and a progressive take on gender, love, and sexual politics.
The weather was mild and perfect for the free-to-the-public show, a refreshing production of the classic romantic comedy that attracted viewers from across the city and beyond.
The show plays on the early 1990s gender fluidity in clothing and identity. It casts two women as star-crossed lovers Benedick and Beatrice, with the backdrop of festive, flashy staging.
Director Megan Sandberg-Zakian said she reimagined The Bard's 16th-century tale as a post-Desert Storm take on Claudio's raw emotions as a soldier returning from war, combined with a "potent undercurrent of hiphop, grunge, and queer theory."
"Making Beatrice and Benedick both women helped me to understand why their friends' assistance (and approval) is so critical in bringing their epic love story to its satisfying conclusion," said Sandberg-Zakian. "As Beatrice says, 'Love on!'"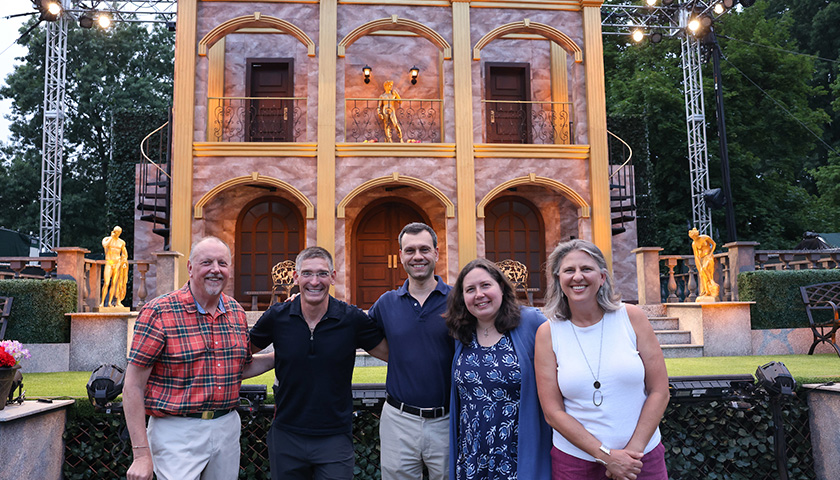 Suffolk Sponsors Shakespeare
The Commonwealth Shakespeare Company—founded in 1996 to make quality theatre accessible to all—has been performing Shakespeare on the Common for 26 years, but this is the University's first year as sponsors of the performance and the company's Apprentice Program, an intensive Shakespeare-focused summer training program for early-career actors who are actively pursuing a career in theatre.
Students who apprentice in the program take classes in textual conventions used in Shakespearean plays, including meter, punctuation, and rhetoric. They are coached on monologues, learn breathing techniques, and develop their vocal range in preparation for their own showcase performances of Shakespeare plays, presented this year at Suffolk's Modern Theatre. They also serve in Audience Ambassador roles during the annual Boston Common performances, making Free Shakespeare on the Common possible.
"This collaboration has been an exciting one," said Roz Beauchemin, communications manager for Suffolk's Theatre Department. "Suffolk works with a lot of professional companies but this was very, very special for us. It's a wonderful production right in our neighborhood, and a really nice platform to tell people more about Suffolk."
Suffolk alumni involved in the production and Apprentice Program include: Allison Hanna, production management assistant; Winnie Chiang, assistant stage manager; Ross Gray, Covid safety manager; Justin Lahue, technical director, Kelsey Whipple, stage manager for A Midsummer Night's Dream and production manager for the Apprentice Program showcase; Lily Ayotte and Kendyl Trott, site operations manager.
Current Suffolk Theatre students involved are Rose Beardmore, playing Phoebe in As You Like It, Constance Cifelli, Pericles in the roles of Gower 3/3rd Fisherman/Leonine, and Kendra Elizabeth Waugh as stage manager for Romeo and Juliet.