Making the Case, Carefully, for Extensions on Due Dates
Professor Sarah Schendel wins international legal ethics writing award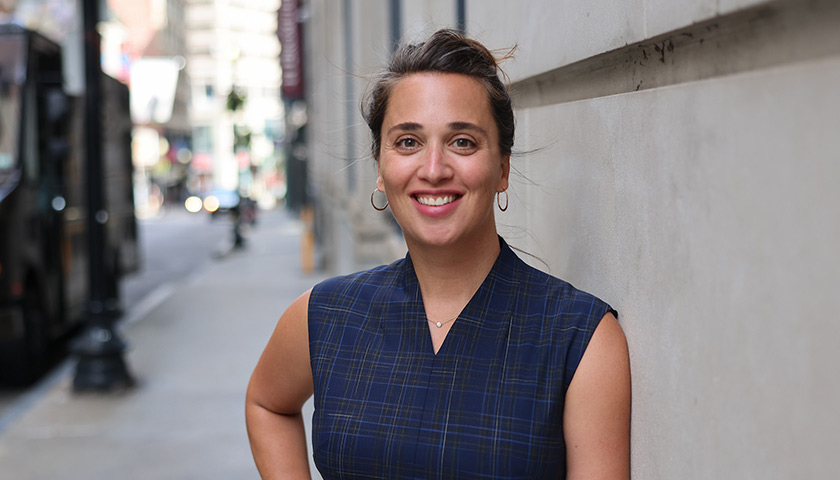 Suffolk University Law School Professor Sarah Schendel received an international accolade for her legal scholarship, winning the Deborah Rhode Prize for Early Career Scholars from the International Association of Legal Ethics (IAOLE).

She won the prize for her paper, "Due Dates in the Real World: Extensions, Equity, and the Hidden Curriculum," recently published in the Georgetown Journal of Legal Ethics.

Schendel's paper "skilfully contests the often heard claim that inflexible due dates in Law School are necessary preparation for the 'real world' of legal practice," the IAOLE judges noted.
Schendel, who teaches professional responsibility at Suffolk, received the award at the International Legal Ethics Conference in August 2022 at the UCLA School of Law.
The judges also wrote that they "particularly appreciated the way that the article brought together educational pedagogy, actual cases of attorney discipline, and legal ethics to make the case for extensions in law school – and in the 'real world'– making us think about our own practice as law and legal ethics teachers as much as contributing to legal ethics scholarship."
"Many professors argue that inflexible deadlines (and dire consequences should they fail to be met) are necessary preparation for legal practice," writes Schendel in her paper's introduction. However, as seasoned lawyers will attest, extensions are hardly uncommon in the practice of law, she writes.
Schendel's article makes the case for carefully structured extensions, with clearly stated guidelines for students and professors. "The ability to not only ask for an extension, but also to avoid procrastination, anticipate when an extension will be needed, and communicate professionally in that request, are skills that law schools must teach," she writes.
The IAOLE prize is awarded to an early career scholar, meaning a PhD student or someone in their first 5 years of an academic career or first 5 years post-PhD. Submissions are invited on any topic in the field of legal ethics and from any jurisdiction.
The namesake of the award, the late Deborah Rhode, was a law professor at Stanford Law and the nation's most frequently cited scholar on legal ethics. She authored 30 books in the fields of professional responsibility, leadership, and gender, law and public policy. She was the first president of the IAOLE.