Smith Brothers Make $2 Million Commitment to Suffolk
Benefiting both University athletics and student scholarships, this latest gift makes Larry and Michael Smith among the top five donors in Suffolk history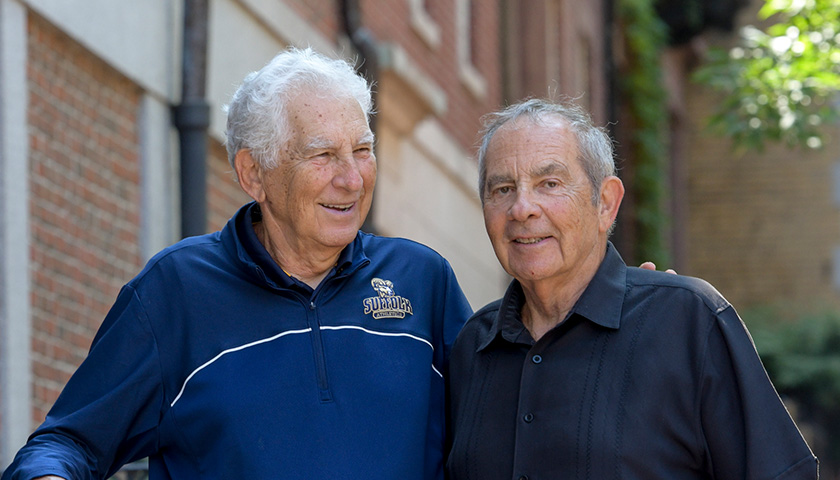 Suffolk University has received a new, $2 million gift commitment from Trustee Larry Smith, BSBA '65, and his brother, Michael Smith, BSBA '61, which will benefit both Suffolk Athletics and student scholarships.
The Smith brothers—who founded Nation Safe Drivers, one of the country's largest and most successful roadside assistance companies—are among the top five donors in Suffolk's 116-year history. Together, the Smiths and their family have already contributed more than $5 million to their alma mater.
"Larry and Michael Smith have devoted much of their adult lives to giving back and paying their success forward," says Suffolk University President Marisa Kelly. "You can see the impact of their generosity all over our campus, from the Smith Fitness Center and basketball court in the Ridgeway Building to Smith Dining Hall in the Samia Academic Center to the Smith Residence Hall at 150 Tremont Street."
Their latest commitment will infuse significant funds into Suffolk Athletics, further enhancing the student-athlete experience, expanding intercollegiate offerings, and contributing to community building for Suffolk as a whole.
The Smiths have had "a transformational impact on the Rams," says Director of Athletics Cary McConnell. "Their support has allowed us to double the number of student-athletes, add six new intercollegiate sports, and move into a new athletic conference. It's changed the whole landscape for Suffolk."
The Smiths' gift will also grow the Private Sheldon R. Cohen Endowed Scholarship Fund, which the brothers established in memory of their friend and classmate who died while serving in Vietnam. Since 2004, the Cohen Scholarship has supported dozens of students with financial need from their hometown of Chelsea.
The Smiths' Suffolk story began over 60 years ago, when Michael enrolled here to study business. Larry followed in Michael's footsteps and became a star student-athlete on the Suffolk basketball team. The first members of their family to attend college, they each worked to pay their way through school—and they both attribute their business acumen and entrepreneurial expertise to their Suffolk education.
Larry Smith was appointed to the Suffolk University Board of Trustees in 2016, and both brothers have served as Commencement marshals in recent years.
"They are truly model alumni," President Kelly says. "Their support not only enables us to deliver on our educational mission of access and opportunity, but also helps us build a culture of philanthropy and increase our fundraising capacity."