NHL Star Helms Men's Hockey Team
Stanley Cup champion Shawn McEachern looks to bring his winning ways to Suffolk, as the University's first-ever full-time men's hockey coach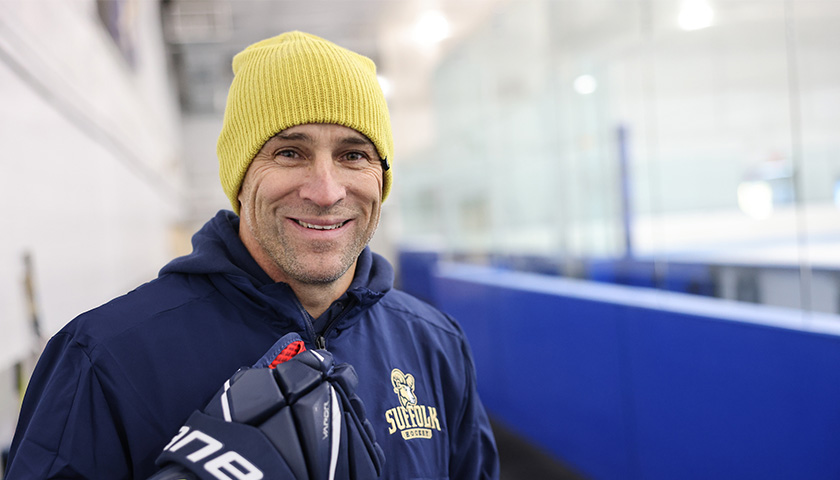 He's a Stanley Cup Champion and 13-year National Hockey League veteran. A member of both the US Olympic team and US World Cup title squad. An All-American collegiate player and high school star of back-to-back state championship teams.
Now Shawn McEachern is working to bring that winning tradition to Suffolk as the new head coach of the men's hockey team—and the Rams' first-ever full-time coach.
The team's season opens on Friday, November 4 with a home game against Salve Regina.
"This marks a new era for our men's hockey program," says Director of Athletics Cary McConnell, who praised University leadership for recognizing "what a full-time coach can provide to a student-athlete's education, on and off the ice. Shawn is an outstanding coach who works hard at what he does. He's a grinder with a hands-on approach and strong leadership skills."
A focus on discipline and details
McEachern comes to Suffolk following a decade as the boys' head hockey coach at the Rivers School in Weston, where he led the prep school team to six Independent School League Eberhart Championships, eight New England Tournament appearances, and a pair of trips to the Elite 8 round. Prior to Rivers, he served as an assistant coach at UMass Lowell, Northeastern, and Salem State.
McEachern says he's thrilled to return to college hockey as a Division III head coach: "I really like the D-III style of play. The players really want to be here and are committed to the team aspect of the game."
His team includes close to 20 returning players from last season's squad, which finished with an overall record of 8-13-4 and reached the quarterfinal round of the Commonwealth Coast Conference (CCC) tournament. McEachern says he is putting the focus on "discipline and playing the game the right way. I want them to pay attention to details and be dedicated to the game."
McEachern will look to his four captains—senior forwards Nick Lachaine and Devin Lowe, senior goalie Cal Wilcox, and junior defenseman Olle Akermark—to help him build a culture of teamwork, perseverance, and respect.
"I value competitive guys because they find ways to get the job done," he says. "They will do anything, like blocking shots and backchecking, to help the team win."
Attracting new talent
McEachern, who lives in Marblehead with his wife, Andrea, JD '93, and three children (his son, Mike, plays hockey for Colby College), says he hopes to pass on some of what he learned during his time in the NHL.
As an all-purpose forward, McEachern scored 254 goals and tallied 317 assists during his 900-plus-game career with the Boston Bruins (two one-year stints), Pittsburgh Penguins (with whom he won a Stanley Cup championship in 1992), Los Angeles Kings, Ottawa Senators, and Atlanta Thrashers.
At Boston University, McEachern led the Terriers to back-to-back NCAA Frozen Fours, reaching the championship game in 1991. That same year, the high-scoring forward was named a first-team All-American and a finalist for the Hobey Baker Award, given to the NCAA top men's ice hockey player.
He was also a member of the US men's ice hockey team at the 1992 Olympic Winter Games in Albertville, France, and on the 1996 US World Cup Championship team.
"Shawn's record speaks for itself," says McConnell. "With his background, he is the perfect match for what we need. We're excited about the bright future of hockey at Suffolk."