Building the Network
Business School students make inaugural trip to National Black MBA Association Conference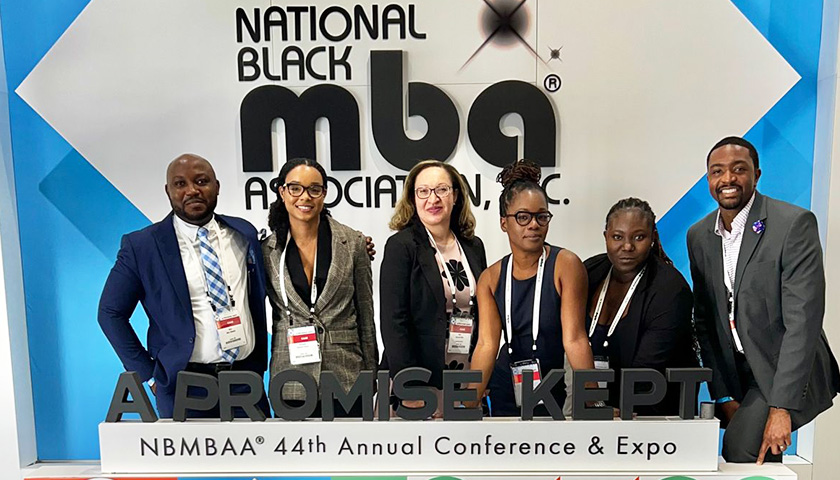 Strong networks are critical to business success. That's why, just over 50 years ago, the National Black MBA Association (NBMBAA) was founded: To give Black business professionals entering the largely white corporate world a network of peers with whom they could "share experiences and insights to help make the journey easier."
As a financial advisor, Ana De Pina well knows the value of both networking and the NBMBAA, which is now one of the country's largest member organizations for Black professionals. "Many of my clients have been members, and a few have served as president of the Boston chapter," she says—including one who wrote her recommendation for the Sawyer Business School's MBA program.
So when she enrolled at the Business School in 2021 and discovered it didn't have its own NBMBAA chapter, De Pina decided to start one, with encouragement from Jodi Detjen, executive director of the MBA program; Sarah Esner, director of management and administration programs; and Business School Dean Amy Zeng. And this fall, with support from the MBA Fund, the Sawyer Business School sent its first-ever team to the NBMBAA's annual conference in Atlanta.
Over the course of the five-day event, De Pina and her teammates—Sein Dokubo, Rochelle Fearon, and Mary Ogunsola—networked with other Black professionals from around the country, attended presentations on topics like the politicization of critical race theory and how to bring their authentic selves to work, and participated in a case competition sponsored by global automotive giant Stellantis, whose portfolio of brands includes Jeep, Chrysler, and Fiat.
Access and identity
De Pina says events like this are invaluable for Black business students as they build their networks, meet new contacts, and find potential employers.
"They had something like 1,000 exhibitors there, some of whom were hiring on the spot—including Fortune 500 companies and even the SEC," says De Pina. "Places that you would never have an opportunity to meet people from, and everyone was very approachable."
A conference that provides that kind of access while also centering students' identities is empowering, says the team's faculty advisor, Business School lecturer Jenny Joseph-Hayle, MPA '13.
"It was an important opportunity for Suffolk to develop and enhance the kind of diverse experiential learning we can offer our student body," she says. Along with Boston University, Suffolk was the only Boston-area business school to send a team to the conference. Montgomery Thomas, associate director for alumni and graduate career strategy, and Benjamin Woody, Suffolk's assistant director of graduate admission, also attended the conference and hosted a booth at the Career Expo to introduce the Sawyer Business School to prospective students.
For the case competition, teams from more than two dozen business schools advised Stellantis on how the company could better attract, serve, and retain more African American consumers—including for its rapidly expanding (and expensive) electric vehicle market.
De Pina and her teammates, who worked with Marketing Professor Andrew Smith on their presentation, recommended addressing affordability head-on. They advocated for alternative financing programs, and for incentivizing the development of charging hubs in African American communities, including in churches and Black-owned businesses with large parking lots and garages.
They also recommended showcasing the diversity of Stellantis' leadership team, starting with Ralph Gilles, a Black Detroit native who rose through the ranks at Chrysler to become the company's chief design officer in 2021. "That caught the judge's attention," Joseph-Hayle says.
Says De Pina: "It was a great experience. Coming back, we realized there's so much opportunity out there for us."
Contact
Greg Gatlin
Office of Public Affairs
617-573-8428
Ben Hall
Office of Public Affairs
617-573-8092