Design Challenge Drives Innovative Legal Solutions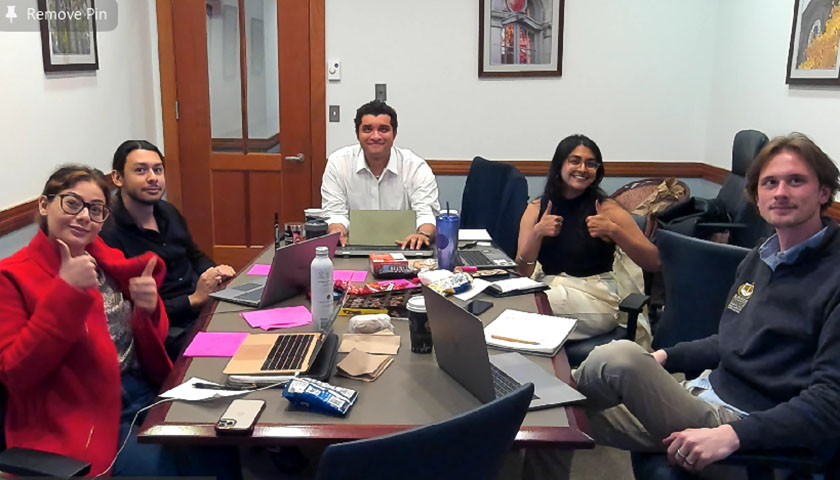 Suffolk Law's 6th annual Legal Design Challenge, conducted virtually and presented in partnership with Liberty Mutual Insurance Company, brought law students from across the country to invent and prototype products that solve legal problems, and often social ones as well. The participating schools had one day to generate their ideas and then deliver a five-minute presentation, using pitch decks and prototypes. In this year's scenario, the teams offered tools addressing environmental, social, and corporate governance (ESG) strategy.
Assessing a Law Firm's Carbon Footprint
A combined Emory University School of Law/Suffolk Law team captured the title and $2,500, focusing their presentation on a tool to track the carbon footprint of law firms and provide a "Legal Carbon Report Score" that would compare law firms side-by-side. The idea offered potential clients fast and simple metrics to help them decide which law firms' values might align with their own. This solution, the team said, would also create a unique client-pricing model for the law firms and incentives for ESG funds and community involvement.

"This competition was a great learning experience that both challenged me and gave me the confidence to help solve a legal problem in a creative way," said Suffolk Law student Emily Burke, 3L. "After being tasked with a major issue in such a short period of time, I was both surprised and proud that we were able to come up with an idea and a possible piece of a future solution."
Cash Prizes and Legal Tech Innovators
The top three teams received cash prizes of $2,500, $1,500, and $1,000, respectively. The judges, movers and shakers in the legal technology space were:
Julia Rodgers, JD '15, CEO and co-founder of Hello Prenup, a digital software tool funded by Shark Tank investors
Zach Abramowitz, founder of Killer Whale Strategies and legal startup investor
Leah Molatseli, head of business development at Legal Interact, and recipient of the 2022 ILTA Most Influential Women in Legal Tech award
Connie Brenton, founder of CLOC, and vice president of law, technology and operations at NetApp, Inc.
In second place was an all-Suffolk squad ($1,500); the University of Nevada School of Law ($1,000) team placed third. Other schools competing in the Legal Design Challenge were: Georgia State University College of Law, Michigan State University College of Law, and the University of Richmond School of Law.
Tracking Lawyers' Well-Being to Help Retention
The Suffolk Law second-place team focused its presentation on social justice, through an idea they called Firm Stance—a software tool recording analytics and data from employees to track the level of retention success rates, during a time when some law firms are struggling with retention.

It would collect data from a survey that could send reports to track employee wellness, as well as collect employee assessments of their firm's social justice efforts and other ESG concerns that might impact an associate's likelihood of staying with the firm.

"Partners would be able to use this data to determine what changes need to be met to focus on new associate retention," said Suffolk Law student Kajol Raju, 3L. "It would allow partners to make changes where needed and to make associates feel heard and seen by their employers."

Raju credits her team's impressive showing to the fact that all of the participating students – Regis Acosta and Ian Eisaman, both 3Ls, and Christopher Emrich and Zahra Hamadi, 2Ls, are members of the Suffolk Law Legal Innovation & Technology (LIT) Lab.

"Being part of the LIT Lab helped us to learn not only how a lawyer might solve a client's problem, but also how to incorporate an efficient and effective solution," said Raju. "We also understood the legal and technical perspective of the problem and used that knowledge to our advantage."
Evaluating Diversity and Inclusiveness
Third-place winner, The University of Nevada William S. Boyd School of Law, focused on a project called TableTalk, a service to evaluate the diversity and inclusiveness of law firms based on employee surveys. The law firms would display this ranking on their websites so that corporate clients who are ESG-focused could evaluate the firms based on relevant criteria.

Each firm would be evaluated based on quantitative and qualitative feedback, as judged against the average for its local area.

"I was once again thrilled at the success of this event," said Suffolk Law Professor Dyane O'Leary, who directs Suffolk's Legal Innovation & Technology Concentration. "The student presentations were organized, thoughtful, and substantively impressive. It's a privilege to get to see students extend their legal thinking outside of the classroom."