Suffolk's Pasión Latina dance team offers its members a chance to celebrate Latin culture and to 'move, have fun, and make art'
Above: Pasión Latina members are busy preparing for upcoming shows on November 30 and December 10. Front row, from left: Georgina Valdivia, Angelica Acosta, Naylene Rivera, Celia Mendoza, Samantha Restrepo-Ramirez; second row: choreographer Kamila Regalado, Caroline Gillis, Naiomi Arguelles; third row: Kennedy Dolan, Jessy Bonilla-Reyes, Karianna Tavarez, Carla Marin, Oyuky Vilchis, Rodrigo Quintanilla, Vanessa Sanchez; back row: Sajeric Camilo, Jaxeny Robles, Raymond Riel, Owen Byrnes.
Salsa: It's a five-letter word with a dozen different meanings.
Asked to define salsa, most of the first, second, and third graders piled into the auditorium at Boston's Josiah Quincy Elementary School said it's a food, the spicy tomato sauce people eat with chips.
But for Suffolk senior Sam Restrepo-Ramirez, event coordinator for the University's Pasión Latina dance team, salsa is much, much more.
Salsa is "culture and community," she says, "a safe zone and a sanctuary"—a place where she can shut the door on the cares of the day and "just move, have fun with my friends, and make art."
During Hispanic Heritage Month, Restrepo-Ramirez and three other members of Pasión Latina—juniors Ashleigh Bautista and Owen Byrnes and sophomore Raymond Riel—became Suffolk's official salsa ambassadors. In October they performed at both Josiah Quincy Elementary School and the Boys and Girls Club of Dorchester, where they explained the Afro-Cuban origins of salsa music, demonstrated the intricate steps of the bachata—and fielded some tough questions.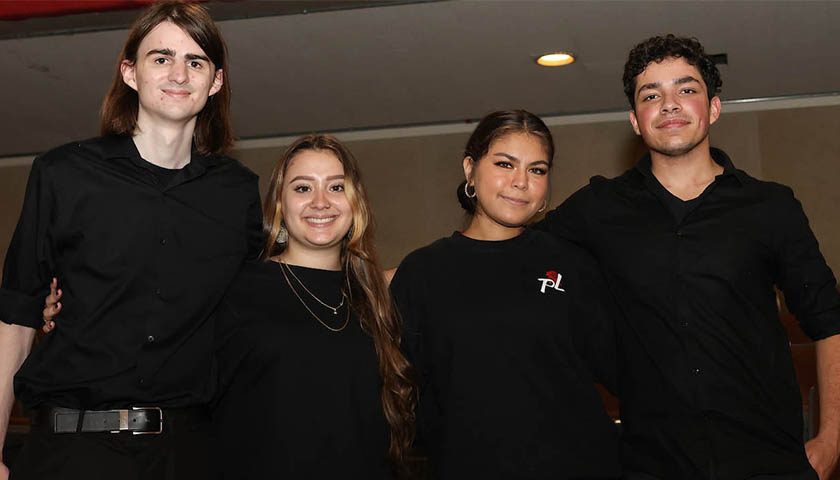 "How do you dance in those high heels?" one second grader asked.
"Lots of practice," replied Restrepo-Ramirez, a senior who's double-majoring in sociology and criminal justice.
"Is salsa hard to learn?" asked another.
"As long as you can keep count of your steps, you can dance salsa," says Bautista, a political science major and Pasión Latina's secretary. "Sometimes we do it between classes. It's like our recess!"
"Are you married?" asks a third.
"No," laughs Raymond Riel, a business management major and the team's treasurer. "But our whole team is like family."
Creating community, one step at a time
That sense of family runs deep in Pasión Latina, which was founded in 2013 by student-choreographer Clauder Aspilaire, BSBA '16, with a "no experience required" philosophy. "We pride ourselves on our diversity, in showing people different cultures, different flavors," Restrepo-Ramirez says.
Some of its 25 members are of Latinx heritage, like Bautista, whose parents are from Mexico; others are not. Some grew up surrounded by salsa; others, like Riel, had never danced onstage before coming to Suffolk. "They said they would teach [newcomers] how to dance," he says. "They not only taught me, they gave me a community."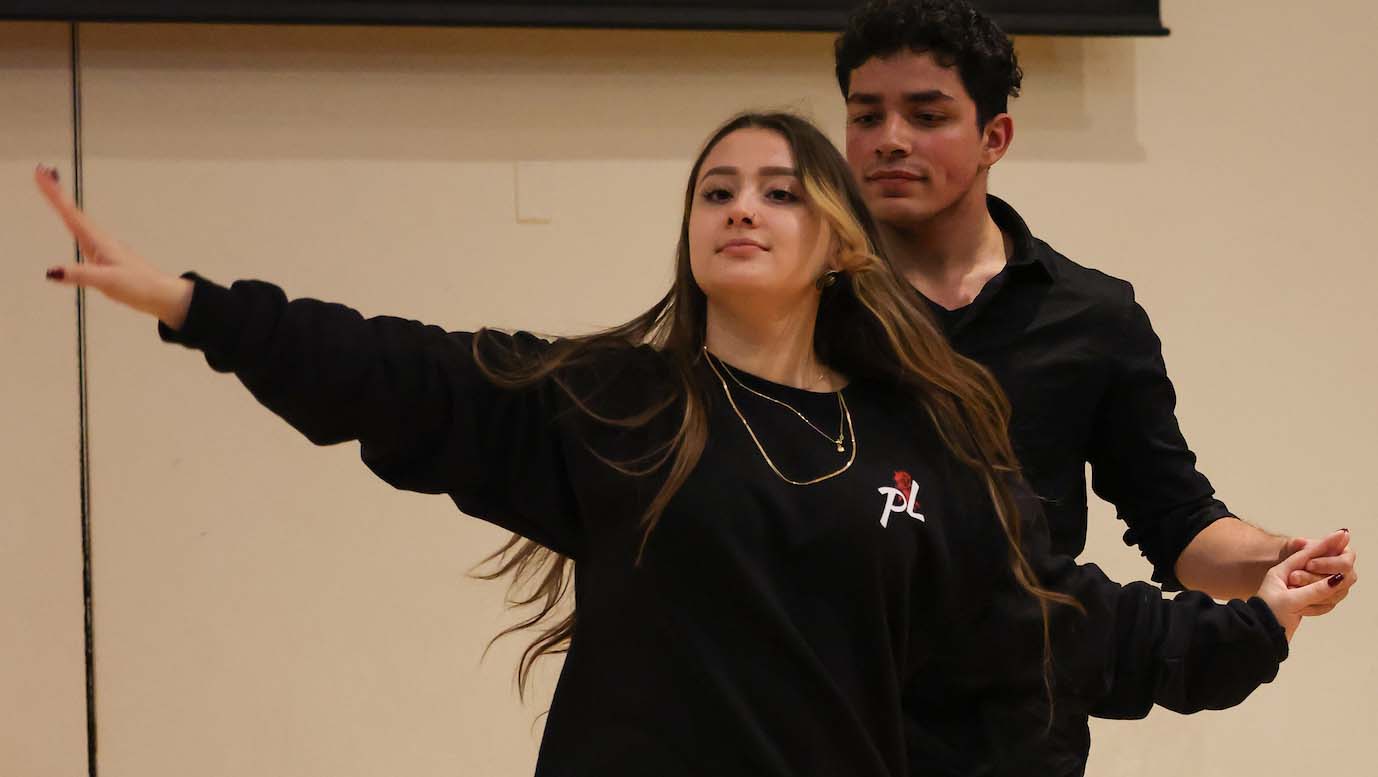 For commuter students like Restrepo-Ramirez, that community is key. "I struggled at the beginning of my college career to find people who were like me and had similar passions. I would come to school, go to classes, then go home," she says. "Pasión Latina made me feel part of something. I got more involved on campus, met people, made friends. It changed my college experience completely."
Pasión Latina rehearses twice a week, on Tuesdays and Sundays, in a mirrored studio in the basement of Smith Hall, choreographing their own routines and sometimes working with outside choreographers. They have two performances coming up before the end of the fall 2022 term: the PAO Winter Showcase on Wednesday, November 30 at 7 p.m. at the Modern Theatre and the SUDC Sweet Peaks on Saturday, December 10 at 7 p.m. at Sargent Hall. Plans are also in the works for a major tenth anniversary celebration in the spring.
Learning the footwork is intense but joyful, Byrnes says, thanks to salsa music's irresistible upbeat tempos and "the friendships we build when we learn together." Byrnes discovered his love of dance almost by accident, when he followed his sister to a ballroom dance class in high school. "I tried it and realized it spoke to me in a way that few other things do," he says. "I didn't want to stop doing it."
"I think for some males, there's a stigma around dancing, that it's weird or uncool," Restrepo-Ramirez adds. "We want to break that down. We want people to have fun and explore Latin culture with us." Following last spring's showcase, members of Pasión Latina and their audience pushed the chairs aside and created one big dance floor, and everyone joined in dancing.
"Salsa," says Restrepo-Ramirez, "really does create community."