Suffolk Welcomes New Director of First-Generation Student Initiatives
Lisa Rivera brings personal and professional experience to her pathbreaking role in the Center for Academic Access & Opportunity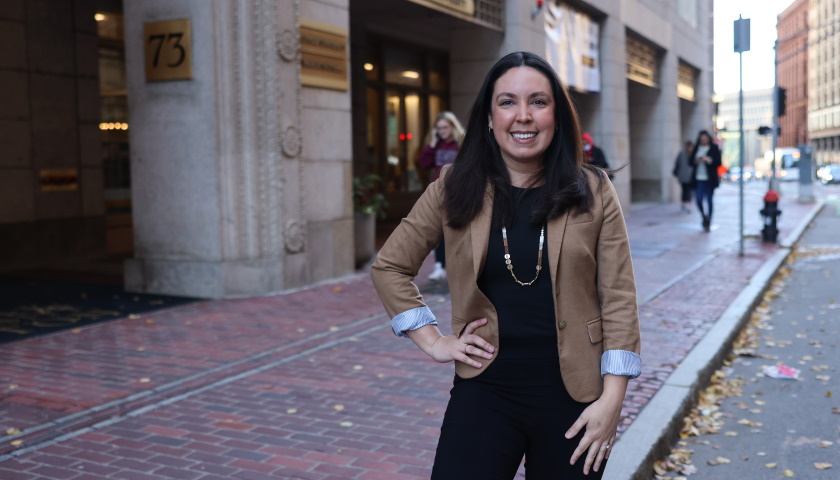 Suffolk's new director of first generation student initiatives, Lisa Rivera, knows what it's like to worry about finding your place on campus.
Rivera vividly remembers crying to her mother at bedtime, fearing that she would never be accepted to college. She was in kindergarten at the time.
Her mother, a preschool teacher, and father, who was always there to ferry Rivera to school, activities, and her part-time job, have always been her biggest supporters.
"My father has always told me to go as far as I can," says Rivera. But she knew that navigating the college admission process—and then succeeding in her academic and professional careers—would be more difficult as a first-generation student forging a new path.
Luckily, she had help. Participating in her high school's Advancement via Individual Determination program gave her practical skills like how to fill out college applications and create a resume. It also connected Rivera with advisors who pushed her to broaden her horizons beyond her native Florida.
She loved the community she found on a small college campus in rural Pennsylvania. Still, she knew her experiences as a first-gen student with Puerto Rican roots set her apart from many of her classmates.
"Coming from a working class family and always having to work through the summers to pay for necessities throughout the year, but also being a Latina, and at times the only person of color in my sorority" could sometimes be isolating, she says. Navigating her financial identity, cultural identity, and mental health and wellness were challenges Rivera said could have easily derailed her if she didn't seek out mentors to help her make it through.
"I might have gone home, I might have transferred to a local school, and I never would have explored other possibilities outside of my hometown had I not had those advocates," she says. Instead, she persisted, earning a graduate degree in higher education administration and advancing through roles in admission, career resources, and student affairs.
During her time as a program manager at Boston University's School of Dental Medicine, Rivera created opportunities for students to thrive and develop allyship, including advising student leaders on their annual program and event planning for Tri-Alpha, the national honor society for first-generation students.
Now she's dedicated to ensuring every first-gen student at Suffolk feels that same sense of connection and belonging that helped her succeed.
A culture of support
Access and opportunity have been at the core of Suffolk's identity since its very first students—immigrants and working-class people who sought greater opportunity through education, gathered in University founder Gleason Archer's Roxbury apartment in 1906 to study law.
Last year, the National Center for First-Generation Student Success named Suffolk University a First-Gen Forward Institution, one of a select group of US colleges and universities that have a demonstrated record of improving the experiences and outcomes of students who are the first in their families to attend a four-year college.
First-gen students made up 41% of this year's incoming class and they make up about a third of the institution's student population.
Abraham Peña, executive director of Suffolk's Center for Academic Access & Opportunity (CAAO)—which manages the University's federal TRIO programs Upward Bound, Veterans' Upward Bound, and the McNair Scholars—is proud of the work his office and dedicated individuals and groups at the University have done to create programming and opportunities for first-gen students.
To push that work even further, Peña proposed creating a leadership position focused solely on improving the first-gen experience—among the first of its kind in the region. As the director of first-generation student initiatives, Rivera will offer support to offices throughout campus to ensure each program that's developed to serve that population is evidence-based and grounded in theory. She will also create a hub for first-gen students within the CAAO, to better coordinate resources and foster community.
"When I took over the center, it was really important to me to make sure that it was a welcoming environment," says Peña, who has made a point to staff the CAAO with many first-gen college graduates, like himself, who can relate directly to the students they serve. "One thing that made Lisa's application stand out to me, in addition to her excellent qualifications, was that she said: 'This is a position, I know, my younger self would have wished she had access to when she was in school.'"
When Rivera looks around Suffolk's campus, she sees echoes of her own experience, but is also excited to explore and honor the diversity of backgrounds each student brings.
"The student population at Suffolk is so dynamic," she says. "There are many part-time students, commuter students, international students, and there's a significant veteran population that we serve. I love the fact that there are so many converging identities."
Before officially starting in her role at Thanksgiving, she attended the University's 6th annual First Generation Celebration. It gave her a chance to meet some of the students and the faculty and staff who shape their experiences. And if your work on campus impacts first-generation students, chances are she'll be reaching out to learn more about it soon, if she hasn't already.
"I see an important part of my role as helping to guide students and keep track of them so no one falls between the cracks," says Rivera. "Each department has specific expertise, and I'm excited to collaborate with everyone doing this work, while serving as a navigator for students who aren't sure where to go."
She is already hard at work planning activities to add for next year's celebration, and establishing new initiatives like "First-Gen Fridays" for current students and collaborating with colleague Samienta Pierre-Vil to create more events for students in the Boston Public Schools who are preparing for college. For Rivera, it's a full-circle experience.
"This work is personal, and that's why I'm so dedicated to these students and excited to find creative solutions to the challenges they face. Like so many of them, I recognize that my own parents, and my grandparents, sacrificed so much for me to be in this position. Doing good work for others in honor of that is so important to me."