Creating a Hub for Decarceration Advocates
Women and Incarceration Project conference connects scholars, advocates, policymakers, lawyers, and formerly incarcerated women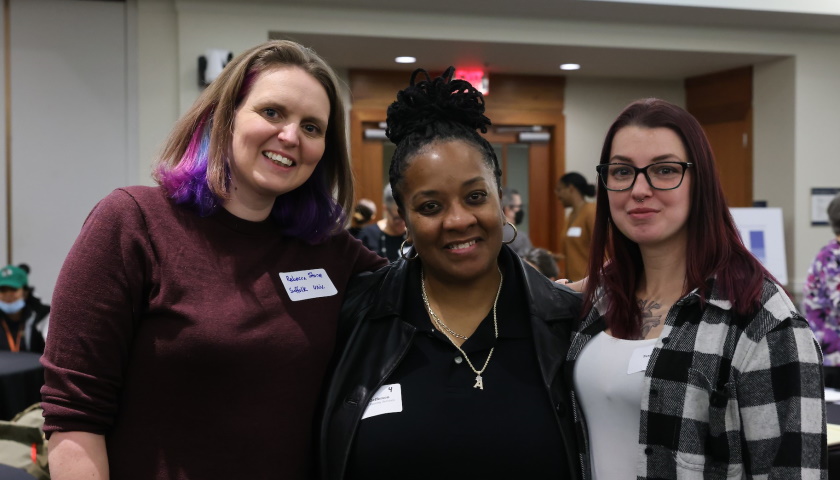 In December 2021, Suffolk University's Center for Women's Health & Human Rights announced an ambitious interdisciplinary initiative focused on promoting research and public education to help improve criminal legal system policy. One year later, the Women and Incarceration Project (WIP) worked with Suffolk Law School to bring together a diverse group of more than 100 academics, attorneys, legislators and their staff, formerly incarcerated women and their loved ones, advocates, and students for its first conference, Decarcerating Women Today: Charting a Path.
For co-organizer and Sociology & Criminal Justice Studies Professor Rebecca Stone, the event marked an important step toward WIP's goal of creating a hub, not only for scholarship, but for the people whose work shapes the system and for the women within it to connect, learn, and collaborate.
"As academics, we study these issues, and we have knowledge and skills to bring," says Stone. "We wanted to provide an opportunity for all those folks who are out there every day doing this work to meet each other and connect and get on the same page, because you can't do this work alone."
While WIP was initially catalyzed by its members' opposition to a proposed new Massachusetts women's prison—an open issue still very much in their sights—the group is also hoping to address a wide range of systemic and procedural issues, including the cycles of trauma, homelessness, and substance use that contribute to system involvement; bail reform; re-entry services for women who are released; and helping women navigate the complex parole system—a major focus of the conference.
In one moving panel discussion, formerly incarcerated women Terri-Anne Henry and Angelia Jefferson described what it was like to go through the high-stakes parole process, including complicated applications and grueling testimony. Though they both were ultimately released on parole, only Jefferson had the aid of an attorney to correctly complete paperwork and prepare for the gauntlet of difficult questions she would face during her hearings.
'It takes everyone and then some to change these laws'
"I was surprised by the amount of raw emotion in the room," says WIP fellow Steven Murnane, Class of 2024.
Murnane, a dual degree student earning his accelerated BS/MS in global public policy, thought it would be a "rather dry, legalease filled planning session." But the experiences shared by the formerly incarcerated women, and the audience response, were anything but routine.
"Their emotions inspired me to commit myself to this, but I was also inspired by Massachusetts State Senator Jamie Eldridge, who showed up and participated in the conference. Legislators really can be caring and in-touch," says Murnane, whose future law school plans now include a focus on justice system reform influenced by his work with the WIP.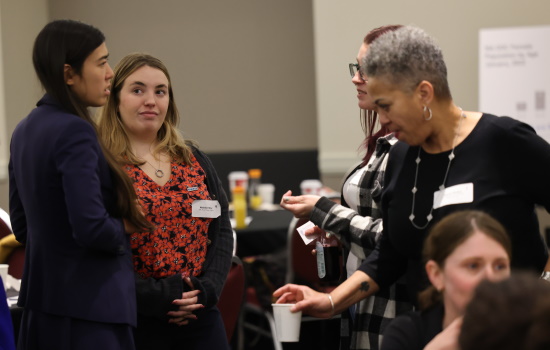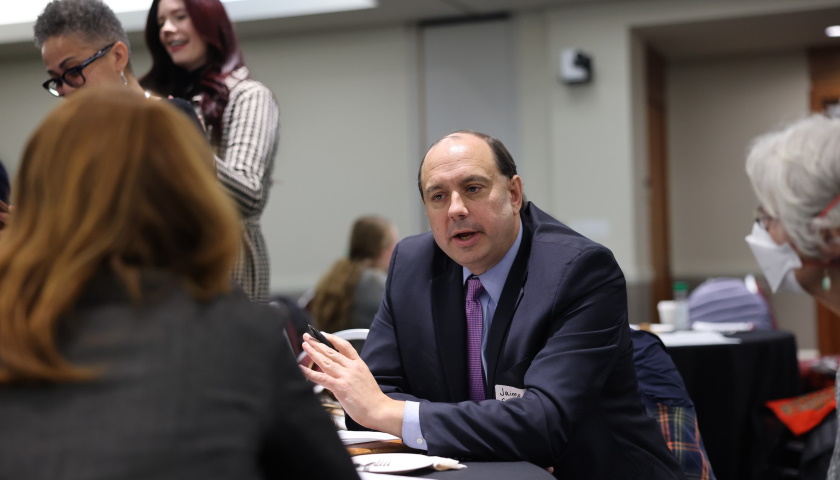 Sophomore philosophy major Kayci Resende-Abbott—whose hard work behind the scenes made the event possible, says Stone—says she draws inspiration from WIP colleagues like social worker Norma Wassel, who works as a mitigation specialist on legal defense teams representing individuals in the federal and state criminal court systems.
"Norma has been in this work for decades and I see her dedication and her expertise. It really takes everyone and then some to change these laws and perceptions surrounding crime. Working with WIP has helped me understand my roles within groups and learn to operate within those roles to help my colleagues help others," says Resende-Abbott.
A network of advocates
Criminal defense attorney Eva Jellison, who spoke about helping her client Angie Jefferson through the parole process, later joined a panel of legal advocates to discuss pathways to release, including clemency, parole and medical parole, and pardons. Nonprofit group Families for Justice As Healing closed the speaking portion with a session titled, "Following the Lead of Directly Affected Women: From Reimagining Communities to Closing Framingham."
The afternoon was dedicated to breakout networking sessions. Stone hopes connections made during the conference will translate into collaborations that help women across the Commonwealth, especially as advocates look toward possible change as a new administration takes office in January.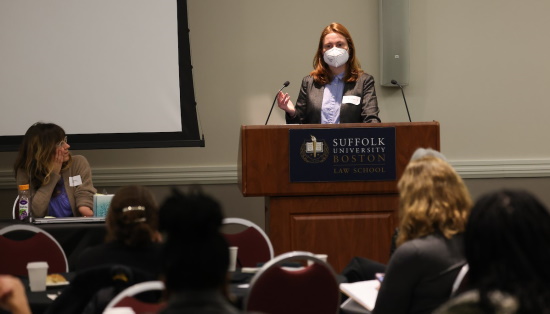 "Every incoming administration should be pressured to take steps and to do the right thing," says Stone. "Some folks who are on the ground seem hopeful about potential appointments to the parole board and the governor's role in setting clemency guidelines."
Massachusetts could be a leader in doing what scholars and advocates are recommending in terms of reducing the use of incarceration as a penalty, says Stone. "There are other ways to promote public safety than by incarcerating people."
She points to Massachusetts' low incarceration rates, and a wealth of scholarship and advocacy groups, as additional reasons to be hopeful. Hope, she says, is essential to the hard work of criminal legal reform. A self-described natural cynic, Stone now believes in celebrating the little wins in what can seem like a never-ending battle.
"You have to have faith that a better future is possible."