A Talented Triple Threat
At work, in the classroom, and on the basketball court, Arlenis Veloz knows how to get the job done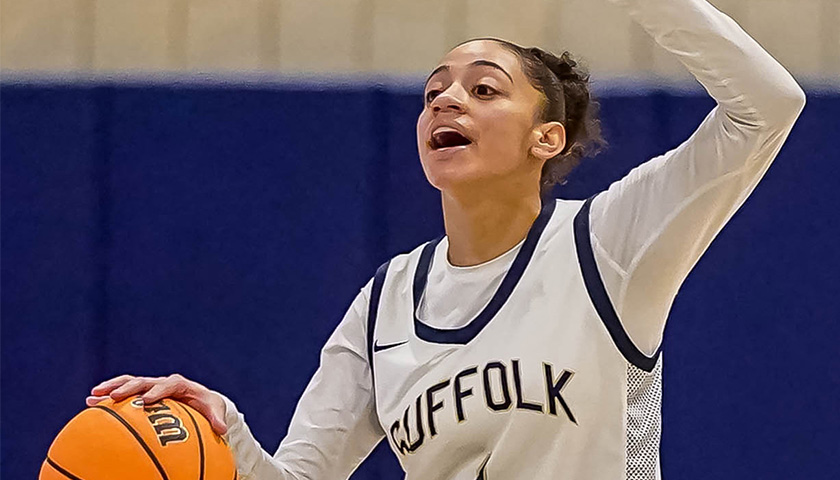 Classes in the morning. Basketball practice in the afternoon. A restaurant job in the evenings.
That kind of full schedule demands focus and commitment, qualities that Arlenis Veloz—the starting point guard on the Suffolk women's basketball team and the first person in her family to attend a four-year university—has been honing for most of her life.
"My schedule has taught me to be disciplined and that you have to work hard to get things done," says Veloz, Class of 2026. "I've learned that the world is a difficult place and that nothing is given to you in life. It may not be easy, but you have to earn everything to get where you want to be."
Plus, she adds with a laugh, "I drink a lot of coffee and Red Bull."
Today, Veloz is exactly where she wants to be—majoring in pre-law and playing college basketball. "I've been driven and a hustler all my life," she says.
'A high basketball IQ'
A Lowell resident, Veloz grew up playing basketball at the Boys and Girls Club of Lawrence. Her academic and athletics skills and her community service earned her a scholarship to Central Catholic High School, which is where Suffolk Women's Head Basketball Coach Ed Leyden first saw her play.
"I knew right away she was a fantastic player who was not afraid of hard work," says Leyden. "She began working in high school to help support her family and does things the old-fashioned way. Even today, she is able to balance everything she does because her priorities are in order."
"I've been driven and a hustler all my life. I've learned that nothing is given to you; you have to earn everything to get where you want to be."
Arlenis Veloz, Class of 2026
Starting Point Guard, Suffolk Women's Basketball Team
In her first season on the court for Suffolk, Veloz scored a career-high 14 points, along with six rebounds, three assists, one steal, and one block in an exciting 77-73 victory over Eastern Nazarene College. A multi-skilled player, her key role is to set the tempo and get her teammates involved in the action.
"I get an adrenaline rush when one of my teammates scores from one of my passes," she says.
"Arlenis is incredibly quick, tough, and has a high basketball IQ," says Leyden. "She can score driving to the basket or hitting the outside shot. She is also very unselfish and continually learning how to play the college game."
Recruited by a number of Division III schools, Veloz says she chose Suffolk in large part because of Coach Leyden, now in his 29th season with the Rams.
"There is a connection there, where I feel that I can trust him," she says. "When he tells me something, I know it's going to benefit me and the whole team."
A young team with potential
Along with Veloz, five other members of the Suffolk women's basketball team are freshmen. Despite its youth and inexperience, the team is coming together and has an overall record of 9-6 to date, 4-4 in the Commonwealth Coast Conference.
"Our team doesn't use the excuse that they are young," says Leyden, whose assistant coaches include Kathryn Mathieu, MSCJS '20, and Brenna Dennelly. "We fight and compete in every single game." He singles out the overall play and leadership skills of co-captains Amanda DeAngelis and Katie Kirsch, both low-post players representing the Class of 2024, and Maddie Stewart, Class of 2025, who shares point guard duties with Veloz.
"I think we will keep improving and become a good team by the end of the season, as long as everyone gains more confidence and gets to know each other better," says Leyden.
"Coach cares about all of us as people," says Veloz, "on and off the court."