Suffolk Law Makes Bloomberg Top 10 Innovators List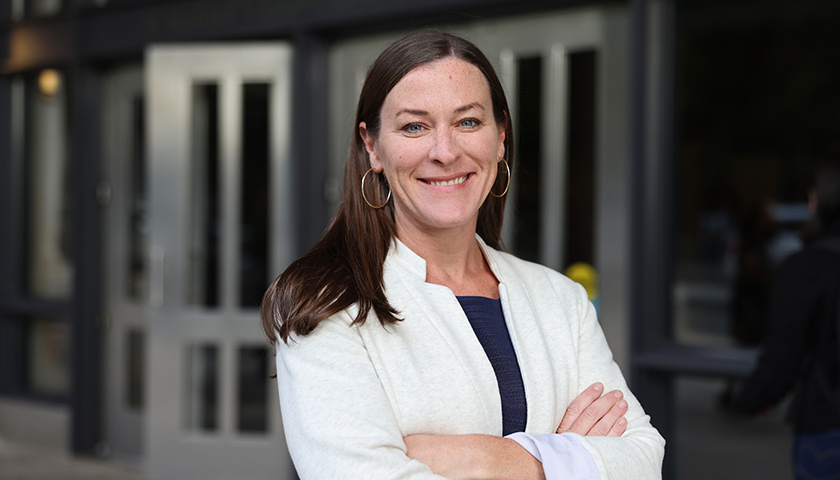 Suffolk Law's Legal Innovation & Technology (LIT) Concentration has been named to Bloomberg Law's Top 10 Law Schools Innovators list. The publication gathered experts in legal technology and innovation to assess dozens of schools' programmatic efforts and then celebrated a handful of the country's exceptional institutions. Bloomberg's January 17, 2023, honor roll was the publication's first such list.
The Suffolk LIT Concentration offers students an opportunity to learn about and to experiment with legal mobile apps, knowledge management systems, e-discovery, chatbots/guided interviews, cloud computing, automated document assembly, law practice management software, data and metrics tools for efficient legal service delivery, and legal design thinking, among others. The tools they use–and are learning to build—are changing how law is practiced.
As a result of their Suffolk Law experience, Concentration graduates are taking on roles that didn't exist just ten years ago, with titles like legal innovation advisor--and jobs with a "nextgen" focus, for example, rethinking the way courts operate. Recently, one graduate made a successful pitch for her prenuptial agreement software tool on Shark Tank.
Thoughts from an innovation leader
In a recent interview, Professor Dyane O'Leary, director of the LIT Concentration, took a few questions about Suffolk's innovative approach. O'Leary is the author of Legal Innovation & Technology: A Practical Skills Guide for the Modern Lawyer (West Academic Publishing, 2022).
What inspires you to lead the LIT Concentration?
I'm inspired for a simple reason: our students. The law students I teach are forward-thinking and imaginative. They're in law school to prepare for their new career—not law practice as their professors experienced it years, often decades, ago. It's my job—and my challenge—to keep pace with the enthusiasm of this new generation of law students, almost all of whom are digital natives ready to build on their comfort with technology and transition that comfort into their new professional lives.
How does the LIT Concentration further student learning?
The Concentration exposes students to two key tracks that help prepare them for modern legal practice: technology of law and the law of technology. Students enrolled in Suffolk's LIT courses explore substantive issues of how the law keeps up with emerging technologies such as blockchain, AI, and Cyber Civil Rights—or fails to keep up, as the case may be! The Concentration also furthers learning by directing students to skills-based, experiential opportunities where they can develop new habits with the technology many will use to deliver legal services—from document automation to advanced analytics to coding and building new apps.
How does the Concentration better prepare students for the workforce?
If you hire a dentist, do you want to pay for their time and be patient as that dentist slowly develops their practice skills? No. You want them ready to deliver service in an effective and efficient way. Modern legal clients demand the same. Just as the new forthcoming NextGen Bar Exam focuses on both doctrine and a wide array of newly-tested practice skills, Suffolk's LIT curriculum aims to give students real-world exposure and hands-on practice. Substantive knowledge of doctrine isn't enough. The Concentration's classes, projects, and externships help ensure students are prepared to deliver excellent, innovative service.
How does the Concentration fit into other LIT programs at the school?
The Concentration is a piece of Suffolk Law's broader, top-ranked LIT Institute. The Institute includes a clinical LIT Lab doing important public-facing access-to-justice data science work, as well as an online LIT Certificate with classes geared towards professionals who didn't get experience with innovation and technology while they were in law school or other legal professional programs.
The teachers, technologists, vendors, and scholars in the field of legal tech are among the most eager folks I've met in the legal academy. We know innovation and technology move fast, and we'll aim to keep moving fast too!
More About Professor Dyane O'Leary
Professor O'Leary, a tenured faculty member at Suffolk Law, directs the Legal Innovation & Technology Concentration (ranked #1 in the United States multiple times) and teaches in Suffolk's top-5 ranked (U.S. News) Legal Practice Skills Program. She is a Fellow of the College of Law Practice Management, a Fastcase 50 Award honoree, and was named one of the American Bar Association's "Women of Legal Tech" in 2022. She is the chair of the Association of American Law Schools' Section on Technology, Law & Legal Education and the author of the first student-centered coursebook on legal innovation and technology skills.