Suffolk's Indoor Track and Field team now trains and competes at New Balance's new athletic complex, home to one of the fastest tracks in the world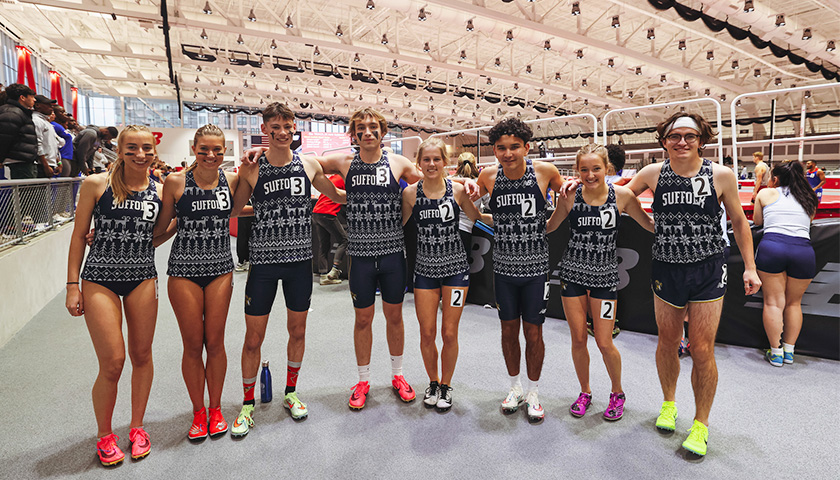 The first time Will Feldman set foot inside the TRACK at new balance complex in Brighton, he couldn't believe his eyes.
"I've been to some of the top indoor facilities in the United States," says Suffolk University's track and field head coach, "and this place blows them all out of the water. It's one of the best facilities in the world."
Boston-based New Balance opened the multi-purpose athletic facility in spring 2022. Late last fall, the Suffolk men's and women's indoor track and field teams began training there, a milestone moment for Suffolk athletes who had previously practiced at the Reggie Lewis Center. "We knew this facility would be a big benefit for our program," says Feldman.
What sets the TRACK apart, say Feldman and his athletes, is the 200-meter track itself, which features adjustable, hydraulically banked turns. Those raised corners "make you feel like you're running downhill," says team co-captain Lauren Wood, who competes in the 100-meter dash and 4x100-meter relay, as well as the long jump. "That helps your speed and development as a runner."
Feldman also points to the "25,000 square feet of warm-up space provided the athletes and the spectator-friendly environment. You can see all of the events going on at the same time from any section in the house."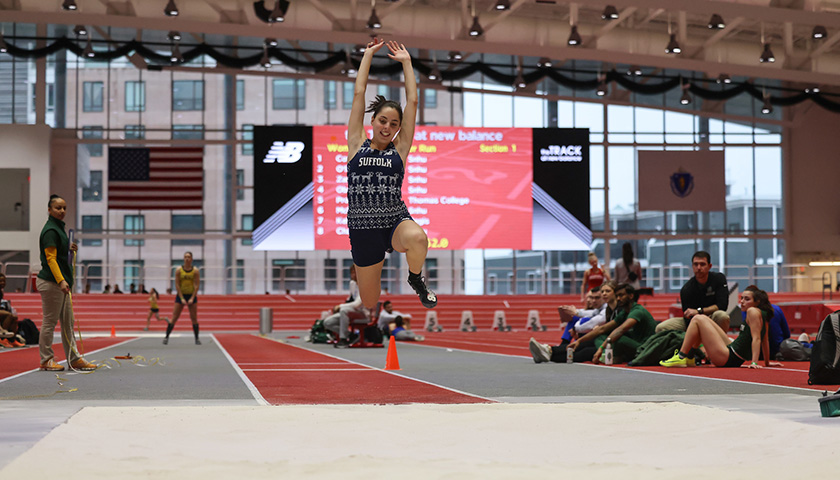 Record-breaking Ice Breaker
On January 14, Suffolk hosted its first meet at the TRACK, the Ice Breaker Invitational, an event that attracted 12 college teams and over 500 athletes from New England as well as from Elmhurst University in Illinois, and more than 700 fans.
"It was a huge success across the board," says Feldman, BA '10, a former three-time team MVP for the Rams who has been coaching at his alma mater since 2017. "We ran and competed well and had several school records broken." Feedback from the other competing teams was strong, he adds, as was interest from schools who hope to compete next year. "I think this will be our crown jewel event, which can continue to grow from year to year and help us with recruiting."
Turning in school-record performances were co-captain Nicole DeBenidetto, Class of 2023, in the women's triple jump (9.32 meters); Tim Barry, Class of 2025, in the 800-meter run (1:57:00); and Kara Sickle, Class of 2026, in the women's pole vault (2.75 meters).
Four mornings a week, the 47 women and 46 men who make up the indoor track and field team board University buses for their 7-9 a.m. practices at the TRACK.
"My teammates and I are very excited to train where some of the best runners in the world do," says Wood, a Class of 2023 marketing major. "While we're all doing different workouts, we cheer everyone else on. It's like we're all part of one big family."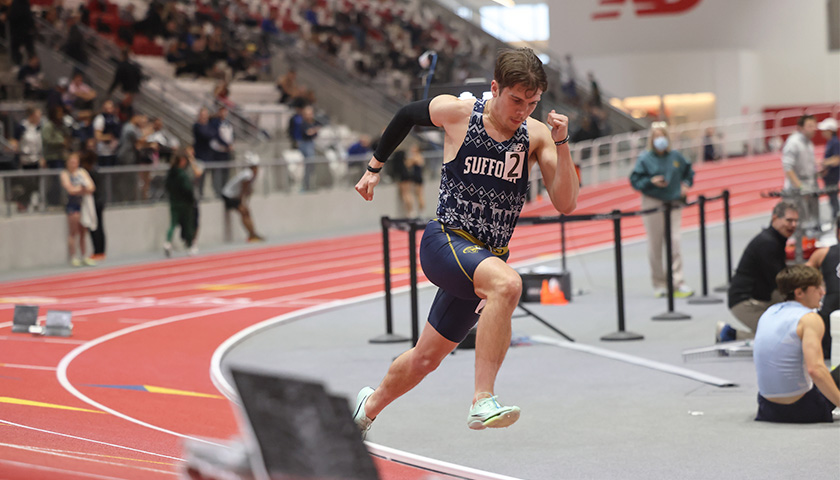 Selvin Backert, a Class of 2024 history major, is impressed by New Balance's attention to detail, right down to the type of sand in the jumping pit. "They did research to find the kind that's most comfortable and leaves a good mark," he says. "Only people who run track would know something like that."
Training at such a professional facility, which holds up to 5,000 spectators, gives the Rams a leg-up on the competition, adds Backert, who runs the 800-meter and one-mile events. "It's a privilege to train at a place that is comfortable and gives us peace of mind," he says. "This helps all of us while working hard for the same goal—to win a conference championship."
The Rams' next meet at the TRACK, the Frozen Eight Championship, will be held Sunday, February 12.