Awards ceremony honors individuals and organizations that embody the legacy of MLK and represent 'the best of the Suffolk experience'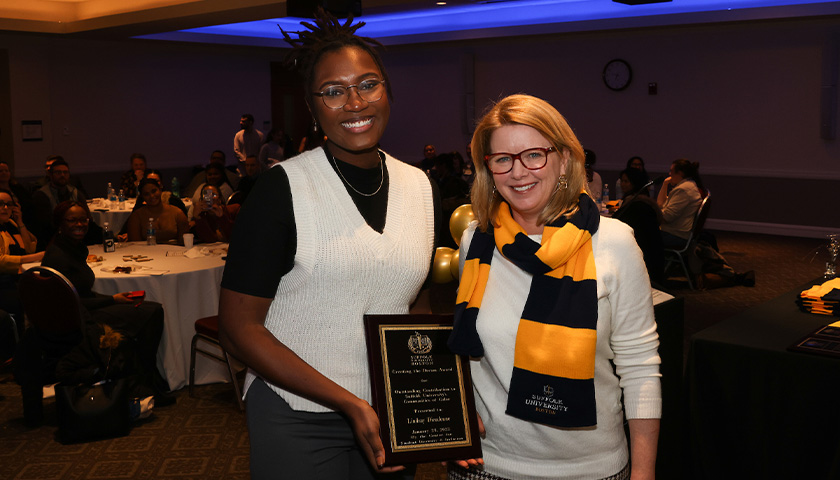 As part of its annual weeklong commemoration of the legacy of the Reverend Dr. Martin Luther King, Jr., Suffolk celebrated its 19th annual "Creating the Dream" awards ceremony, honoring individuals and organizations that work toward creating an inclusive, respectful, and safe climate for people of color on the Suffolk campus.
"Dr. King believed in society's ability to change and in every person's ability to effect that change," said honoree Lindsay Dieudonne, Class of 2023, an honors political science major and McNair Scholar who is president of the Black Student Union. "Each and every one of us also has an opportunity to influence change and march towards justice."
This year's winners—who "embody the very best of the Suffolk experience," said Laura Ferrari, vice president of student affairs, who presented the awards—also included the Middle Eastern North African Association (MENA); Kerimal Suriel Guerrero, a third-year law student and president of the Black Law Students Association; and Greg Beaver, a Sawyer Business School professor and DEI Fellow.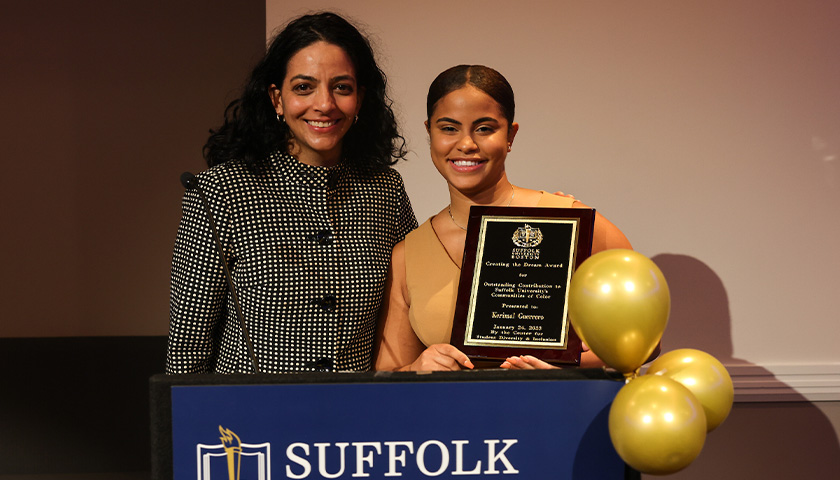 Guerrero, who is a certified student attorney with the Juvenile Defenders Clinic and a co-coordinator for the Public Interest Law Collaborative, was recognized for her accomplishments as an "exceptional student" and an active mentor who "advocates through her service."
"She has made the Suffolk experience for many a positive one, and set the example for others that they can succeed too," one of her nominators said. Guerrero said she was touched and humbled by the award. "I am glad I was able to impact others, and have had a very great time here," she said.
Dieudonne was honored for her achievements as "a transformational leader on the Suffolk University campus," according to one nominator. Another described her as "probably one of the most gifted student leaders I have witnessed. She leads with her heart, her soul, and with purpose."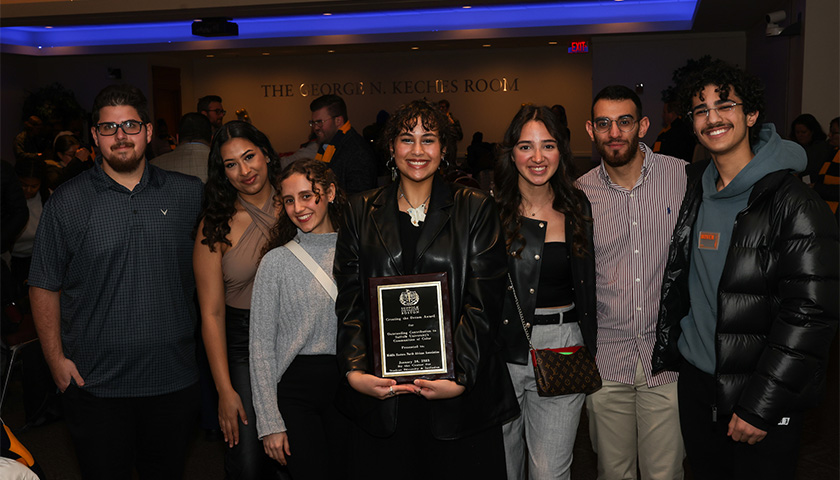 2023 saw a record number of nominations
This year's awardees were chosen from a record number of nominations, Ferrari said. That includes another winner, MENA, which was nominated for its above-and-beyond commitment to openness and inclusion for all students, not only those of Middle Eastern and North African heritage.
"MENA is a great example of what a student organization can be," said one nominator. "I looked forward to coming to Suffolk for many reasons," said another nominator, "but I did not know that connecting with my roots would be one of them."
Group members said they were thrilled to be selected. "Shukran to Suffolk University for giving us space to be ourselves and allowing us to welcome everyone," said Maryam Alsobhi, using the Arabic word for "thank you."
Beaver—a management and entrepreneurship professor who was lauded as a "shining light in the Suffolk community" by nominators—was honored for his dedication to creating an inclusive academic environment through his popular "Managing Across Differences" course, his academic research, and his pioneering work in creating a DEI minor within SBS.
"I am happy to work at such an amazing institution," he said.
Following remarks by the Reverend Amy Fisher, the University chaplain and director of the Interfaith Center, Dieudonne, Guerrero, and seniors Ahria Ilyas and Amethyst Kettrell read poignant passages from Coretta Scott King's 1968 Harvard University Commencement Address, "We May Yet Not Only Survive, We May Triumph." She delivered the speech in place of her late husband, who had been assassinated just months earlier.
"Not one of us can be spared the luxury of withdrawing from the arena of action," the speech reads. "Each one of us is being called to help save our society and the world from destruction."
The ceremony, which was run by student leaders from the Center for Student Diversity & Inclusion, closed with a stirring performance by the a cappella group Soulfully Versed.
Following the ceremony, the honorees led attendees in a candlelight walk to view the recently unveiled MLK memorial sculpture, The Embrace, in the Boston Common. Before disbanding for the evening, the group, led by Layah Turner, Class of 2026, sang verses from the hymn "Lift Every Voice and Sing."