On-Court Chemistry
Men's basketball is starting 2023 off with a bang, thanks to four double-digit scorers and a team-first attitude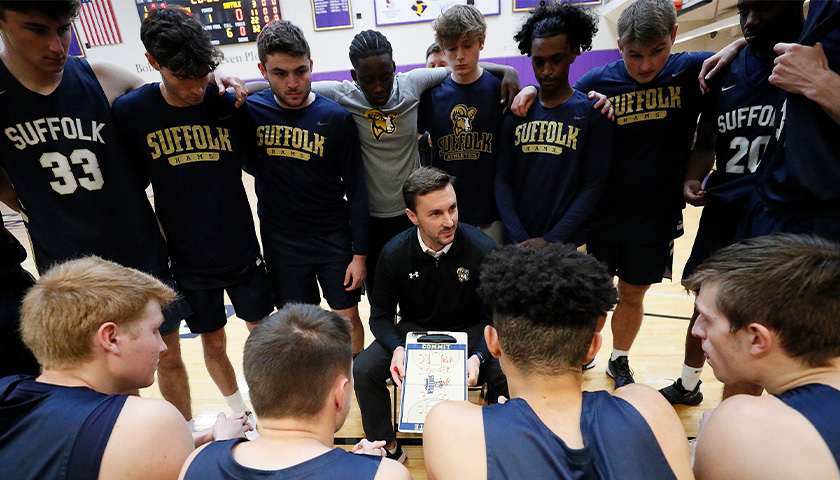 Balanced offense. Stingy defense. Poise under pressure.
That's the winning formula that has propelled the Suffolk men's basketball team to an 8-2 record since the new year, including a six-game winning streak.
"We're playing our best basketball of the season right now," says Rams Head Coach Jeff Juron, whose team has an overall record of 13-7 (8-5 in the Commonwealth Coast Conference) to date. "We're sharing the ball on offense, growing on the defensive end, and getting better at winning close games."
Averaging 75 points per game, the 2022-23 Rams are a fun team to watch. Their starting lineup boasts four double-digit scorers, led by sophomore guard-forward Keenan Robertson, who is averaging 18.8 points per game, followed by senior point guard Aidan Sullivan (12.4), sophomore guard-forward Cole LeVangie (12.1), and center and graduate student Will Rowe (11.3).
"Each of them can make plays for themselves or others at any time during the game," says Juron, now in his eighth year as head coach. "This is a huge plus for us, especially in a tight game."
A good team that plays well together
Robertson, a criminal justice major and two-year starter from Rochester, New York, has already scored a career-high 30 points on two separate occasions this season.
"Keenan can score from anywhere on the court," says Juron. The six-foot-five-inch guard "has a great combination of size and skill and is a real match-up problem for other teams."
Robertson does more than just put the ball in the basket: He is also averaging 6.6 rebounds, 1.8 assists, and 1.4 steals per contest.
"I know if I do other things besides scoring, like playing defense, rebounding, and passing, the chemistry of the team will be better," says Robertson. "We have a good team that plays well together. While we all have different personalities, we all connect very well, on and off the court."
As the Rams enter the stretch drive of the season, Juron is optimistic.
"Winning games builds momentum and confidence," he says. "We play in a very competitive conference, so our goal is to keep improving every day, at practice and during games."