Timing is Everything
The women's ice hockey team has a 'no-quit attitude'—and the top spot in the Commonwealth Coast Conference as they skate toward the playoffs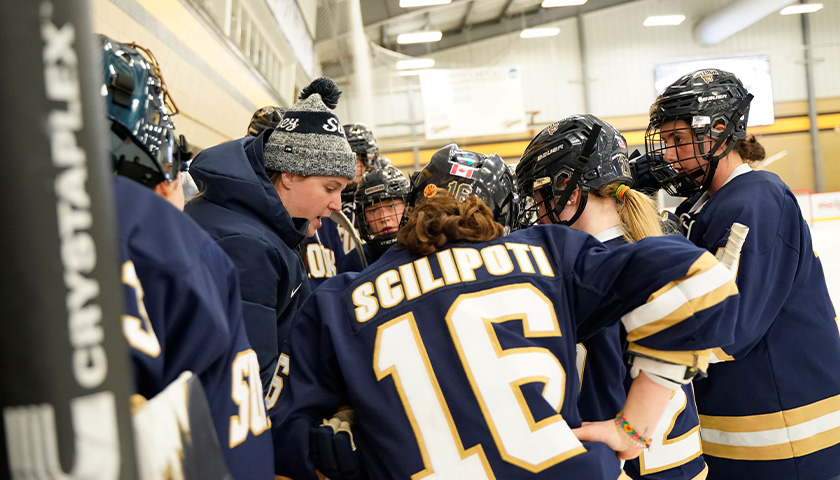 Peaking at the right time.
That's where the Suffolk women's ice hockey team finds itself during the final weeks of regular season play. The Rams are currently in first place in the Commonwealth Coast Conference, boasting an overall record of 14-5-2 (12-1-2 in the CCC). Since the start of the spring semester, they've won five games and tied a sixth.
"This team has a no-quit attitude that finds ways to win," says Head Coach Taylor Wasylk, now in her fifth season at the helm of the Blue and Gold. "As long as we remain healthy, I feel we have the talent to compete with anybody."
One of the team's strengths is putting the puck in the net. The Rams have scored 64 goals to date (that's more than three per game), and have an average of more than 37 shots on net each contest.
"Our whole team gets involved in scoring, and we also play good defense," says Wasylk. "We have the whole package, which makes coaching this team so much fun."
One welcome addition to the Rams lineup is Miranda Gaudet, a graduate student who played Division I hockey as an undergrad at Clarkson University. (Because of pandemic shutdowns, all NCAA athletes have been granted an extra year of eligibility.) The highly skilled forward currently leads the conference in scoring with 22 points (seven goals and 15 assists).
"Miranda makes a lot of plays happen with her incredible speed," says Wasylk of the 5-foot-8 dynamo from British Columbia, who's pursuing a master's degree in marketing. "She's been consistent all season and adds great depth to our lineup."
Gaudet says she couldn't ask for better teammates. "It's awesome how everyone gets along and supports each other," she says. "We all take pride being in first place right now. But we have to keep working hard to reach our goal of winning the conference championship."
Wasylk believes that goal is achievable with players like Gaudet, along with forward Shana Cote and defensive stars Madison Duff and Leslie Steiner.
"They're all so important for us because of the experience and leadership they bring to the table," says Wasylk. "The playoffs are a brand-new season. What we need to do now is reset, focus, and be ready to take care of business."