A Chance to Learn and Celebrate
More than 20 events planned for Ram Inclusion Week, from February 27 through March 3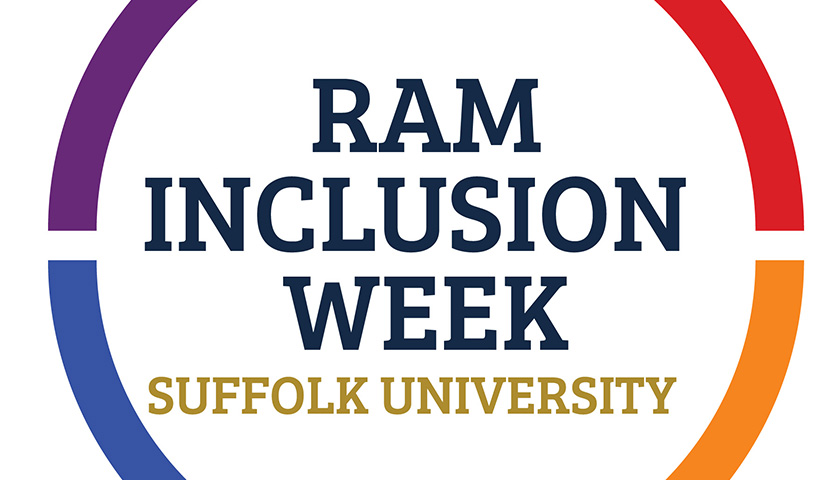 Please note that all events originally scheduled for Tuesday, February 28 have been postponed or rescheduled due to the winter storm.
From Monday, February 27 through Friday, March 3, the University will host Ram Inclusion Week with more than 20 different events exploring diversity, equity, and inclusion at Suffolk today.
Now in its fourth year, Ram Inclusion Week showcases the many kinds of diversity within the Suffolk community and provides opportunities for students, faculty, and staff to come together to share and be heard—and to celebrate.
Featured events include the March 3 Social Justice Summit, with workshops and a keynote address by noted activist Feminista Jones, author of Reclaiming Our Space: How Black Feminists Are Changing the World From the Tweets to the Streets. The summit, whose theme is "Representation, Education & Liberation," will be held in the Keches Room at Sargent Hall, with breakout sessions beginning at 12 noon, followed by the keynote at 3:30 p.m.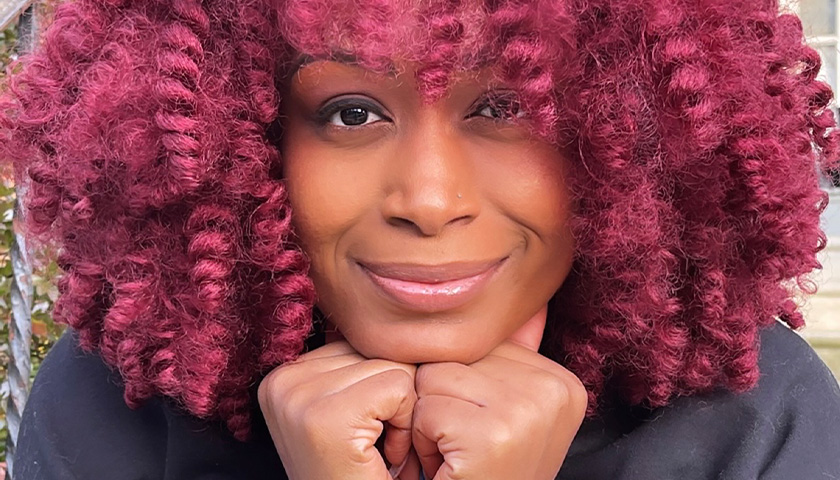 Other events include:
Black Men in Leadership, a panel discussion and reception featuring six Suffolk alumni and students (postponed; to be rescheduled in March)
"Come as You Are: A Celebration of Identity Through Fashion," sponsored by the Center for Student Diversity & Inclusion, the Asian American Association, UNICEF, and the Neurovariety Club (March 1, 6-8 p.m., Sargent Hall, Mills Family Lounge)
Career networking events for first-gen students (March 1, 12:30-1:45 p.m.) and for international students (March 2, 3:30-4:45 p.m.), Center for Career Equity, Development & Success
BIPOC Small Business Fair showcasing such companies as Snapped Boston, ATCK Fitness, Bao Bao Bakery, and Café Juice Up (postponed and rescheduled for March 21, 11 a.m.-2 p.m., Sawyer Building, fourth floor)
Disability as Diversity workshops for students (March 2, 12:30-1:45 p.m., 73 Tremont, Room 9077)
Creating accessible learning materials in Canvas, a virtual workshop sponsored by the Center for Teaching & Scholarly Excellence (March 2, 12:30-1:30 p.m.)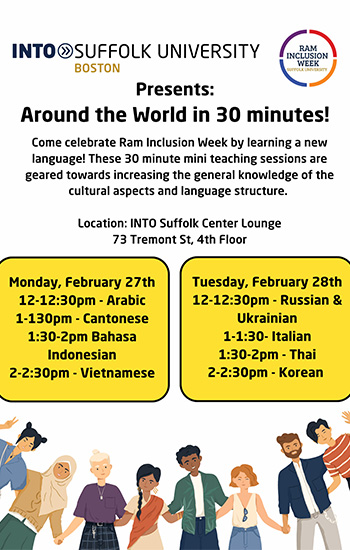 Documentary film screenings and discussions sponsored by Ford Hall Forum: The Loving Generation, exploring the lives of biracial children (March 2, 12:20 p.m., Sawyer Library Poetry Center and Zoom) and Little White Lie, about a young woman's efforts to uncover her multiracial identity (March 2, 5 p.m., Sawyer Building Stoll Room and Zoom)
Center for Restorative Justice introductory workshop on building equitable relationships while changing culture and climate (rescheduled for Monday, March 6, 9:30-11:30 p.m., Sargent Hall, Room 625); workshop is limited to 20 participants
Black History Month trivia contest sponsored by the Black Faculty and Staff ERG (February 27, 12-1 p.m., Sawyer Library Poetry Center and on Zoom)
"Around the World in 30 Minutes" mini-language lessons in Arabic, Cantonese, Bahasa Indonesian, Vietnamese, Ukrainian and Russian, Italian, Thai, and Korean sponsored by INTO (February 27 and March 2, 12-2:30 p.m., INTO Center Lounge, 73 Tremont, Fourth Floor)
Tarot card readings by Suffolk Mystics and Witches (March 1, 3:30 p.m.) and guided meditation, elemental yoga, and other programs sponsored by the Suffolk Interfaith Center (Sawyer Building, Room 823)
Suffolk's annual employee appreciation breakfast (March 2, 9-11 a.m., Sargent Hall Commons)
For complete listings, including event descriptions and registration information, visit Ram Inclusion Week.