In the Footsteps of Boston's Black Leaders
Charles Yancey, who was the city's longest-serving councilor, brings students on a journey from abolitionism to today's anti-racist movement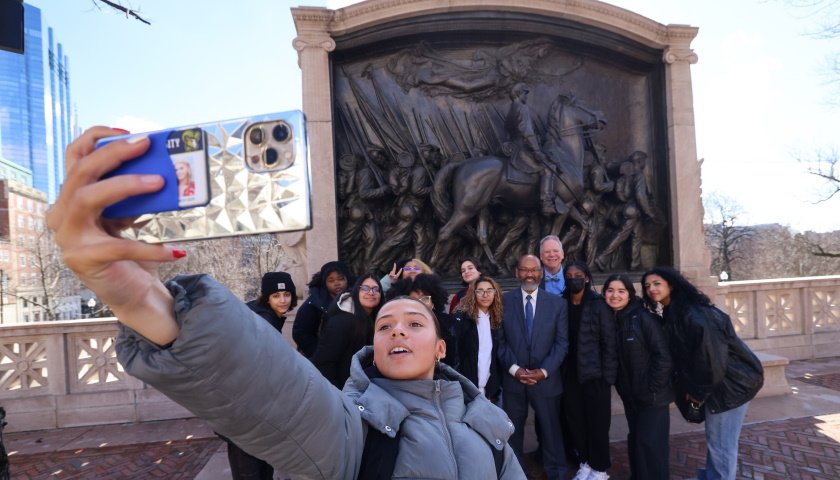 On an unseasonably warm February day, students in Suffolk's Race, Economics & Politics course—this year focused exclusively on Black politics in Boston—left their classroom at 73 Tremont Street and crossed over to a sunny corner of the Boston Common.
They began an impromptu capsule tour of Boston's Black history, starting with the Robert Gould Shaw and Massachusetts 54th Regiment Memorial, which commemorates the sacrifices of one of the first Black fighting regiments in the Civil War. They traveled a few blocks to the Old State House and stood where African and Indigenous sailor, Crispus Attucks, was killed by British soldiers along with four other men in what would become known as the Boston Massacre, helping to spark the Revolutionary War. And then they finished at a less obvious spot: Boston's City Hall.
It was here that their professor, Charles Yancey, made history as Boston's longest-serving city councilor. And it's also here that students have the power to help shape Boston's future.
A 32-year career in City Hall
Yancey's path to City Hall was not a straightforward one, he says, in part due to structural racism. In fact, he ran multiple times for an at-large council seat before rules were changed to allow direct representation from each district. Yancey helped push for that reform.
"I was an organizer and spokesperson for the campaign for district representation, because between 1951 and 1981 all the races were city-wide," says Yancey. "That was one of the reasons why during the 1950s there was not one African American elected to the City Council. In fact, between 1951 and 1967 there was no representation from the African American community on the Boston City Council."
Boston adopted a new hybrid model of representation, establishing nine districts while retaining four citywide at-large seats. With the support of his neighbors in Boston's Fourth District, which includes Mattapan and Dorchester, as well as parts of Jamaica Plain and Roslindale, Yancey was ushered into office in 1983—and remained there until 2015.
"Going to college, I thought the worst thing that anyone could be was a politician. That was the age of Richard Nixon; it was a very cynical time. My last year, I began to ask 'well, if I don't get involved, people who think like me, then who else out there will be representing us?'"
Charles Yancey
History, Language & Global Culture
His original plan was to serve one two-year term to fight against discrimination in the city's services and help bring attention to a spate of crimes in the community, including the unsolved murders of several Black women. But he soon realized that the deep inequities in public safety, education, housing, employment, and virtually every area of life in the city were centuries in the making—and that untangling the disparities caused by systemic racism could take generations.
A wealth of Black history—and discrimination
Now, Yancey is imparting lessons learned through more than three decades in government and a lifetime serving his community to Suffolk undergraduates from a mix of majors, including political science, sociology, psychology, and law, who are seeking practical solutions to the problems they see in the city and world around them.
Politics, philosophy, and economics major Sydney Weekes grew up in Boston's Dorchester neighborhood. Though she was born in Boston, Weekes balances both her African American and Caribbean roots and heritage. Taking courses like this one through Suffolk's Black Studies minor has helped Weekes broaden her knowledge of the global Black experience, from the governmental structures of African countries to the complex history of her home city.
"I feel like people don't realize how much Black history there is in Boston or how much discrimination there is in Boston," says Weekes, Class of 2023, who appreciates the open and inclusive dialogue Yancey fosters in his classroom.
As they learn about important figures and milestones in the city's history, they talk about how the legacy of those events impacts life in the city today—from the recent unveiling of The Embrace statue commemorating the Reverend Dr. Martin Luther King, Jr. and Coretta Scott King, to METCO, a school integration program Weekes participated in that enables students from Boston to attend well-funded suburban schools.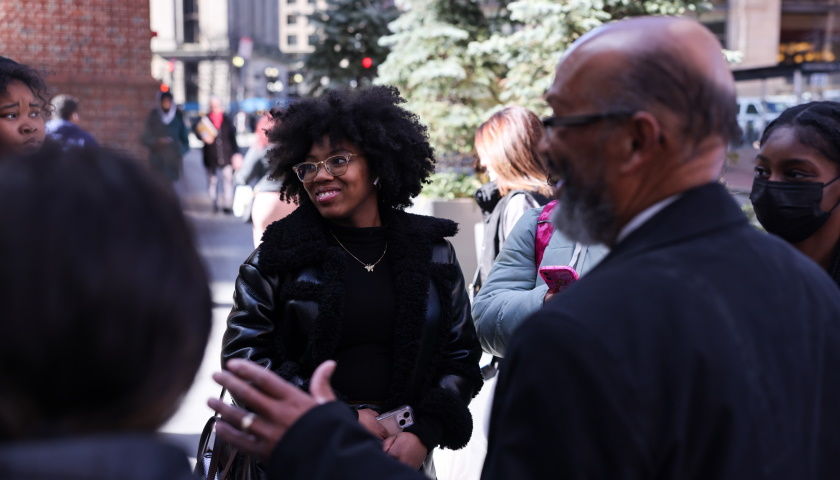 For Maielise Lord, Class of 2025, Yancey's course is providing critical context for the social justice issues they want to explore in their future career as a journalist.
"When I started this class, I knew that I had a lot to learn and at the same time, I am still shocked by how little we were taught in school about Black history," says Lord, who hails from Westborough, Massachusetts. "Black leaders in Boston set examples for the rest of the country. Through hardship and a lot of pushback, they laid the groundwork for how to make change, especially in the government."
A legacy of Black leadership
Yancey's syllabus is packed with the stories and writings of centuries of leaders born, bred, or bolstered by their time in Boston.
"I want students to understand the legacy of leadership coming out of the city of Boston, which has had a disproportionate presence in promoting changes in this country," he says. He points to national and international leaders like abolitionist David Walker, W.E.B. Dubois, and Frederick Douglass, each of whom has deep ties to Boston and Massachusetts. "We even take credit for Dr. Martin Luther King, Jr.," who earned his PhD at Boston University, Yancey adds. "Even though he wasn't born here, he certainly had an impact on Boston and Boston had an impact on him."
A case can also be made for including President Barack Obama among Boston's Black leadership alumni, says Yancey. "He was educated in Greater Boston, and he really became a national figure as a result of a tremendous speech that he gave in Boston during the Democratic Convention of 2004."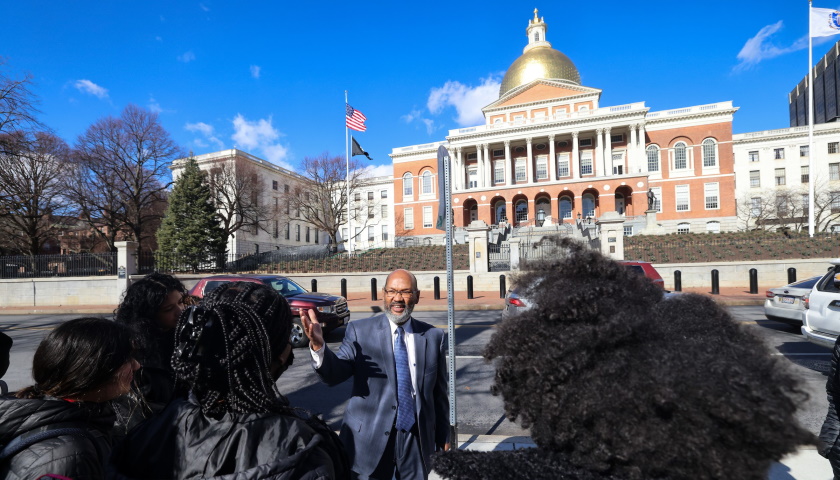 What city budgets reveal about racism
It's important to Yancey that his students understand that, though issues of racism and inequality may seem intractable, Boston's history offers examples of transformative change. Sometimes the catalyst is a soaring oration or a protest march, but often it's something much more prosaic: the city budget.
"My first piece of legislation in 1984 had to do with requiring the city of Boston to divest any assets that were supporting the Nazi-like apartheid regime in South Africa," recalls Yancey. "We had no illusions that one city in the country was going to be sufficient to bring the economic pressures we wanted to bear."
But after Boston divested from South Africa, Massachusetts adopted similar legislation. Cities all across the country followed suit, and years later Congress finally acted, as well. When Apartheid ended, newly-elected South African President Nelson Mandela made Boston one of his first international visits in recognition of the city's support, says Yancey.
Yancey spent much of his tenure on the city council digging into the budget where, he says, racial and gender disparities were striking, specifically in the wage gap between city personnel of color and their white counterparts. So he wasn't surprised when the Federal Reserve Bank of Boston produced a headline-making report in 2015 exposing the chasm between the median net worth of white and Black Boston households.
"One of the more challenging [goals of this course] is to understand how families survive in a very hostile environment," says Yancey. "Boston was not immune to the scourge of slavery, yet it was very rare that anyone would even suggest that there were enslaved people in the city of Boston. Somehow, people believed Boston was above that type of inhumanity. We've come a long way, but the context and understanding of how families and individuals can exist, and some even thrive, in that type of environment is going to be a bit of a challenge. How do you raise a family when you're the last hired and first fired? How do you deal with the unemployment and underemployment that's a direct consequence of racism or sexism?"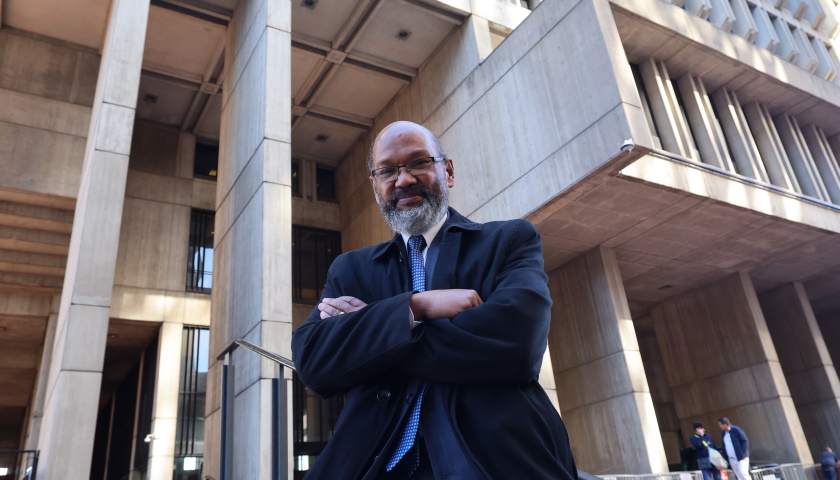 As the semester winds down, Yancey will focus the last month of class on city policy and budget processes, preparing students to recognize disparities and showing them how to get involved with their voices, their votes, and their work after college.
With Yancey as a guide, Maielise Lord is eager to dig deeper into the thorny issues facing the city.
"I'm preparing for a class discussion tomorrow about the school districts in Boston in the 1950s," says Lord. "Today, we're still having some of the same types of conversations [about access, quality, funding, etc.]. And I think that's really, really powerful and important to recognize that there's been a lot of progress, but there's so much more to be made."