Senate Confirms Suffolk Law Alumnus Myong Joun to US District Court
Judge Myong J. Joun, JD '99, will serve on the US District Court of Massachusetts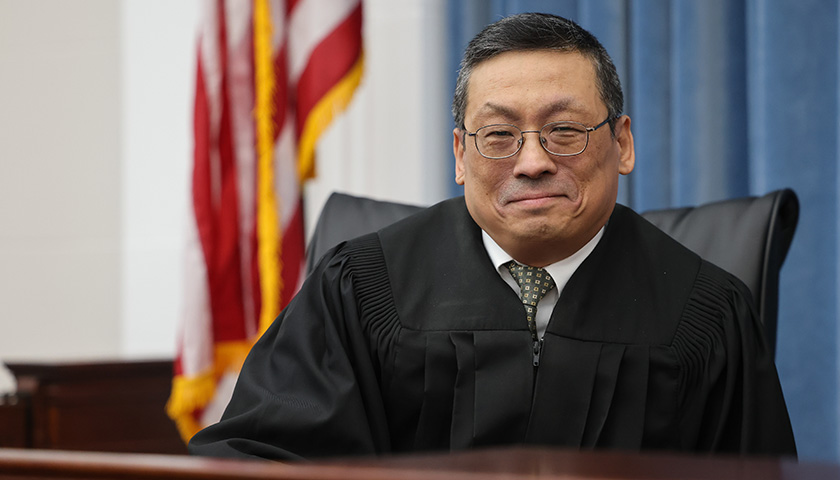 Judge Myong J. Joun, JD '99, an immigrant from South Korea who overcame childhood homelessness to excel in law school while holding down a full-time job, will serve on the US District Court of Massachusetts. He is the first Asian-American man on the federal bench in Massachusetts. President Biden nominated Joun in July 2022, and the US Senate confirmed him on July 12, 2023.
Joun has served as an associate justice on the Boston Municipal Court (BMC) since 2014, and earned warm endorsements from US Senators Ed Markey and Elizabeth Warren during the confirmation hearings.
Markey described Joun as a "trailblazer"—someone with "a uniquely American story," who is "devoted to working with people who need legal assistance, but are unable to navigate the system because of language, financial, or educational barriers."
Sen. Warren added that Joun's court experience in Boston "equipped him with an intimate understanding of the everyday problems faced by those who stepped foot through the courthouse doors ahead of his hearing."
Joun, a veteran of the U.S. Army and the Massachusetts National Guard, is the third Suffolk Law graduate to be confirmed to a federal judgeship in recent years, joining U.S. District Judge (RI) Mary McElroy, JD '92, and Circuit Judge of the U.S. Court of Appeals for the First Circuit Gustavo Gelpí, Jr., JD '91, HLLD '06.
Serge Georges, Jr., JD '96, HLLD '21, associate justice of the Supreme Judicial Court of Massachusetts, worked alongside Judge Joun on the bench of the BMC for six years. Georges said he is inspired by Joun's strengths as a jurist.
"When you do this job, you start to notice what can go wrong with a judge's courtroom management. Temperatures and emotions run high in our courtrooms, resulting at times in judges being curt and impatient, sometimes leading to reflexive decision-making. That's not how Judge Joun operates," he says. "He has the classic judicial temperament and approach—unflappable, extremely well-prepared, deliberate, and analytical. It doesn't matter what role you play in the court system—Judge Joun will treat you consistently with respect. He's going to make a great federal district court judge."
From a New York City Shelter to the Federal Bench
Joun and his family came from Korea to New York, with just a few dollars in their pockets, when he was just four years old.

His father took a job at a leather handbag factory and his mother in a garment factory. He was the first in his family to graduate from elementary school, which the family celebrated with Big Macs at McDonald's. After his parents separated, he lived with his mother and siblings in a New York City shelter for six months.
Joun called the BMC "a multidimensional court that needs multidimensional judges. It has courts full of civil and criminal cases where social, human, and legal problems intersect. I lived through many of those same problems. Equality and fairness before the law isn't simply a legal principle to me. It's my entire reason for becoming a lawyer."
As an attorney at Howard Friedman, PC, from 1999 to 2007, Joun litigated several civil rights cases in federal court, including Mack v. Suffolk County, which secured a $10 million settlement on behalf of a class of about 5,400 women detainees who were illegally strip-searched.
Reflecting the high regard to which he is held in the Boston community, Joun administered the oath of office to Boston Mayor Michelle Wu in November 2021.
The Suffolk Years
Joun attended the Law School's evening program from 1995 to 1999, working during the day during his 1L year as a regional manager for a dollar store chain and then later as a paralegal/office manager for a solo practitioner.
His day job meant driving far and wide, overseeing stores from Bangor, Maine, to Waterbury, Connecticut. Getting to Suffolk Law on time for his 6 p.m. class was sometimes a challenge, he said, "but my professors were high caliber and very understanding. They recognized that the students had a lot of responsibilities to juggle."
Joun said retired Suffolk Law Professor Stephen Callahan had a big impact on the trajectory of his career. In spite of being an introvert and very shy at the time, Joun joined Callahan's Chelsea-based landlord-tenant clinic.
"Professor Callahan taught me to be a human first and a lawyer second," Joun said. "That meant getting to know the clients, and understanding the issues they were facing beyond the immediate legal difficulty that brought them through the door. That knowledge often leads to better outcomes, including better negotiated settlements, he said.
Joun continues to hire Suffolk Law student-interns to work for him. Sometimes he comes across a shy student and is reminded of his early days in the clinic. "Before a trial, I told Professor Callahan that I'd never been more nervous in my entire life, and he calmed me down. He explained that the nervousness was normal, and a good thing. So, when I have a student intern saying that maybe trial work doesn't suit their temperament, I encourage them to suspend that belief and try it."
"What Suffolk Law does really well is to instill in the students a sense of obligation that we all have in the profession to give back to the community, to make people's lives a little easier. And Suffolk does that job better than any other school. It's an institution with many working people who gain the skills to help other working people."