A Celebration of Black Excellence
University community gathers to honor Black alumni, faculty/staff, and students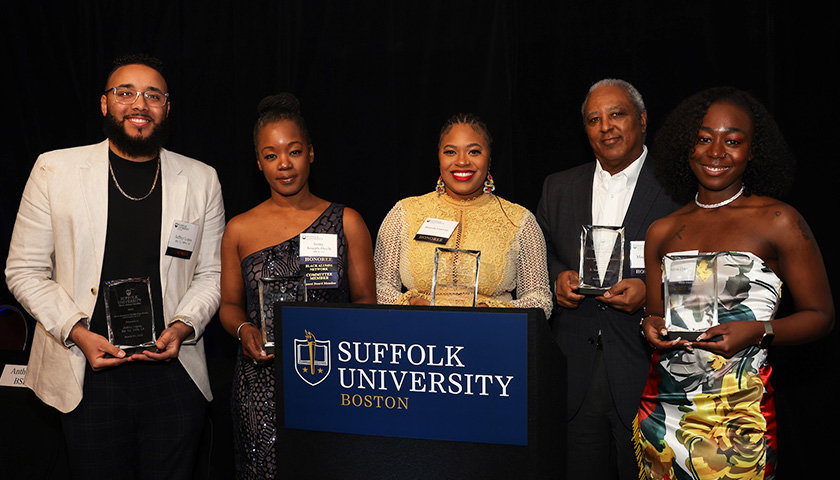 Members of the Suffolk University community gathered on an early spring evening for the fifth annual Celebration of Black Excellence. Sponsored by the Suffolk University Black Alumni Network (SUBAN) and the Office of Advancement and emceed by Tamela Bailey, JD '04, chair of both SUBAN and the Celebration of Black Excellence Committee and president of the Law School Alumni Board, the event honored Suffolk alumni, faculty/staff, and students for their contributions to the community and commitment to diversity, equity, and inclusion.
In her welcoming remarks, Suffolk President Marisa Kelly acknowledged the importance of the annual event. "This has become a wonderful tradition for us and a real sign of our commitment as a community to diversity and inclusion," she said. "We know that we have to continue to work, to learn, to grow, to challenge ourselves, to make progress, so that we are always moving towards our aspirations for ourselves."
Along with a moving performance by student a cappella group Soulfully Versed, the event featured a panel discussion titled "Black Men in Leadership" that explored topics like the importance of mentorship and social capital, imposter syndrome and other challenges Black men face in the workplace. Moderated by Jelani Burns, BSBA '23, president of the Suffolk Fundamental Brotherhood Society, and Sam Faisal, JD '20, attorney at Berry Appleman & Leidin LLP, the panel featured:
Tony Richards, MPA '21, vice president of equitable business development, Mass Housing
Anthony Ross, BSBA '97, managing director and head of real estate private equity, State Street
Neil Sicard, BS '01, patrol officer, Community Impact Unit, City of Salem, Massachusetts
"One thing that I've noticed is—especially for people of color who are in leadership positions—there are so many things riding on the decisions that we make," said Richards. "So we have less margin for error and then oftentimes can't be as risky" in our decisions.
After the panel, awards were presented to three alumni (including a Suffolk staff member), one current undergraduate student, and one current Law School student. All the citations had common themes: leadership, commitment to community, and, above all, excellence. Excerpts from the award citations are below.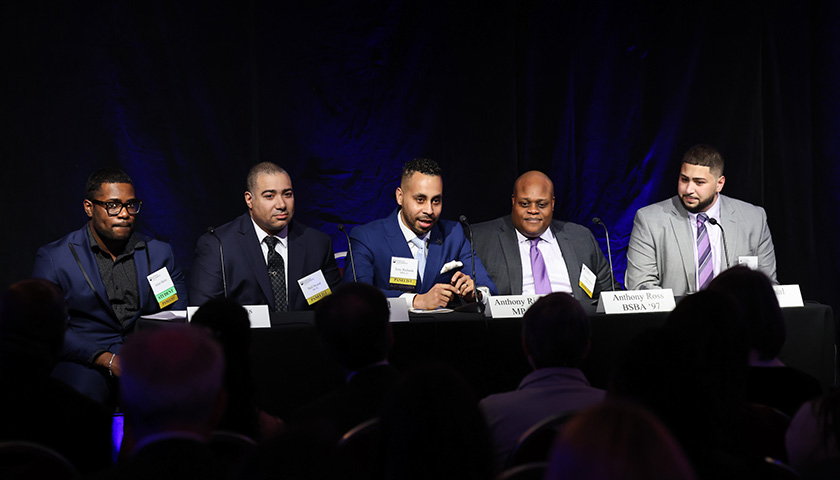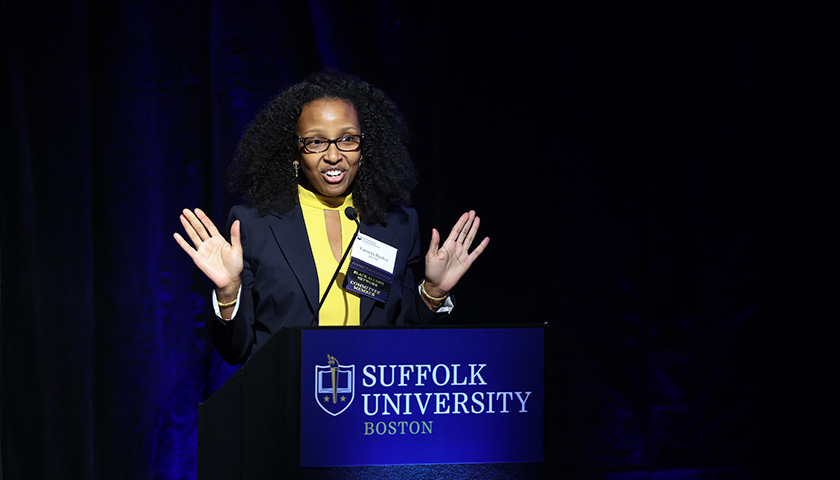 Sharifa Garvey, JD '24
Black Excellence Outstanding Student Award

Sharifa Garvey will graduate from the Law School in 2024. She has been active in a wide range of Law School initiatives, and as Suffolk Law School's Diversity Fellow, she has demonstrated leadership and fostered an inclusive community, advocating for our Black students on campus and in the greater community. She works to unite communities of color and their affinity groups to reach their maximum potential professionally, academically, and personally.
Sharifa inspires her fellow Law students to improve their networking skills and motivates them to attend social events. She cares for her classmates, and her grit and passion to make others aware of racial disparities is an inspiration. In all of her activities and engagement with the Suffolk community, Sharifa's fierce and dedicated advocacy shines through.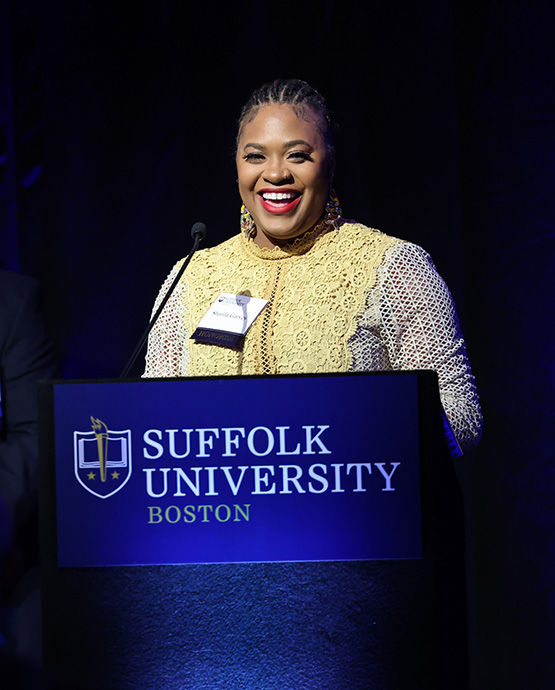 Ahria Ilyas, BA '23
Black Excellence Outstanding Student Award

Ahria Ilyas is a very engaged student whose leadership skills and sense of purpose are exemplary. She holds the position of Diversity Peer Educator Scholar in the Center for Student Diversity & Inclusion, where she demonstrates her commitment to social justice every day, working with students to educate them, advocate for them, and help them grow and develop their own leadership skills.
Ahria serves as a motivational leader for her fellow students, amplifying the voice of Black students across campus and instructing them by her example. She is extremely talented, determined to make a positive difference in the world around her, and always mindful of the need to fight systemic and racial injustice. She is described by her recommenders as a "great friend, compassionate and caring, hard-working and selfless, and an excellent role model for her peers."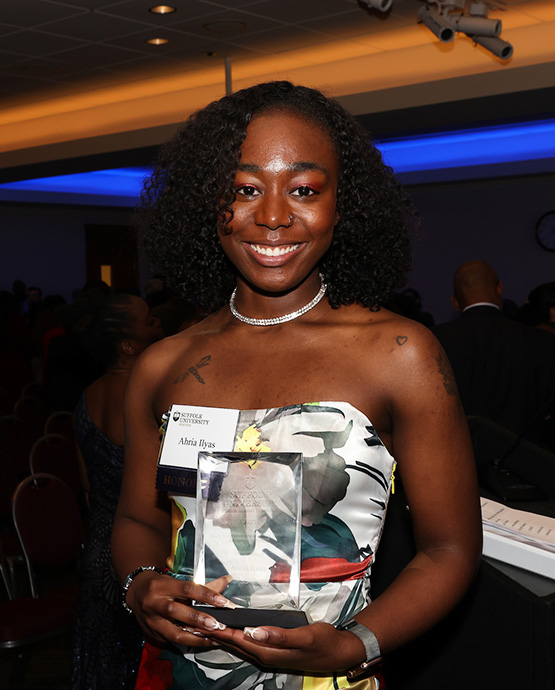 Jeffrey Lopes, BS '12, MPA '14, PhD
Black Excellence Outstanding Alumni Award

At the Boston Police Department, Detective Jeffrey Lopes is assigned to the Internet Crimes Against Children Unit, and he serves on the FBI Child Exploitation and Human Trafficking Task Force. While a community initiative liaison for the Bureau of Community Engagement, he was instrumental in strengthening relationships and trust with the communities of Boston and community partners, and he has always taken a keen interest in improving the lives and educational opportunities of Boston's youth.
Jeffrey works tirelessly to advocate for justice, equity, diversity, and inclusion in the criminal justice system and in the neighborhoods of greater Boston. He founded "We Belong," a youth leadership program that works with young people to improve their lives and empower them to be leaders in their communities, and he is a board member of DotHouse Health, a Dorchester-based health center serving families in need, and Dorchester's Cape Verdean Community Association.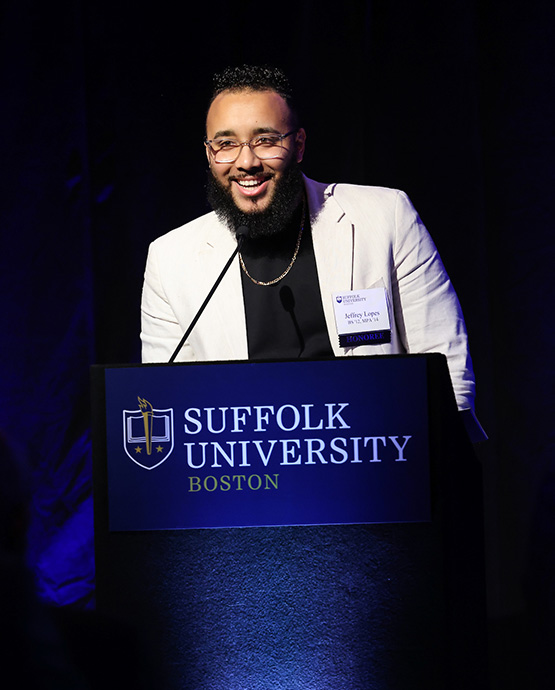 E. Macey Russell, JD '83
Black Excellence Outstanding Alumni Award

Macey Russell is a recognized authority and lecturer on diversity and inclusion in the legal profession. A partner at the prestigious law firm of Choate, he has received numerous awards and recognition as an outstanding and top-ranked attorney both locally and nationally, as a thought leader, and as an expert in the profession. The Chamber of Commerce named him one of Boston's Top 100 Most Influential People of Color. He is at the forefront of raising issues and suggesting solutions to diversity, equity, and inclusion challenges. He also advocates for bringing Black history into the mainstream of American education, and has sought federal legislation, entitled the George Floyd Education Act, to establish a commission to develop a national curriculum.
Macey Russell's commitment to Suffolk University has been exemplary, and he served with great distinction as a Charter Trustee for 10 years before stepping down in 2021.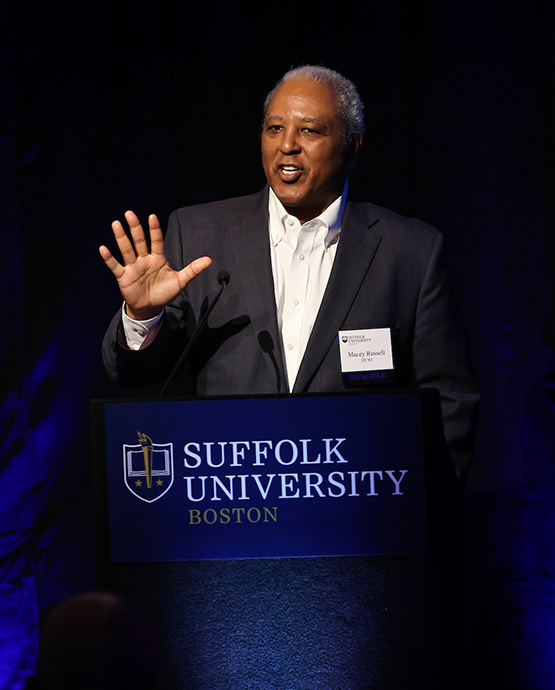 Jenny Joseph-Hayle, MPA '13
Black Excellence Outstanding Faculty/Staff Award

Jenny Joseph-Hayle's unwavering support of and vigilant advocacy for the Black community at Suffolk is commendable. Her passion and commitment to creating and supporting an environment that fosters inclusion, awareness and belonging for Black students, faculty, staff, and alumni exemplify the mission and purpose of SUBAN and this award.

In her position in the Center for Career Equity, Development & Success, Jenny works tirelessly guiding and mentoring students, especially students of color, and demonstrates every day that she is a strong, action-oriented student advocate, and a "grassroots" leader whom they can trust.