Maximizing the Mission
Alumna Alicia Smith brings her MBA skills to Perkins School for the Blind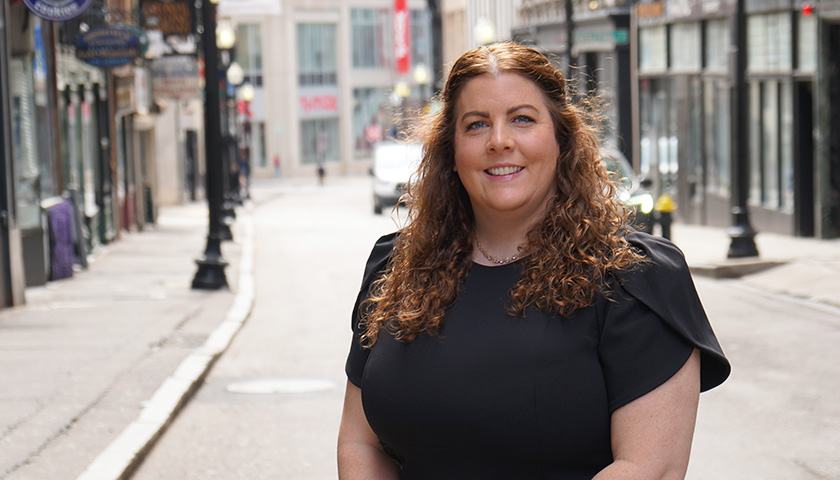 After a two-year stint in the Peace Corps, a spell in the hospitality industry, and jobs at nonprofits, Alicia Smith, EMBA '18, had acquired a lot of valuable business skills. But she realized she needed something more if she wanted to advance her career in a mission-driven organization.
"What I realized I was missing was the ability to see the bigger picture," Smith says. "I didn't really know how to 'grow the impact' of an organization."
So she completed the Executive MBA (EMBA) program at Suffolk University's Sawyer Business School and, soon after, started working at the Watertown, Mass.-based Perkins School for the Blind, a global NGO that operates in almost 100 countries. Smith is program director of Perkins' Career Launch program, which provides training and career services to help blind and visually impaired young adults land career-track jobs.
She credits her Suffolk EMBA with giving her the skills she needed to grow and succeed. Taking classes on organizational behavior, corporate finance, strategy, and public policy gave her a deeper understanding of those topics and how they all factor into decision-making at an organization.
"In my role at Perkins, I need to consider all of these pieces when I make decisions about strategic planning for the program and leading my team. Completing the Suffolk EMBA program helped equip me to do that," she says.
One of the other benefits of the EMBA program was that she could apply at work what she studied in class.
"I was working a full-time job at small non-profit while going to school," she says. "So after class all day on Saturday, I could really show up at work on Monday and use what I've learned. That's really the secret sauce of the EMBA."
Smith says bringing her business skills to a nonprofit has been very rewarding, both for her and for Perkins.
"A lot of people underestimate the similarities between for-profit businesses and nonprofits," she says. "The skills you need to lead in business are very much the same skills you need to lead a nonprofit. We both need to generate revenue and grow year over year. We need to innovate. We need to retain talented staff and have high functioning teams. But in a nonprofit, demonstrating impact and delivering on our mission is the most important metric."
Contact
Greg Gatlin
Office of Public Affairs
617-573-8428
Ben Hall
Office of Public Affairs
617-573-8092