Suffolk Law students take on affirmative action case before top jurists at Clark Competition finals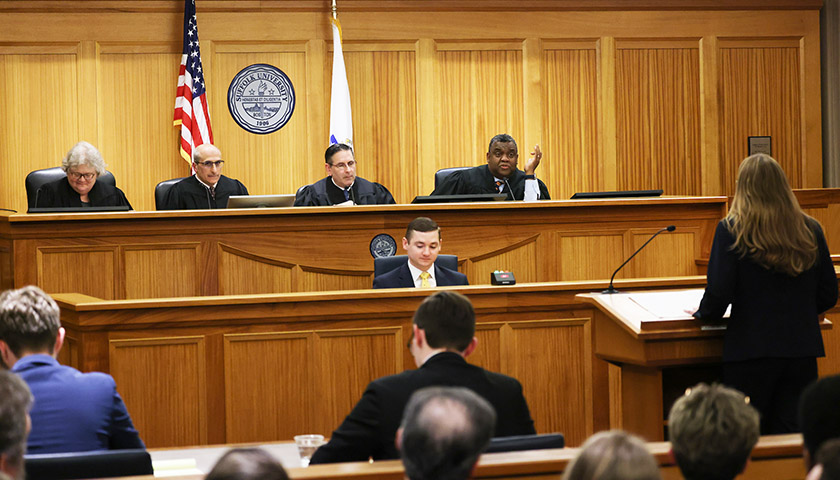 Suffolk Law student finalists in the Tom C. Clark Appellate Advocacy Competition faced what lawyers call "a hot bench"—a term used when a judge peppers attorneys with pointed questions. But in this case, the students faced four judges, each at the height of their profession.
From the bench of Suffolk Law's oak-paneled moot courtroom, Judge Gustavo A. Gelpí, Jr., JD '91, of the US Court of Appeals for the First Circuit, and three Massachusetts Supreme Judicial Court justices, Elspeth "Ellie" B. Cypher, JD '86; Frank M. Gaziano, JD '89; and Serge Georges, Jr., JD '96, HLLD '21, looked upon the four finalists and a packed crowd.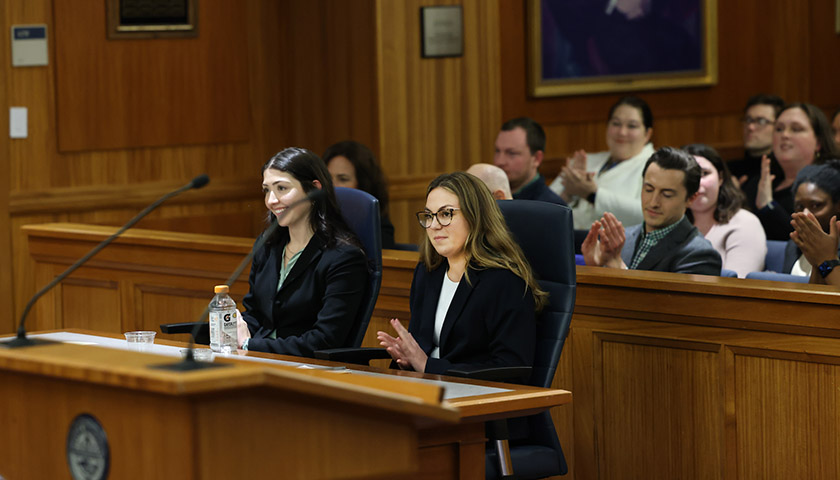 The Clark Competition, which includes brief-writing and oral advocacy, is open to Suffolk Law students who have completed their first year of law school. During this year's contest, the winners, Suffolk Law second-year students Hannah Casey and Marisa Balleani, and runners-up (and brothers) Ryan and Robert Callahan presented their sides in a fictional court case which hewed closely to the facts in a real affirmative action matter now before the US Supreme Court.

During the finals, Casey and Balleani defended the fictional Faber College, loosely based on Harvard University, against allegations of unconstitutional discrimination against Asian American students and for the use of unconstitutional racial quotas in its admissions process. Suffolk Law students on the Moot Court Honor Board wrote the facts of the fictional case that the competitors referred back to as they prepared.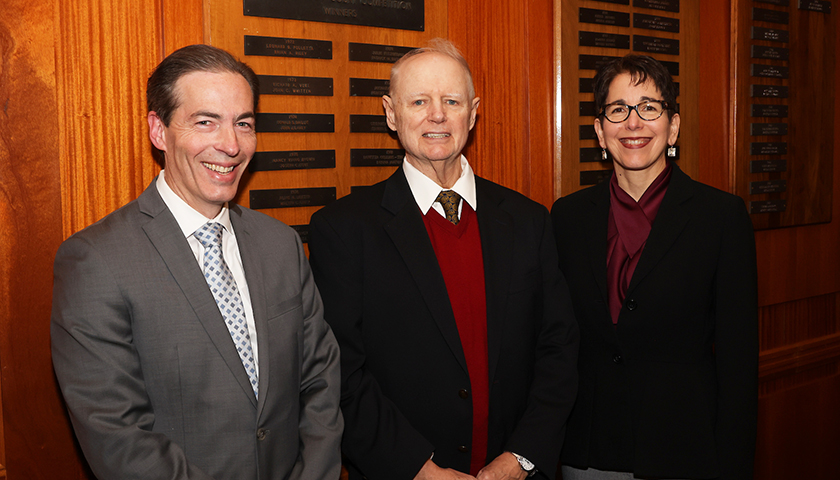 One critical element of the competition, Balleani says, is that it's not enough for a student attorney to read through and understand the basics of a complex appeal. To excel in the competition requires students to be able to respond in real time to judges' rapid-fire questions, and to do so in a way that is at once convincing, on-point in terms of the facts, and not so emotionally charged as to seem disrespectful.
One such example of a calm and thoughtful response to a judge's question occurred when Justice Gaziano asked Casey to address Supreme Court Justice Sandra Day O'Connor's 2003 majority opinion in Grutter v. Bollinger, a case confirming affirmative action admissions policies, in which O'Connor explicitly mentioned her expectation that in 25 years, race-conscious admissions would no longer be necessary. Hadn't the decision itself put a finite timeline on race-conscious admissions, Gaziano asked.
Casey directed the judges' attention to Justice Ruth Bader Ginsburg's concurrence in Grutter, which argued that determining when progress would be made in the area of racial justice would be impossible. "It's not a specific amount of time, because we know progress is not linear," Casey said.
Justice Georges, an adjunct member of the Suffolk Law faculty since 1999, served as Casey's evidence and advanced trial advocacy professor. She said he helped her understand that each of the students in his trial training course had a different style and presence. "He pushed us out of our comfort zones to try something different, but still encouraged us to home in on who we were as litigators, rather than trying to become someone else."
In their closing comments, the judges agreed that both teams had been topnotch, presenting their arguments and responding to questions directly and without getting caught up in their notes—as well or better than many of the experienced attorneys they see in court every day.
Of course, as all of the judges are sitting appeals court jurists, they also dispensed some advice to the finalists. Justice Georges reminded the teams that a rebuttal in an appeal has a different tone than a closing argument in a jury trial. "The audiences are different," he said, "so don't treat it like it's a trial." Judge Gelpí suggested that if a lawyer's argument seemed to have landed well, they should read the situation and decide if a rebuttal is necessary. Sometimes, Justice Georges added, "you just drop the mic."
Supporting the Clark Competition
Richard Voke, BA '70, JD '74, who won the Clark Competition 50 years ago, was in the audience watching the proceedings. In opening remarks Dean Andrew Perlman pointed out Voke's "tremendous generosity" in funding a prize for the competition's winners.

A former member of the Dean's Advisory Committee, Voke has been a longtime supporter of the Clark Competition. The Richard A. Voke Scholarship Fund for undergraduates from Chelsea, Massachusetts, and the Richard A. Voke Scholarship Fund for Suffolk Law students have provided dozens of students with the opportunity to pursue a Suffolk education, Perlman said after the event.
A prominent Boston attorney, Voke represented Chelsea and Charlestown in the Massachusetts House of Representatives for 20 years. "His lifelong commitment to social justice and significant contributions to the greater good mirror Suffolk's educational mission, and he serves as a role model for our students," President Marisa Kelly said.
Second-year law student Harriet Bryant, JD '24, an editor serving on Suffolk Law's Transnational Law Review, said her Voke Scholarship has been a huge financial help as she advances towards a legal career. "Mr. Voke's generosity has allowed me to focus intensively on my studies and participate in the Suffolk community," she said.
Balleani will work as a summer associate at Goodwin Procter in Boston. Casey will serve at D'Ambrosio LLP, in Boston. Balleani won Suffolk's McLaughlin Appellate Competition in the fall of 2022, and Casey and Ryan Callahan took the top spot in the Goodwin Trial Competition in February 2023.