Blazing Their Trails in Computer Science, Social Media, and National Security
Strong mentoring made all the difference for these three soon-to-be College of Arts & Sciences graduates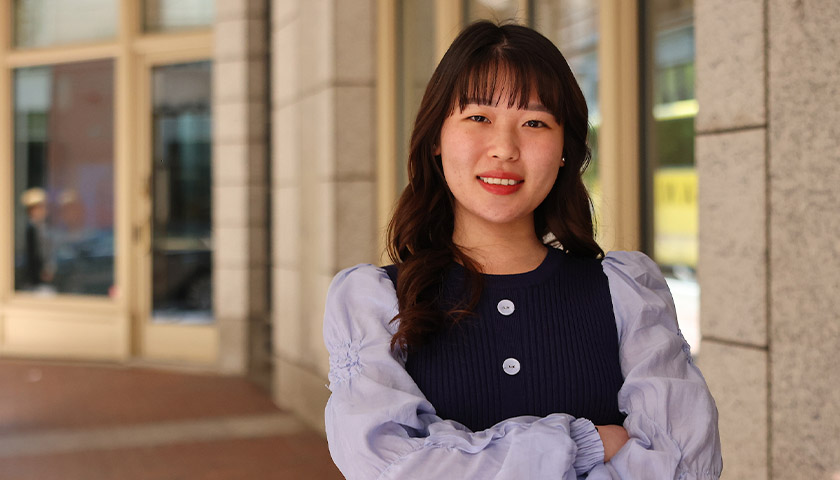 The Summa Cum Laude Computer Linguist: Tien Chung, BS '23
Computer science major Tien Chung wasn't yet born when a popular programming language called StarSet was first developed in the early 1990s. Today, she's helping to bring the largely forgotten language back to life.
For her senior capstone project, Chung implemented a compiler, a program that translates text written in StarSet into a code that can be executed by a computer, a process that could greatly aid in data management.
Mathematics & Computer Science Professor Dmitry Zinoviev calls Chung's work unprecedented.
"During my 22 years at Suffolk," he says, "no undergrad student has ever implemented a compiler"—programming so complex it's usually the province of advanced graduate students, in a field still heavily dominated by men. But Chung, a first-gen student, "was always open to new ideas and explorations," says Zinoviev, who collaborated with her on the project.
Chung admits the compiler tested her knowledge, but she grew to love the challenge. "I learned so many technical and communications skills," she says. When completed, Zinoviev adds, the compiler will enable computer programmers to develop software directly based on mathematical set theory (including databases), leading, he says, "to more natural solutions."

Born in Vietnam, Chung emigrated with her family to America at age 10, and first became interested in computer science while a student at Boston Latin Academy. After she earned a Nathan Miller Scholarship—which provides full tuition to Suffolk for Boston Public School students—that interest blossomed into a passion.
"My Suffolk programming courses opened my eyes to what computer science is all about," Chung says. "The professors teach you how the entire process works, from the computer hardware to the software applications."
Chung sharpened her analytical and creative talents while interning at SoftBank Robotics America, where her responsibilities included repairing humanoid robots and an autonomous vacuum sweeper. "I like to make things that I can actually show people," she says.
Next, as an intern at MassMutual, she crafted a proposal to redesign the company's calculators and tools website and presented her concepts to an audience of more than 200 people—work that earned her a job offer as a full-time developer at the insurance and financial services company.
Chung is excited to start her new role—and happy to be a role model. "Maybe my work will inspire other women to get involved," she says. "I want them to see if I can do it, they can do it too."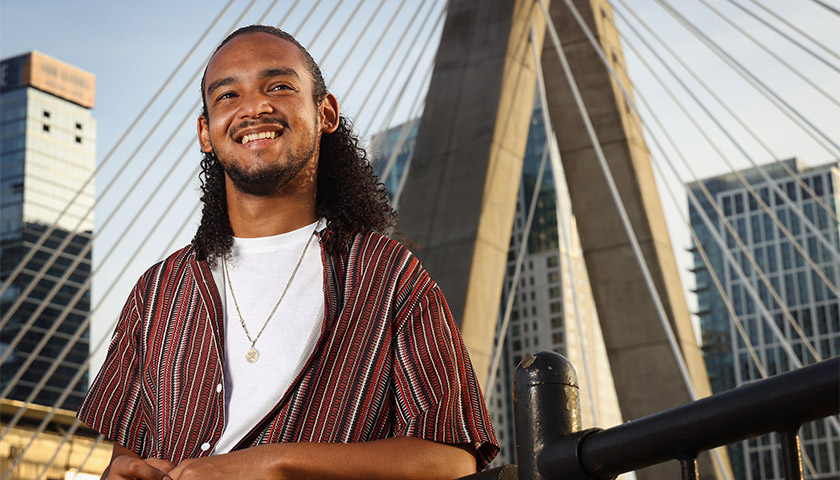 The Social Media Specialist: Omar Rodriguez, BA '23
Miami native Omar Rodriguez took a leap of faith to enroll Suffolk sight unseen four years ago.
Now he's such a Boston fan, he actually prefers the weather in his adopted city and will soon be joining the ranks of local social media giant HubSpot as a full-time community manager.
"Suffolk gave me a home away from home from day one. The buildings are close together and you feel like the city is your campus," says Rodriguez, a public relations major who minored in marketing.
Career-minded and outgoing from the start of his freshman year, Rodriguez began networking with encouragement from Professor Cynthia Irizarry of Suffolk's Advertising & Public Relations Department, who supplied recommendations of alumni in the field to get him started.
After COVID-19 pandemic restrictions were lifted, Rodriguez completed internships with digital media firms including Lake One and hoo.be. He also worked with Suffolk's Office of Marketing & Communications as a social media assistant, helping to build the University's presence on such channels as TikTok.
In his free time, he served as a University orientation header, tour guide, and Journey Leadership Scholar and Ram Supporter. These on-campus roles helped him gain confidence that he has brought into his professional endeavors, he says. "You need to come up with creative ways to handle different challenges. It was a perfect way to learn how to understand people and relate to them."
Thanks to one of those Suffolk alumni connections from freshman year, Rodriguez says, he found his way to an internship at HubSpot last summer that turned into a full-time job offer after graduation. He loves the culture of the company, which creates marketing, sales, and customer service software platforms. As a community manager, Rodriguez will be creating content, brand building, and working on digital engagement for different clients. "I'd love to build a career where I can manage people and a team someday."
Still, Rodriguez says, graduation is bittersweet, as so many of his friends are also striking out into the world. "I am going to miss the Suffolk community. I know I can come back here anytime. It just won't be quite the same."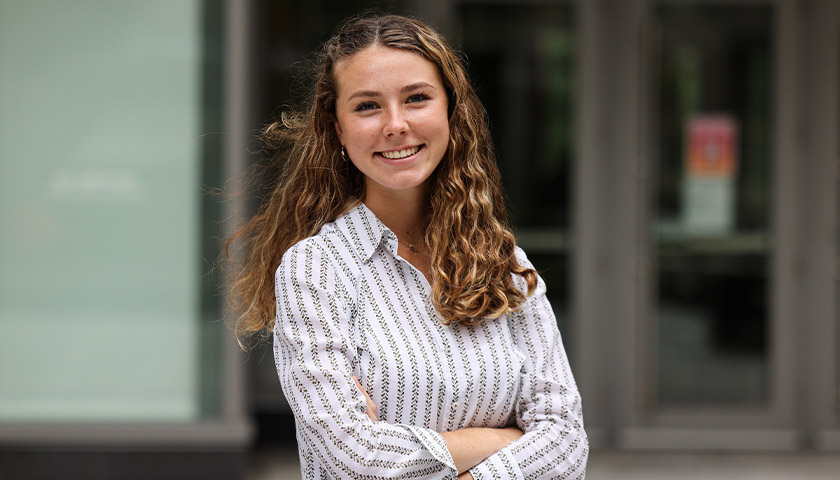 The National Security Gatekeeper: Isabel Baynum, BA '23
Four years ago, on the last day of Suffolk's spring semester, high school senior Isabel Baynum was desperate for a sign. On the eve of committing to her college choice for the fall, she wanted to make sure she'd found just the right mix of urban school opportunity and personalized connection. So she emailed the Political Science & Legal Studies Department. On the busiest day of the academic year.
The response was quick and comforting: "I'm here to answer your questions. What can I do?"
That offer, from Political Science & Legal Studies Professor Christina Kulich, would be repeated throughout Baynum's Suffolk career—and echoed by faculty and staff in her department; in the Center for Career Equity, Development & Success, where she would go on to shine as a career ambassador helping other students prepare for their futures; and on the Honors Council, where she served as president.
Baynum still cherishes the lessons in leadership she received in that role from Assistant Dean Sharon Lenzie and Director of Faculty & Student Engagement Cortney Kelly. They stressed that, first and foremost, "you have to be transparent and honest," she recalls. "But you also have to really stand up for what you believe in and push for what you think is right, regardless of the outcome."
As Baynum excelled in her classes, she relied on those mentors to help her pivot when the pandemic initially dashed her plans to participate in The Washington Center program. Instead, the political science major took a Boston-based internship with the Department of Labor, where she worked on OSHA cases using skills she learned in Suffolk's paralegal certificate program—an experience that convinced her that working in a government agency was her best path for improving people's lives.
In May 2022, that path led Baynum to Washington, DC, for an internship at the Defense Counterintelligence and Security Agency (DCSA). Professor Kulich again offered her assistance—bringing Baynum as her guest to The Washington Center's national security seminar, and introducing her to Suffolk students and alumni working in DC, a group who would become her first network in the capital.
Baynum, who graduated in December 2022, now works as a full-time management program analyst for the DCSA, which conducts over 2 million background investigations a year. Their work directly affects every single federal employee—from soldiers on the battlefield to the person who delivers your mail.
Making sure that policies are applied equitably is critical to Baynum. For her Suffolk honors capstone, she explored the unequal application of Miranda rights and presented her research at the National Collegiate Honors Council Annual Conference in Dallas, comparing the government's treatment of suspected Islamic terrorists with their domestic counterparts. Through that work, she says, she "started getting more curious about our national security and really interested in how we safeguard Americans against threats."
Now Baynum holds her work as a "gatekeeper" for the DCSA sacrosanct.
"We want to make sure that everyone is afforded an opportunity to work for the government, but that we're keeping the government safe from bad actors," says Baynum. "DC can be a polarizing place, but it's really comforting to go to work and feel like everyone is on the same path toward securing our nation and helping folks."