Expanding Access to Justice
Even as students, these three Law School grads were already advocating on behalf of refugees, low-income clients, and the right to representation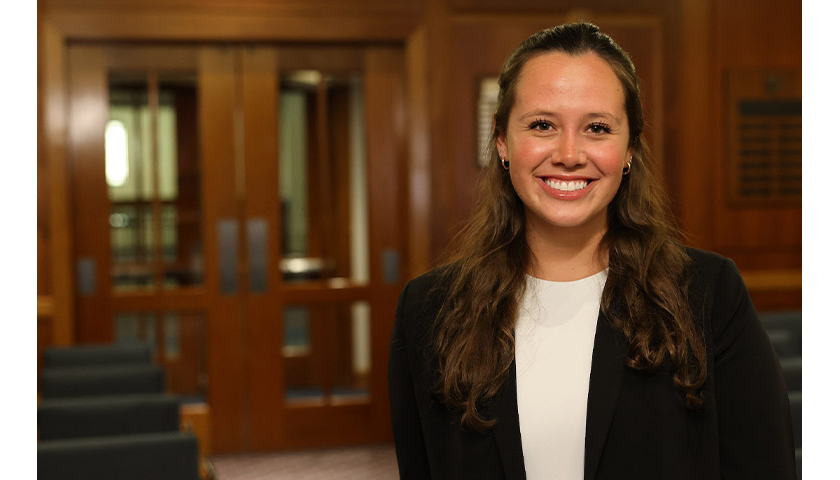 The Immigration Advocate: Sally Langan, JD '23
As Sudan teeters on the brink of civil war and reports of mass killings there fill the news, Sally Langan, JD '23, can claim a significant victory. She knows that her client will not face torture or even death at the hands of Sudan's Janjaweed militia, an organization facing charges of genocide.
Langan, who served in Suffolk Law's Immigration Clinic, represented a Sudanese refugee in an asylum case at the Boston Immigration Court. She and her clinic colleagues, Kelly Charest, JD '23, and Kavya Verma, JD '23, wrote a brief on the torture and political persecution of their client, a 37-year old Sudanese man from the country's Darfur region who was trying to avoid deportation to his home country. "The man's father was dragged by a Janjaweed militiaman on horseback and died from his injuries, and he was beaten himself, both as a result of his tribal affiliation and for protesting the militias and their political leader," Langan says. The brief included roughly 1,000 pages of corroborating evidence.
When court administrators told Langan that a hearing date wouldn't be available until 2025, she called them weekly until they finally agreed to allow a hearing, which took place in April. She also reached out to the Department of Homeland Security attorney making the case against her client to see if there were certain facts they could agree on to make the hearing less traumatic. Instead, after looking through the students' materials, the government lawyer agreed to waive any cross-examination of the client—a rare step—and let the judge know that both sides were in agreement that asylum should be granted. Soon after, at a very short hearing, the judge signed off on the matter.
"In my many years running the Immigration Clinic, a government attorney has never agreed to grant asylum without cross-examining the client," says Professor Ragini Shah.
Langan says that constructing the case was a powerful learning experience in how to build trust with a traumatized client across cultural and language barriers. "The clinic class gave me the tools I needed to offer the client agency—a sense of control over when and how to share his life story, and it was an incredibly gratifying experience."
Langan will serve as an associate at the law firm K&L Gates in Boston starting next fall.
The Legal Tech Innovator: Nini Sprinkle, JD '23
For Nini Sprinkle, JD '23, attending Suffolk Law's Accelerated JD evening program has been a whirlwind. She began her studies during the pandemic, even as she continued working full-time—first as a special education teacher and then as the assistant director for compliance in the Office of Special Education for the Boston Public Schools.
She gave birth to her second child in 2021, during law school. She learned a coding program, Python, as a fellow in Suffolk Law's Legal Innovation & Technology Lab in 2022; served as a student attorney in two clinics for low-income clients; and finally, in 2023, created an uncontested divorce app for litigants without a lawyer, with her LIT Lab partner, Elicia Inman, JD '23.
The app (whose production will continue with a new group of legal innovation students in the fall) walks self-represented litigants step-by-step through the required elements to print out court forms for an uncontested divorce, as well as supporting documentation.
Because the process of filing for divorce with a lawyer is expensive, Sprinkle's app offers an innovative alternative for low-income Massachusetts residents. Even when the two sides agree on the basics, like childcare and asset division, without an attorney the process can feel like a labyrinth, she says. Most self-represented litigants make errors, from missing paperwork to misunderstanding court instructions, she adds, and those mistakes slow down applicants, the courts, and legal aid attorneys.
Sprinkle's work drew the attention of the Massachusetts Bar Association (MBA), which honored her with a top award for student public service on May 11.
"The MBA appreciated my focus on legal form automation, expanding access to justice, and allowing legal aid offices to help more people," she says. The organization has since offered Sprinkle leadership opportunities on several statewide committees.
"Suffolk Law gave me what I needed, both to attend law school and to succeed once I got there," Sprinkle says. "As a first-generation student, it was extremely helpful to be part of a mentorship program and the Black Law Students Association, and other affinity groups that helped me find my community. Deans Ann Santos and Lorraine Cove went out of their way to help me face challenges along the way. The legal innovation professors introduced me to the whole world of legal technology, made me understand that I could be part of that world."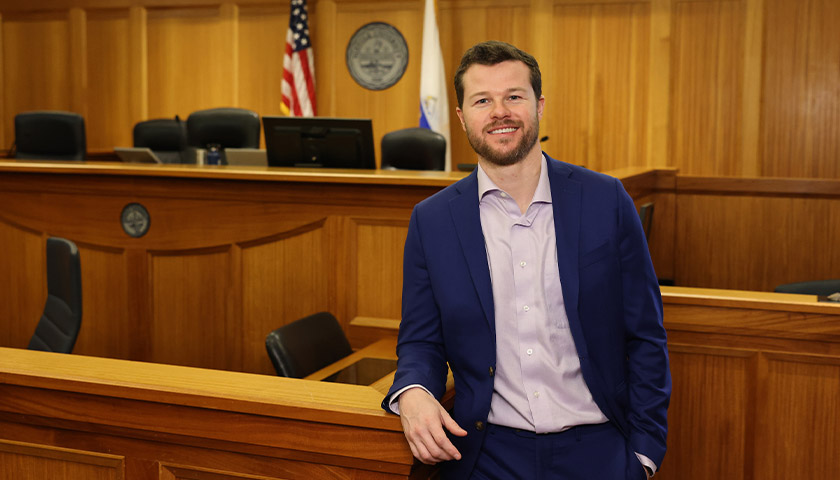 The Teacher Turned Defense Attorney: Brendan Kelly, JD '23
At age 35, Brendan Kelly has already lived several lives. He spent a decade working as a teacher. He's served as a regional field director for the Republican National Committee and as the manager of a popular country-rock band.
Three years ago, this former Boston middle school teacher decided to go back to school himself, enrolling in Suffolk Law's dual-degree program to pursue his JD and MPA and become a criminal defense attorney.
"I loved teaching and working with kids, but I've always been fascinated by the law," Kelly says. He was drawn to criminal defense work because "that's where people's rights are most at stake," he adds. "I believe everyone deserves to have someone in their corner fighting for them." Adding an MPA degree made sense, he says, because "law and politics are two fields where people can make the biggest change and impact."
As a 3L student, Kelly was a member of the Suffolk Defenders Clinic, where he acted as a public defender for individuals accused of various crimes, including unarmed robbery and assault and battery. It was, he says, "the best experience I've had here. Working with clients and earning their trust helps get you ready for when the training wheels come off after graduation."
Kelly sees a direct link between his classroom and courtroom work: "I look at teaching as providing kids with a foundation so they can go on and find opportunities to better themselves. As an attorney, I want to provide people accused of crimes with the opportunity to go on and lead productive lives."
While at Suffolk, he's maintained his connections with the charter school where he previously taught, serving as the school's debate coach. He's also made time for politics, serving as president of Suffolk Law's chapter of the Federalist Society in 2021–22.
Kelly's next challenge will come this summer when he begins a clerkship for Associate Justice Christopher P. Hodgens of the Massachusetts Appeals Court.
He also has one other assignment to complete. On June 24, a little over a month after he collects his Suffolk Law diploma, he'll return to Boston's Leader Bank Pavilion to oversee a concert by Dalton & the Sheriffs, the country-rock band he continues to manage and whose lead singer is one of his closest friends. "It's a group of guys chasing their dreams and doing what they love," says Kelly. "How could you not support that?"