'This Is Your Democracy. Protect It.'
Voting rights expert Janai Nelson, president of the Legal Defense Fund, urges Suffolk Law graduates to help address the massive uncertainties in the country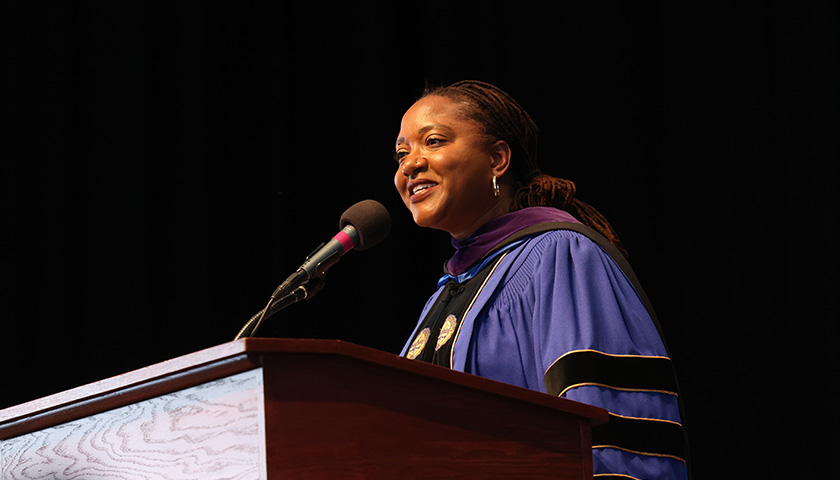 While the pervasive uncertainty of COVID-19 has passed, the nation must address serious questions about the future of its democracy, Janai Nelson, president and director-counsel of the Legal Defense Fund, told Suffolk University Law School's Class of 2023 during Commencement ceremonies.
It's a critical moment for the country as Suffolk Law's graduates enter the next phase of their lives, she said. "Precipitous change is happening, and you as lawyers will be called upon to steward it. The question of your generation is whether that change will propel us forward to greater equity, inclusion, and freedom or return us to place of fewer rights and greater inequality."
Nelson, a recognized authority on voting rights and election law, received an honorary Doctor of Law degree at the Suffolk University Law School ceremony, one of three Suffolk commencements held at Boston's Leader Bank Pavilion on Sunday, May 21.
'Act collectively in the interest of humanity'
She applauded the graduating class for inspirational service throughout the pandemic. "You not only have the courage necessary to face the challenging realities of our time, but you possess intrepid imagination, and instincts of survival," she told the graduates.
"You are proof that life can and does go on even in the face of existential threats when we act collectively in the interest of humanity," she said, noting students' clinical and pro bono aid to migrant families and the graduating class's application of many spheres of law to empower vulnerable communities. She also remarked on Suffolk Law's increasingly diverse demographics, pointing to major upticks in the percentage of diverse students from 2017 to 2023.
Nelson called on the graduating class to help address the massive uncertainties in the country, including "whether the rise in mass shootings will finally force our lawmakers to act, whether reproductive rights will be fully eviscerated, whether people of all genders can enjoy basic human rights, whether we will be able to read books, speak out, and teach the truth of our history, and whether this country will live up to the promise of democracy."
Such uncertainty also leads to "opportunity to confront our structural frailties, and transform our laws and systems to deliver the justice that our Constitution and other laws have never fulfilled," she said. The pandemic serves as proof that "the possibility of radical transformation is not only possible, but potentially powerful and positive," she said.
'Counter attacks on truth wherever you see them'
Nelson invoked a major figure in Boston's abolitionist movement, Theodore Parker, a white Unitarian minister and leader of opposition to the Fugitive Slave Act of 1850. She quoted Parker, who said, "I do not pretend to understand the moral universe. The arc is a long one. My eye reaches but little ways. I cannot calculate the curve and complete the figure by experience of sight. I can divine it by conscience. And from what I see I am sure it bends toward justice."
Parker, she said, was determined to shape the future, and she urged graduates to do the same, asking them to "engage in the essential work of democracy and moral arc-bending."
"We need your voice and your leadership. Counter attacks on truth wherever you see them. Normalize difficult conversations about racism and heterosexism. Challenge yourself to consider how much more evolved in our thinking about humanity, equity, dignity, and inclusion we will be in five or 50 years because of the choices you make today."
While the work will not be easy, "it will be worth it," she told the graduates. "To borrow the wise words of Justice Thurgood Marshall: 'This is your democracy. Make it. Protect it. Pass it on.'"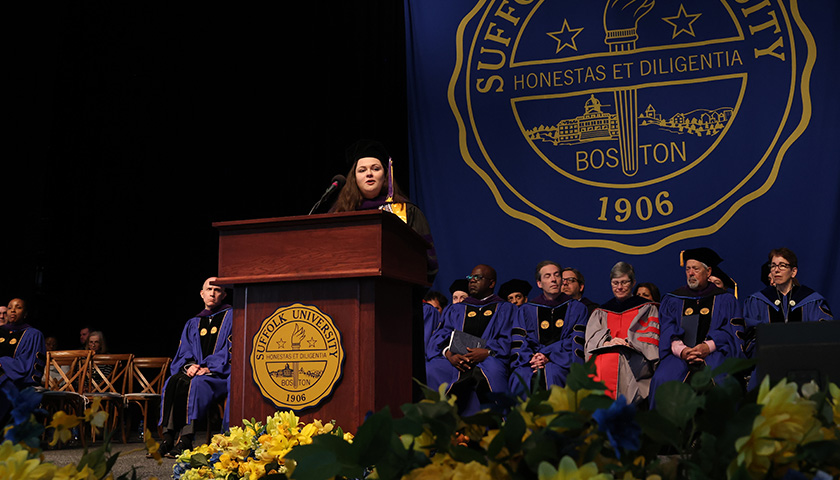 An 'evidence-based' portrait of the Class of 2023
In preparing her speech, Suffolk University Law School student speaker Rachel Record recalled her Suffolk Law evidence class with Supreme Judicial Court Justice Serge Georges, Jr., JD '96, HLLD '21, who taught that for evidence to be admissible in a trial, "it must be reliable, authentic, and relevant," she said.
Suffolk Law graduates, she argued, embody these same qualities.
In the face of the pandemic, they showed their reliability, not just in their school classes, but to one another, she said. And by being their most authentic selves, she said, Suffolk Law graduates will increase public trust in lawyers and be in a better position to make a positive difference.
Record, who was executive editor of the Suffolk Law Review, noted that the degree of juris doctor is more than "some piece of paper built on caffeine and class outlines. It's an honor awarded to those who society turns to when they need help," she said. "It's a representation that we chose to act, to better ourselves and that we seek to better the world around us."
Record served as an intern in the Organized Crime and Gang Unit of the US Attorney's Office. She will be an associate at Hogan Lovells US after graduation.
Download video transcript [PDF]
'Embracing this University's great legacy of service'
In her remarks, President Marisa Kelly said that while the pandemic had created the potential for disconnection, the Class of 2023 instead reached out to help others, "embracing this University's great legacy of service."
Through Suffolk's Legal Clinics, she noted, students provided more than 37,000 hours of legal service to low-income communities, assisting hundreds of clients at no charge—service whose value was $4.6 million. That pro bono work included representing domestic violence victims, aiding a disabled veteran in recouping $50,000 in back pay, and obtaining asylum for a Sudanese refugee who would have faced persecution and torture had he been returned home.
Kelly also praised the graduates' ability to come together to share divergent views and learn from one another, citing a spring forum convened by the Law School's chapter of the Federalist Society and the Black Law Students Association to discuss the affirmative action case before the United States Supreme Court, a conversation that was, she said, both nuanced and constructive.
"Our communities need Suffolk lawyers more than ever. And our communities will be better because of you," Kelly said.
An education for a rapidly changing world
Suffolk Law Dean Andrew Perlman also praised the Class of 2023 for rising to the myriad challenges posed by the pandemic. "It is hard enough on normal occasions to pursue a legal education, but for a significant amount of your time with us, you did it while wearing a mask or watching classes on Zoom," he said.
The Class of 2023 has shown perseverance and grit, Perlman said, "traits [that] will prove invaluable in a world that is increasingly defined by constant, rapid change and where the very nature of work is evolving due to technology such as generative AI." He drew laughter from the graduating class when he assured them that he had not written his closing remarks with ChatGPT.
In spite of rapid change, a Suffolk Law education has allowed the graduates to "future proof" their careers, Perlman said. "You not only learned the law, but you learned how to problem solve, how to think clearly, and how to help clients navigate an uncertain world."
About Janai S. Nelson
Janai Nelson is the eighth president and the director-counsel of the Legal Defense Fund (LDF), the nation's premier civil rights law organization. During her nine years with the LDF, she has also served as the organization's associate director-counsel and as interim director of the Thurgood Marshall Institute.
Nelson was one of the lead counsels in Veasey v. Abbott (2018), the successful federal challenge to Texas' voter ID law, and the lead architect of NUL v. Trump (2020), which sought to declare President Trump's executive order banning diversity, equity, and inclusion training in the workplace unconstitutional, before the order was later rescinded.
Nelson was previously associate dean for faculty scholarship and associate director of the Ronald H. Brown Center for Civil Rights and Economic Development at St. John's University School of Law. She has written extensively on partisan gerrymandering and race, and on remedies for protecting and expanding voter access. In addition to the academic press, her work has appeared in The Guardian, the Los Angeles Times, Reuters, Huffington Post, and Blavity, and she is a frequent guest on CNN, MSNBC, BBC, and NPR.
She received her BA from New York University and her JD from UCLA, where she served as articles editor of the UCLA Law Review, consulting editor of the National Black Law Journal, and associate editor of the UCLA Women's Law Journal.
Commencement 2023
The Suffolk University Law School Class of 2023 is made up of 400 new alumni, with 372 JD degrees and 28 graduate law degrees awarded.
The ceremony was one of three Suffolk Commencements that were held on Sunday, May 21, at the Leader Bank Pavilion in Boston. The University conferred a total of 1,969 undergraduate and advanced degrees.