Scenes from Commencement 2023
The Suffolk community celebrated its newest graduates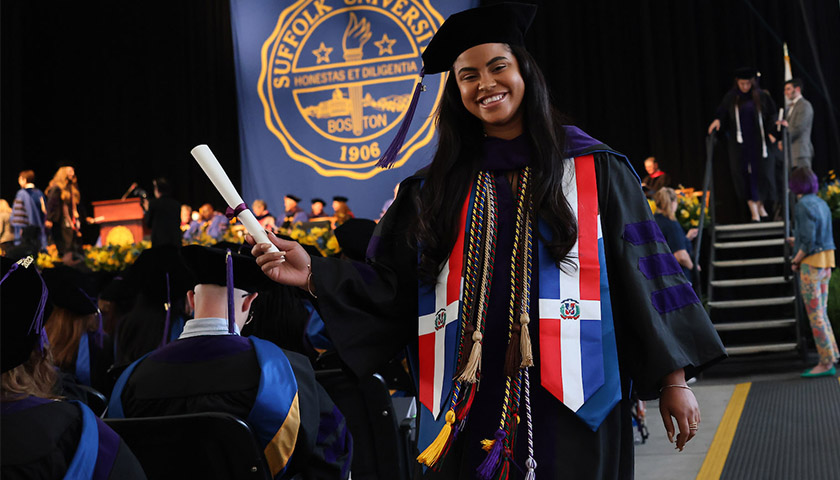 Starting law school online during a pandemic was daunting. Deferring for a year occurred to Sarah Gonsenhauser, JD '23, of Northborough. But she had her heart set on enrolling at Suffolk Law, so she took a deep breath and jumped into 1L on Zoom.
On Sunday evening, at the Leader Bank Pavilion overlooking Boston Harbor, Gonsenhauser graduated magna cum laude, ready to take the bar exam in July and pursue a career in employment law.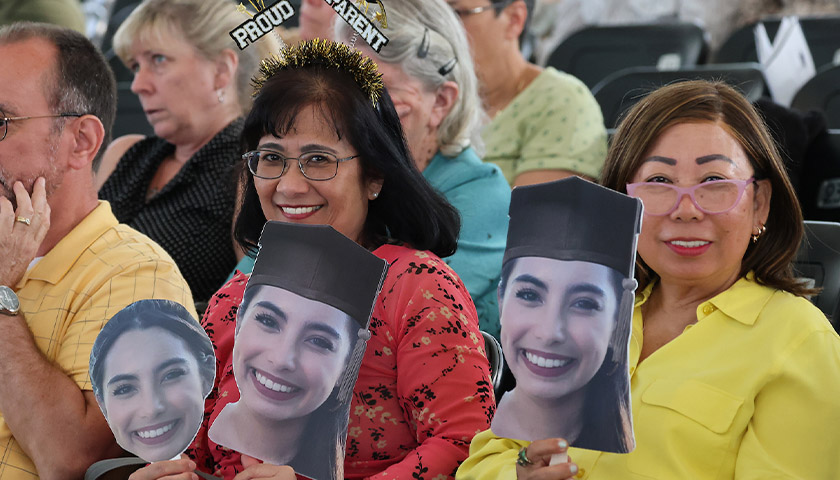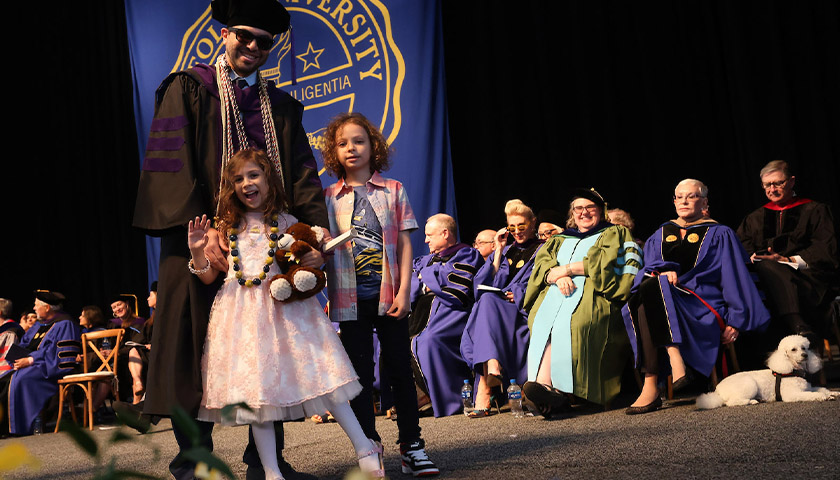 Fellow graduates Claire Remillard, JD '23, Laina Dowd, JD '23, and Julia Nasiek, JD '23, also recalled the strange early days of COVID-19 social distancing restrictions that turned them into faces on a screen—until Dowd reached out to the other two via text and the trio bonded over rollicking group chats until they could meet in person. "We are best friends forever!" said Dowd, a double Ram from Boston who plans to work in wealth management. "It was a strange time to make friends, but we got very, very close."
Remillard, who recently moved to Maine, said her favorite thing about learning the law at Suffolk was the emphasis on collaboration. "We are not cutthroat—we really want each other to succeed. That is not the case at many other law schools."
The students were among 400 new alumni in the Class of 2023, with 372 JD degrees and 28 graduate law degrees awarded. The ceremony was the third of three Suffolk Commencements held on May 21, in which the University conferred a total of 1,969 undergraduate and advanced degrees.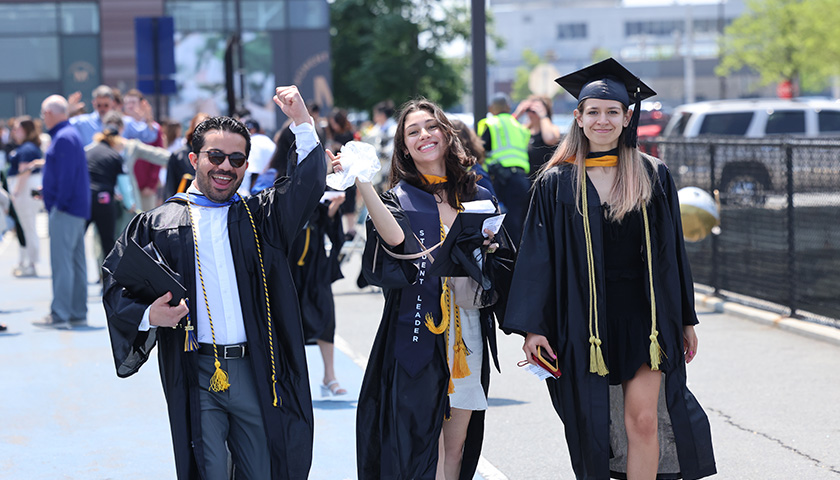 Honoring the past, while anticipating the future
Earlier in the day under sunny skies at Suffolk University's College of Arts & Sciences Commencement ceremony, Johana Parada Martinez, BS '23, Andres Toledo Vasquez, BS '23, and Alex Arbaiza Perez, BA '23, considered their pasts while also anticipating their futures with excitement.
Martinez, who came with her family from Honduras seven years ago, hopes to become a double Ram by enrolling at Suffolk Law in a year or two and embark on a career advocating for other immigrant families. Vasquez, clad in a blue and white stole to honor his homeland of Guatemala, wants to put his political science degree to use in public service.
Perez, a cum laude history major, currently works at the Old South Meeting House a stone's throw from campus. His career goal? To expand people's understanding of Boston's founding. "I want to make history accessible," he said. "I want to teach more people about women and people of color and their impact on history."
The trio were among 693 new CAS alumni, with 574 undergraduate and 119 graduate degrees awarded at the second of three Suffolk Commencements. Many members of the Class of 2023 said they felt relief and great pride to have endured the restrictions and disruptions of COVID and helped to rebuild their communities even stronger.
Xingxuan Xi, BS '23, wore a regal blue ceremonial dress from her homeland of China to receive her degree in math, magna cum laude. Pandemic travel restrictions were difficult, she said, but finally getting back to Boston was joyful. "I loved my small classes and my community here," she said.
Akhila John, BS '23, said one of her fondest Suffolk memories was of her tight-knit campus Bollywood dance troupe, Fusion Dhamaka, that managed to stick together by practicing on Zoom. "It's hard to leave them. I love them so much. The people here, the friendships, they are the best."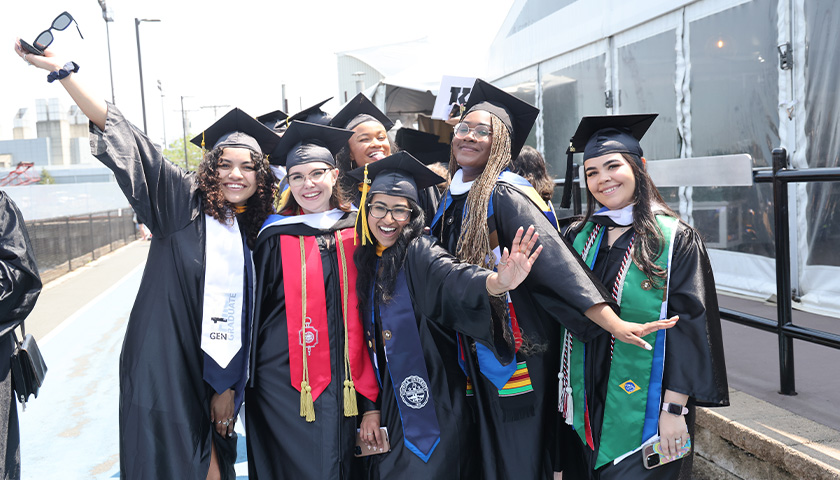 Graduates of Sawyer Business School—which celebrated its graduates on Sunday morning—also said they found the day extra meaningful because of what they overcame to become double Rams, said close friends Christina Montezuma, MPA '23, Lucia Ramos, MPA '23, and Mary Lucy Dunleavy, MBA '23.
The trio first met as freshmen on Suffolk's Global Gateway trip to Madrid in 2018. They endured COVID isolation and uncertainty as undergraduates to triumph with a memorable graduation ceremony at Fenway Park in 2021.
"Coming back after COVID and reconnecting–that is one of my most important Suffolk memories," said Dunleavy, who was one of 803 new 2023 SBS alumni.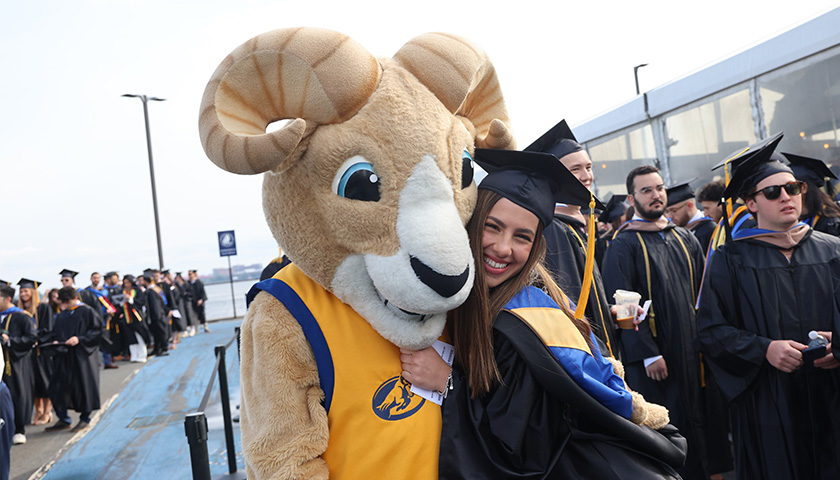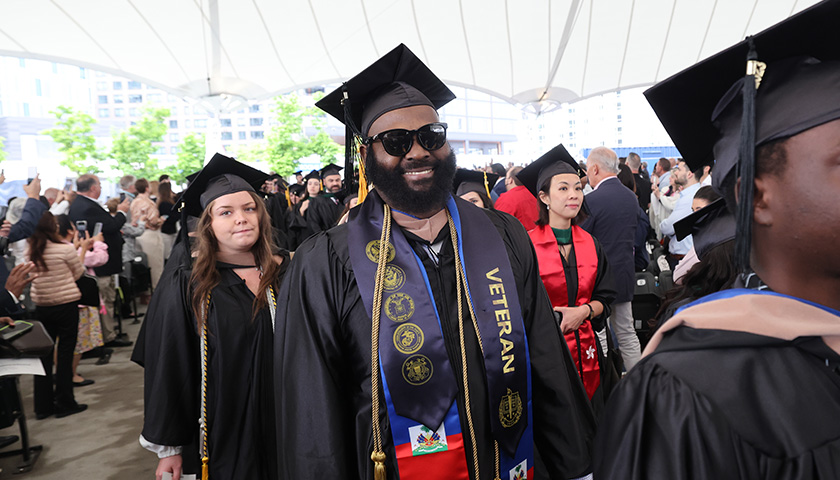 There was a special feeling of camaraderie, and gratitude, at the morning ceremony among graduates and their families. Allie Daniel, MBA '23, let her flower-festooned graduation cap do the talking: "When you don't let doubt win, great things happen."
Resilience and overcoming challenges were important themes among the SBS graduates. David DeLand, MST '23, and Amy Blois and Jack Pham, both MSA/MST '23, reflected on their experience together. "It was a real challenge, you have to persevere and endure a lot of hours," said Blois, as she waited for the procession to assemble.
When the going got tough, Pham said he took particular inspiration from Accounting Professor Sylvia Singletons. "She would say, 'We all have potential in each of us.'"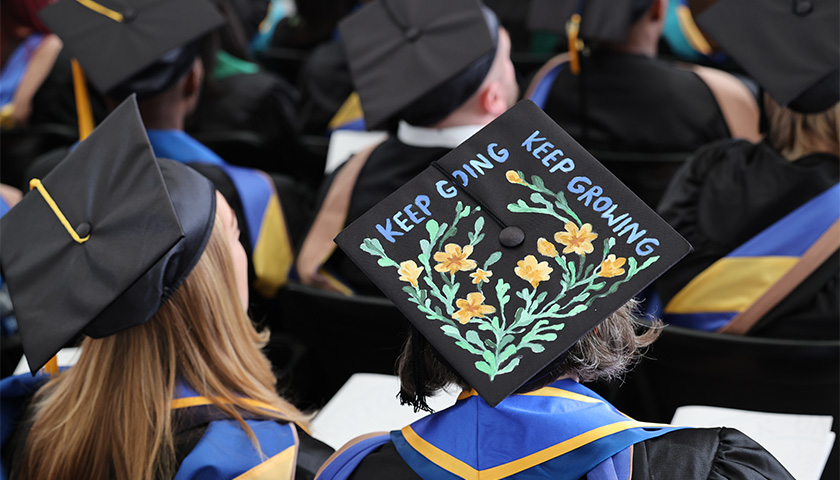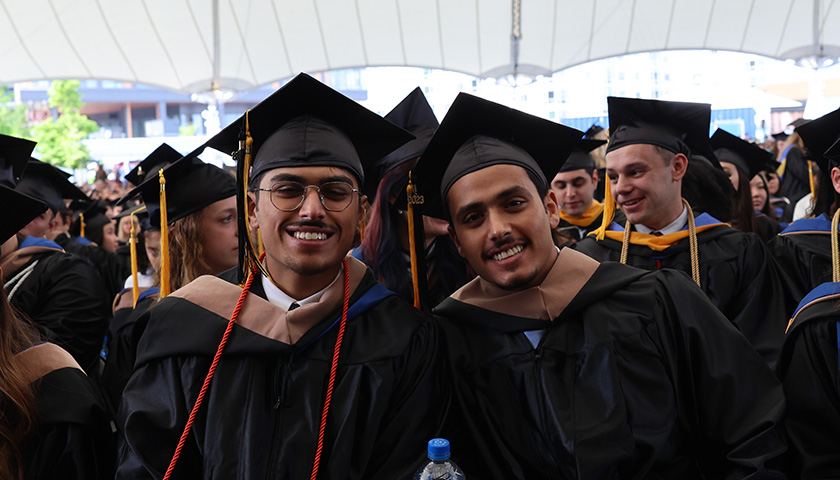 Family members, many carrying flower bouquets and plush Rammy toys, watched their graduates with pride, and said they looked forward to helping their loved ones celebrate. The family of Aung Zorr, BSBA '23, came all the way from Myanmar to cheer on their son, who graduated magna cum laude, while the family of Kosta Zygouras, MBA '23, traveled the considerably shorter distance from the Boston suburb of Ashland.
Cassandra Koufus, Zygouras's fiancée, said he deserved the accolades for working full time and helping plan their wedding, all while finishing his degree. "I am proud of him; it was not easy!" she said.
Curbside in front of the Leader Bank Pavilion, Cheryl Aikins, BSBA '23, was waiting eagerly for her family to arrive. They were en route from Worcester, just an hour away, but her colorful commencement cap decorated in orange, green and yellow with the slogan "For My Country" paid homage to their homeland of Ghana.
"My country helped me be who I am, it's my heritage," said Aikins, who was a member of several student organizations, including the a capella group Soulfully Versed. "It's very special to me."