EMBA Graduate Lands $1.2 Million Grant
Business School capstone course leads to coalition that will help ease the 'respite crisis' for parents of medically complex children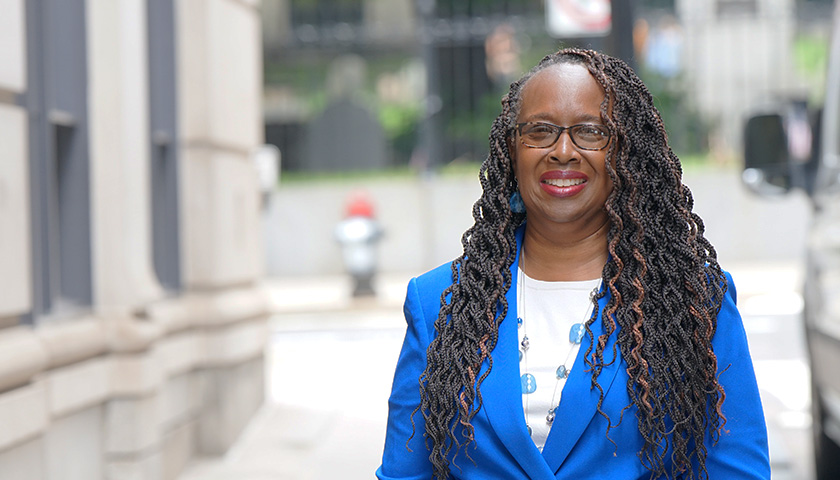 Elizabeth Bostic, EMBA '22, knows all too well the challenges that caregivers of children and youth with special health needs face every day. She's a single mother and the primary caregiver of a child who's medically complex, a term used to describe children who have a medical condition (in some cases multiple medical conditions) that require ongoing specialized care.
"You are navigating complicated systems of care and struggling to balance meeting the demands of your child's needs with staying employed and making ends meet," says Bostic, a longtime special education advocate who is now an assistant director of the Division for Children and Youth with Special Health Needs in the Massachusetts Department of Public Health.
Compounding the problem, she adds, is a critical shortage of direct service providers to assist with the kind of routine care that children with severe physical or mental health conditions can't perform on their own. The result: Parents and caregivers "never get a break. Ever." It's what she and others have termed a "respite crisis" that's even more pronounced because of the pandemic.
Locally and nationally, the needs of caregivers in the workplace have been getting a lot of attention. In fact, the Massachusetts Business Roundtable established the Massachusetts Caregiver Coalition to recognize, honor, and support family caregivers in the workforce. However, their focus was on caregivers of the elderly, with no mention of the thousands of caregivers of children and youth with special health needs in Massachusetts. Bostic says she was shocked that she could not see herself in their reports. "Like me, over 60 percent of caregivers have to change their work schedule or leave the workforce altogether due to their child's condition," she says.
As she was reliving these challenges in her public policy course during her Sawyer Business School EMBA program, she had an epiphany: Why not create a network of parents to help care for each other's children and provide a break for each other?
From that idea, she used her EMBA capstone course to design the Caregiver to Caregiver (C2C) Respite Network, a strategic partnership among existing organizations supporting families with children and youth with special health needs. It immediately received enthusiastic support from families, the nonprofits working to support them, and from Bostic's professor, Mark Almeida.
"From the beginning of her capstone project, Beth possessed an extraordinary blend of intelligence, creativity, and unwavering determination," says Almeida. "She used the academic constructs of the capstone to build a compelling business case in support of her project. This grant will have a transformative impact for caregivers and their children."
When the American Rescue Plan Act (ARPA) authorized $20 million in funding for Medicaid home and community-based services to support respite innovations, one of the C2C's proposed strategic partners seized the opportunity. Bostic was thrilled when she learned the Federation for Children with Special Needs was awarded a $1.2 million grant to help implement the C2C over the next two years.
"Everyone wins," Bostic says. "Children have access to specialized support, caregiver/employees get a much needed break, and employers retain talent and institutional knowledge. The C2C has the potential of being part of the solution for caregivers and their employers nationwide. It's really very exciting."
As seen in the Fall 2023 edition of Suffolk University Magazine
Contact
Greg Gatlin
Office of Public Affairs
617-573-8428
Ben Hall
Office of Public Affairs
617-573-8092