Building a Path Toward Law School
Whether its taking rapid-fire questions from a former prosecutor or meeting a Supreme Judicial Court justice, Suffolk's pre-law immersion program offers legal mentorship and practical lessons.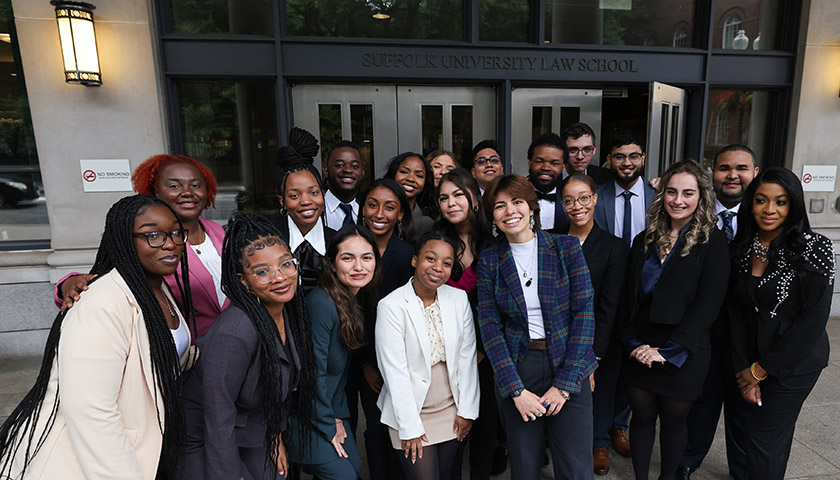 Ted Lucas has wanted to be an attorney since high school. His family immigrated to the U.S. when he was eight and faced some challenges from an unethical landlord, he said. Since then, he's thought about becoming an attorney and gathering the specialized knowledge he needs to help people facing similar issues. Even though he's had a dean's list college career so far—he's majoring in political science at Bridgewater State University—the rising senior wasn't positive how to make that dream come true.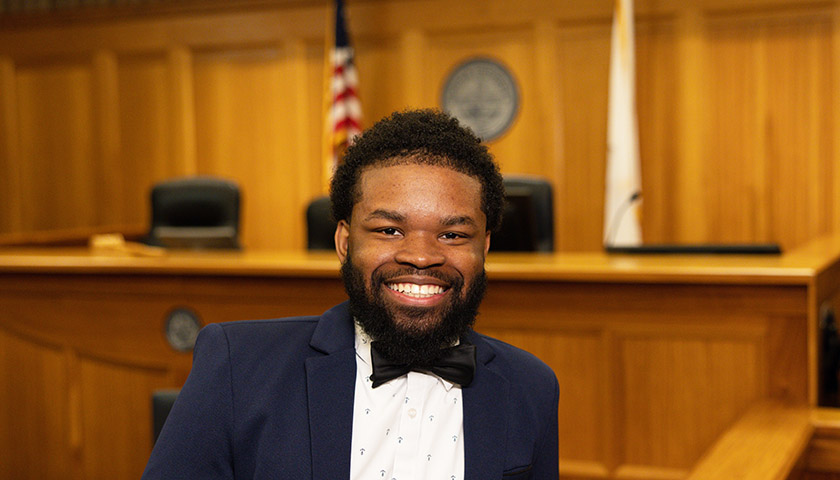 'What I Needed to Start My Journey'
Enter Suffolk University Law School's Summer Pre-Law Achievers Network, a two-week immersion program designed to make that dream easier to reach. The school hosts a range of participants, including students from low-income families, first-generation college students, and groups underrepresented in the legal profession.
Things really clicked for Lucas when, during the program's field trip to the Supreme Judicial Court of Massachusetts, he and the other students met one of that court's sitting justices, Serge Georges, Jr., who graduated from Suffolk Law in 1996. "Justice Georges mentioned to me that he was Haitian. It was inspiring to see someone like that in a high position, and it made me think, 'I'm not limited. I'm not in a box. Look at where he is.'"
Lucas and 19 other students spent a busy two weeks recently getting to know Suffolk Law alumni; visiting Boston-area courts; and taking classes on negotiation, the application process, and how to argue a case in front of a judge.
"During the Achievers program, we went through the entire application process, talked about scholarship opportunities, met with practicing attorneys who had similar fears as us when they started. That knowledge was exactly what I needed to start my journey," he said.
One critical part of the training is a course that takes apart a complex drunk-driving case and culminates with a mock trial with a professor playing the judge. The students, dressed in suits, act as defense lawyers or prosecutors in the Law School's oak-paneled moot court room.
On "game day," Lucas started his opening statement—"May it please the court"—with some anxiety and then grew in confidence. He identified himself as the defense attorney for his client, and then asked the judge—in this case former prosecutor, Professor Elizabeth Stillman—to accept a motion to dismiss charges of drunk driving filed by the Commonwealth. Lucas's fictional client had been found asleep in her parked car with a high blood-alcohol level. If you weren't a lawyer yourself, you might have been convinced you were in an actual court proceeding, but puzzled, perhaps, as to why both attorneys were so young.
Stillman fired off questions at Lucas—as judges often do in real trials. The legal case for dismissal, as Lucas well understood, would be easier to make if the judge agreed that the defendant's car was parked in a private way.
Lucas came well-prepared, responding to Stillman's questions by calmly laying out a few key elements to buttress his contention, including the fact that the defendant's car was located in a gravel area with no public signage and no sidewalks nearby.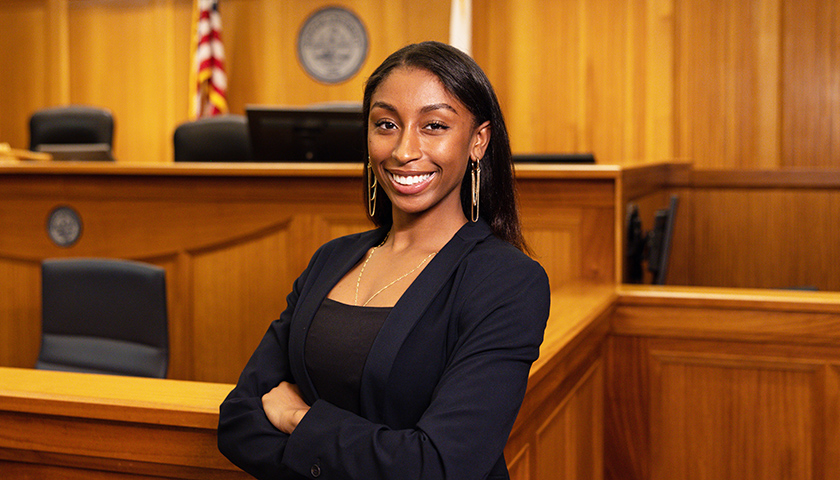 An Eye-Opening Opportunity
Solace Porter, a 22-year old participant from Guilford, Connecticut, described the immersion program as eye-opening. Meetings with Suffolk Law alumni and the pipeline's negotiation course offered her a new sense of the range of job options open to those with a law degree, including the field of mediation, which was new to her, she said. And the school's admissions officers helped her understand scholarship opportunities, she added.
Living in a Suffolk dormitory helped the students get to know each other. "If we weren't living together, the experience would have been different," Porter, an Oberlin College rising senior said. "We had a chance to talk to each other about our fears coming in to the program, talk about how to do assignments, and we built a community. Some of us who live near each other are planning to do tours of law schools together."
One of her biggest fears about law school is prepping for and succeeding on the LSAT. The program offered tools for LSAT prep and also highlighted that the test is "just one of many elements of building an application," she said. Program instructors encouraged her to look at her application portfolio in a broader way. "For example, I did theatre, so that's a skill I have to offer. That's a skill I can bring into a moot court competition. You have to remember that you have transferable skills. At the end of the program, I felt, 'This is where we're supposed to be.' You turn your fears into a fire to get started on the process."
"Access to the legal profession is such a hurdle, in particular for racially diverse and first-generation students," says Suffolk Assistant Dean Cherina Wright. "I remember how hard it was, as a first-generation student myself, and as a Black woman, to navigate getting into law school and deal with all the things you need to know about the application."
The pipeline program is not just for Suffolk-bound students; it was designed to give a boost to all those considering law school. Wright believes this approach is crucial for making the legal profession more inclusive. "If we want to diversify the profession, we have to diversify law school," Wright says. "This is a way to give pre-law students access to that last step in the pipeline to really determine if this is for them."