Documenting Atrocities: Suffolk Law Student Team Shines Light on Russian War Crimes
Suffolk Law students are hosting the Ukraine Accountability Project, with clients that include the U.N. and U.S. State Department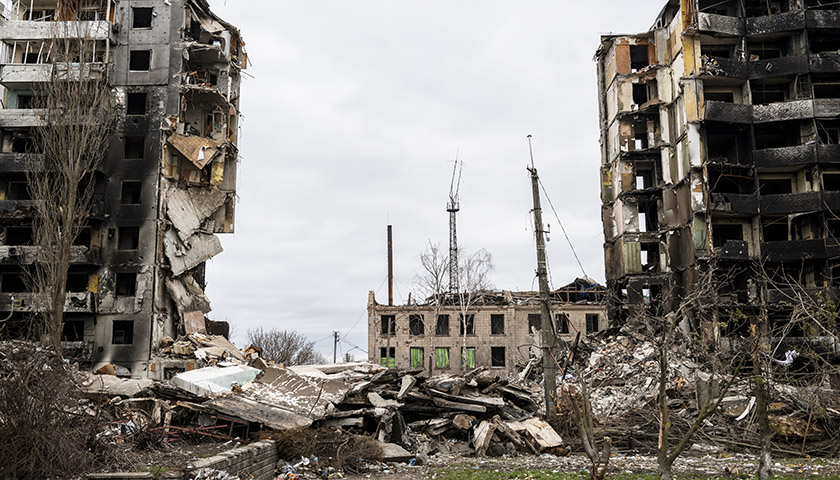 Suffolk Law and its 11-student war crimes research team are the official hosts of the Ukraine Accountability Project (UAP), an international effort to document atrocities perpetrated by the Russian government in Ukraine. The UAP, whose clients include the United Nations and the U.S. Department of State, released the third edition of its detailed white paper on Russian atrocities in August.
As a result, should Russian President Vladimir Putin and his military leaders be held accountable under international law, prosecutors and members of the Ukrainian Bar Association will have access to a regularly updated indictment for war crimes and a template for how the Russian leaders can be tried.
Suffolk's 11 student volunteers are assessing, documenting, and conducting open-source investigations, with the goal of meeting the strict evidentiary standards of the International Criminal Court, said Suffolk Law student Alexandra Lane, JD '24, the team's executive director.
In August of 2023, the UAP, led by Lane and UAP advisor Professor Sara Dillon, released the third update of its white paper, "Russian War Crimes Against Ukraine: The Breach of International Humanitarian Law by the Russian Federation." The paper, whose lead authors include Suffolk students and alumni, lays out dozens of charges including the killing, rape, and torture of civilians throughout Ukraine.
Most Egregious Crimes: Analyzing the Bucha Massacre
The investigations team analyzed the massacre in Bucha, 20 miles west of Kyiv, in the paper's Most Egregious Crimes Index. "Within Bucha, many witnesses describe Russian troops firing indiscriminately in all directions, at any movement in the street or windows. The lack of clear intentionality supports evidence that the orders were to execute any and all civilians," the paper says.
"It's hard not to get stuck in a dark mindset," Lane said of the team's work assessing war crimes evidence. "You need to take a break occasionally and take care of your mental health. It's respectable to recognize your own limitations. You come back with a clearer head and with the ability to continue the work."
The students, all volunteers, are a part of the Global Accountability Network (GAN), which also leads projects documenting atrocities in Syria, Venezuela, and Yemen. GAN's team of international criminal prosecutors and practitioners speed up the process of gathering evidence by turning to law students for help. Suffolk's students helped to update, in real time, GAN's earlier Russian War Crimes white paper, published last year.
Law Students' Race Against Disappearing Data
Contributors to the project communicate via Signal, an encrypted text messaging service, to prevent any interception of their dialogue, said Mia Bonardi, J.D. '22, who continues to serve as a lead writer, editor, and attorney advisor to the UAP. In less than a month, a team of students from a few law schools compiled work that might typically take a year.
As that team worked to assemble biographies of Russian political leaders, the websites they were consulting became inaccessible, forcing them to track down material from other sources. The information would be available one moment, Bonardi says, and then an entire Russian government website would be down the next.
GAN was co-founded by David Crane, former chief prosecutor for the Special Court for Sierra Leone, and a retired professor at Syracuse University College of Law. Together, GAN/UAP, the Ukrainian Bar Association, and the New York State Bar Association are calling for a Special Tribunal for Ukraine on the Crime of Aggression.
Lane's team assesses and catalogs source materials by using open-source research and assistance from the Ukrainian Bar Association, in a manner consistent with the Geneva Conventions, the Rome Statute of the International Criminal Court, and the Criminal Code of Ukraine.
Faculty director of the UAP project, Suffolk Law Professor Sara Dillon, has been a great mentor, Lane said. As a student in Dillon's International Law course, Lane wrote a paper on an Irish Supreme Court case, viewing the court's hearing on that case in person, in Dublin. She was in Ireland as part of Suffolk's International Comparative Law program in Galway, which Professor Dillon leads. This year, Lane is studying European Union Law with Dillon and also serves as a student attorney in Suffolk's Human Rights & Indigenous Peoples Clinic.