A New Era for Black Studies at Suffolk
Interim Director Marjorie Salvodon discusses what's next for the program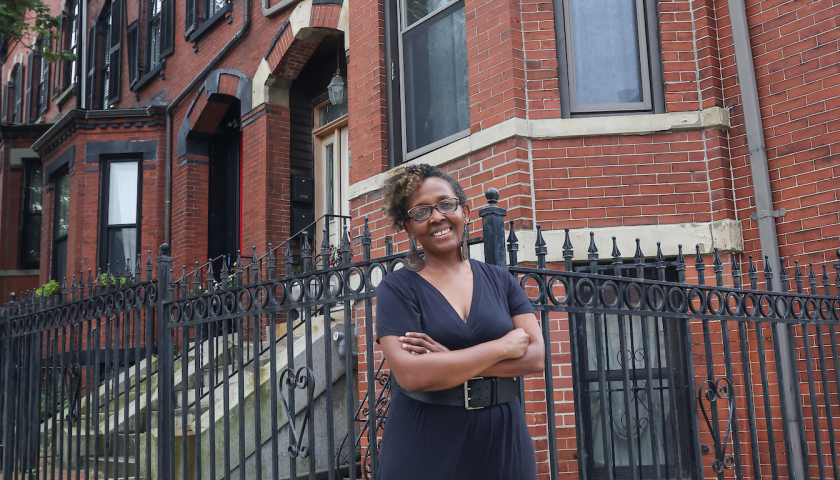 A Q & A with Marjorie Salvodon
It's an important year for Suffolk's Black Studies Program. As the search begins for its next leader, Interim Director Marjorie Salvodon—who also serves as Associate Dean of Experiential Learning, Global Education & Public Impact for the College of Arts & Sciences and as a professor in the Department of History, Language & Global Culture—details the process and explains why the program is needed now more than ever.
Q: The Black Studies Program was established and led by Professor Robert Bellinger for almost three decades at Suffolk until his retirement. What can you share about the search for a new program director?
A: We are in a very hopeful and exciting moment for the Black Studies Program. Of course I miss working with Professor Bellinger, but he did lay a strong foundation on which the Black Studies Program continues to grow. It's an honor to carry on this work as the interim director, leading the search for a tenured faculty member to guide the program into its next era. We posted the position at the end of the summer and the search process will continue through this academic year.
Q: The program has always been interdisciplinary by design. How does that impact the selection of a new leader?
A: The field of Black Studies, at Suffolk and beyond, is interdisciplinary and global. The focus is on the work, the history and the experiences of African-descended people. Students don't just study Black history in America, although that is very important. Black Studies encompasses history, art, language, politics, and virtually every other discipline and spans the globe.
So the search for a new director is a broad one. We invite applicants from any humanities or social science discipline and look forward to welcoming candidates with a diverse set of research interests and backgrounds. We need someone who wants to connect to all the different constituencies at Suffolk and who can forge alliances between departments. The ideal candidate is someone who's interested in teaching students and learning from their experiences.
Q: There were discussions last year about how best to move forward. Many students in particular advocated powerfully for maintaining Black Studies as its own stand-alone program, which was the ultimate decision. How are students involved with shaping the future of Black Studies?
A: We were fortunate to have a big, broad coalition of staff, faculty and students on campus who feel passionately about this program. To name just a few students: I'm thinking of Lindsay Dieudonne, Hana Wallen, Kayci Resende-Abbott, Sarah Lawton and Selvin Backert. We wanted to include them in the search process. That's why the five-member search committee for our new director includes one student, Kayci, who will attend all meetings, review applications, and be instrumental in the selection process. We asked her to serve on the selection committee because she is extremely collaborative and dedicated, and also because she is a junior this year so she will have the chance to take classes with the new faculty member.
There are so many engaged and brilliant students whose opinions need to be a part of this process. We hope to invite finalists to give talks on campus so members of the entire Suffolk community can meet them and provide us feedback as we meet to make the best decision.
Q: Who else is serving on the search committee?
A: In addition to Kayci and myself, the committee consists of faculty from different disciplines: Roberto Dominguez from Political Science & Legal Studies; Bryan Trabold from English; and Felicia Wiltz, Chair of Sociology & Criminal Justice.
Q: Students and alumni are so passionate about the program. Why do you think it resonates so deeply?
A: In the last few years students have contended with the murder of George Floyd and many other people whose deaths coincided with the pandemic. Those experiences really reminded us, and maybe taught people who didn't know, of the extent to which our lives are bound to each other in a fragilized world. Do you have access to healthcare? Do you have a safe place to stay? When you call the police, how do they treat you? I think that marked an important moment for students. It wasn't history that they're reading in a book. It's history that they're living and seeing on social media and on the news every day.
Black Studies is a field that teaches us to understand the connections that we have to each other. This field is not just for the Black students. It's not just for the marginalized students. It's not just for the working class students, or the first generation-to-college students. It's for everyone, because we're all connected to this history by dint of our very existence in the world. We're all living within these social, economic, and political structures that have emerged from particular moments in history– even though we are not all affected the same way. That's what makes Black Studies really universal.
Q: Which course have you most enjoyed teaching in the minor during your time at Suffolk?
A: Years ago, I taught a course called Fictions d'îles/Island Fictions. We studied the culture, film, literature, and colonial and postcolonial history of Haiti, Martinique, and Guadeloupe. I am of Haitian heritage, a literary translator and a scholar of Francophone Studies, so the class could not have been more perfect for me! It wasn't a huge class, but they were the best students, and they came in every day with meaningful things to share with one another.
In that course I received my favorite student feedback ever on an evaluation, which was: "This professor was the best professor to teach this course." I'll never forget that. It reminded me how important it was to bring so much of myself to that course.
Q: As the new interim director, what are you most excited for in the year ahead?
A: I am looking forward to collaborating with the Theatre Department's dramaturg and visiting guest artist, Professor Pascale Florestal, on events related to the works by writers of the African diaspora. We have access to a trove of important works in Suffolk's Clark Collection of African American Literature, which we will be incorporating in different events in the spring semester.
More than anything, I'm excited to get to know more students and to learn about their dreams for the Black Studies program. I want us to find opportunities to gather that aren't strictly academic—whether it's holding a movie night and discussion or just getting together over pizza—to build our community.