A Fulbright Future
Lauren Muro-Belandria, BA '23, will spend nine months on a teaching assistant fellowship in Spain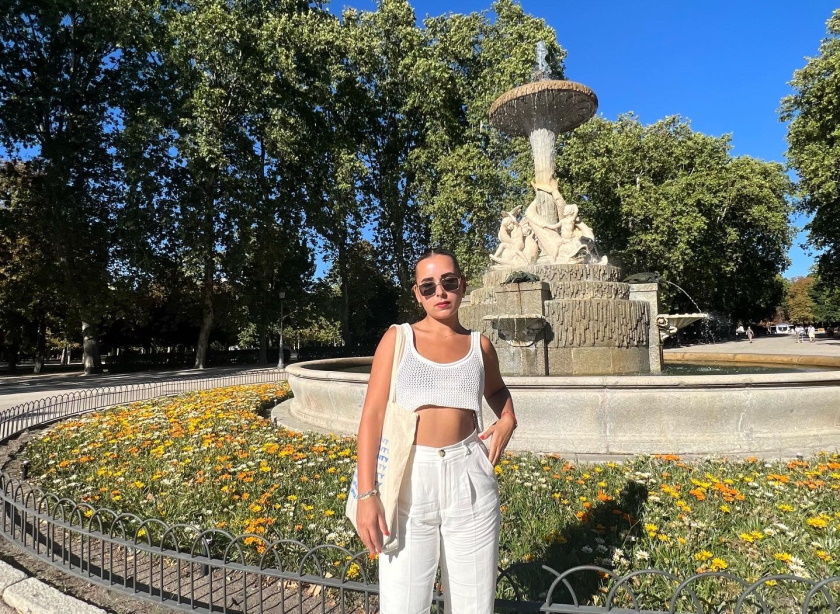 When Lauren Muro-Belandria, BA '23, resolved to study politics, philosophy, and economics in the honors program at Suffolk University she didn't let anything stand in her way—not even the fact that she'd never set foot in Boston.
Breaking new ground comes naturally to the first-generation college student and American from Orlando. So does striving to help others, from acting as a translator for her Spanish-speaking family as a child to working with Habitat for Humanity and advocating for reproductive justice during two Suffolk Alternative Spring Break trips.
"My experiences growing up in an immigrant family with roots in Colombia and Venezuela and of being a woman, and taking classes like Rebel Girls and Nasty Women with Professor Elif Armbruster, made me realize how prevalent issues like discrimination still are worldwide," she says. "I wanted to work toward global cultural understanding."
A semester spent studying abroad as a Gilman Scholar in Madrid was a start, but left her wanting more time to connect with locals and make an impact. When she learned about the Fulbright Program's nine-month English teaching assistant award, she thought it could give her the opportunity she longed for to immerse herself in Spanish culture.
But the Fulbright Program is notoriously competitive. Many students don't even complete the rigorous application process, which requires multiple essays, recommendations, and rounds of interviews.
So Muro-Belandria, so accustomed to helping others, had to do something outside of her comfort zone: ask for help.
Luckily, Suffolk's Division of Student Success sprang into action, assembling a team to assist her—including a specialist in travel scholarships and faculty experts in writing and politics.
Political Science & Legal Studies Professor Ken Cosgrove, himself a 2011 Fulbright scholar, didn't pull any punches with Muro-Belandria.
"We aren't here for participation trophies. The goal is to win," he told her bluntly, pushing her to dig deep and create an authentic personal statement that would show the committee why she'd be a standout ambassador for the United States.
So she wrote from the heart, sharing how her mother's sacrifices drive her to give back. She outlined her dream of helping to create a more equitable world by working with the United Nations or as a foreign service officer. She wrote about discovering her passion for connecting with youth as an orientation leader and RAM supporter at Suffolk "helping people become the best versions of themselves."
When Muro-Belandria was accepted into the Fulbright Program a few weeks before Commencement, Cosgrove was proud but not surprised.
"Her story is the American story," he says. "She'll be a good representative for the country because she'll engage with people and try new things."
As seen in the Fall 2023 edition of Suffolk University Magazine