'A Step Forward Into My Professional Career'
Students gained confidence (and critical research skills) alongside mentors in Suffolk's labs this summer
There's no substitute for hands-on learning. Several students got a head start this summer, logging valuable time in the lab alongside their faculty mentors.
Working on substantive research projects as they developed robust lab skills, students from the Departments of Biochemistry, Chemistry, Environment & Physics (BICEP) and Biology gained knowledge, confidence and a glimpse into potential futures in their fields.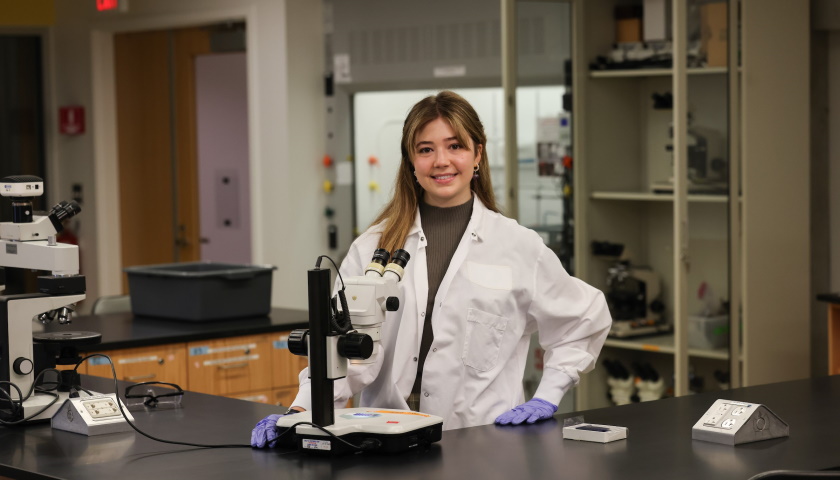 Victoria Arinella, Biochemistry, Class of 2026
Assisting Chemistry and Biochemistry Professor Melanie Berkmen, Victoria Arinella helped research bacterial mating using a combination of bioinformatics, molecular, cellular, and biochemical approaches. Arinella viewed each project as a new journey, filled with a wide range of concepts and methods that left her wanting to learn more. She also gained a plethora of transferable skills, such as problem-solving, oral and written communication, and how to work as part of a team.
For Arinella, who aspires to do clinical research in a hospital one day, the summer lab experience was a real eye-opener.
"I knew research was a job that many biochem majors pursued, but I was not knowledgeable in just how many different types of positions research has to offer," said Arinella. "After getting a glimpse of the research world, I not only have come to admire it, but would like to pursue it after I graduate."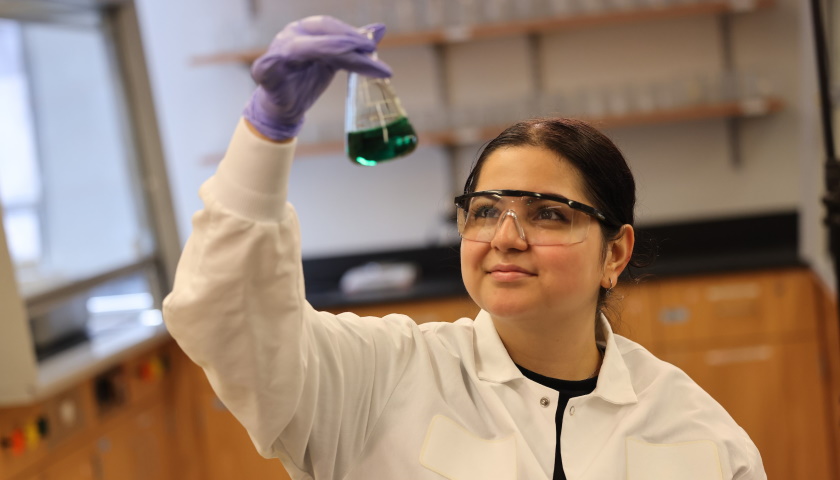 Sarah Bicalho, Biochemistry, Class of 2025
Working in collaboration with laboratory manager Tram Man, Sarah Bicalho was responsible for preparing the labs for instructors and fellow students for the fall semester. Their top priority was ensuring a safe environment for everyone involved, says Bicalho. The behind-the-scenes role also included tasks such as inventory, organization and planning, as well as preparing chemicals and mixtures of all kinds. Testing a wide range of equipment was another important task on her daily to-do list.
Bicalho was thrilled to see the ins and outs of managing and preparing labs, and is now more appreciative of the staff that gets everything ready for students.
"I've had lab experience prior to this job as a student, but being an assistant is a whole other can of worms," said Bicalho. "I quickly became more confident in myself, and feel like I've taken a step forward into my professional career."
Mikayla Cavanaugh, Biology, Class of 2024
This summer Mikayla Cavanaugh broadened her skills by assisting Biology Professor Celeste Peterson in researching a catalyst enzyme that could be used in many ways, including cancer therapies. She also applied her computer software knowledge to collect and evaluate experimental data. One huge bonus of working through the summer? She got to assist in scientific conferences and workshops hosted by Suffolk. Her favorite part of the experience was learning how virtual reality is being used in scientific education and discovery.
Handling various tasks has boosted Cavanaugh's interest in careers in molecular biology.
"My summer lab experience exposed me to a lot," said Cavanaugh. "I developed my analytical, critical thinking, and presentation skills, and learned how to collaborate with other individuals both inside and outside of the lab."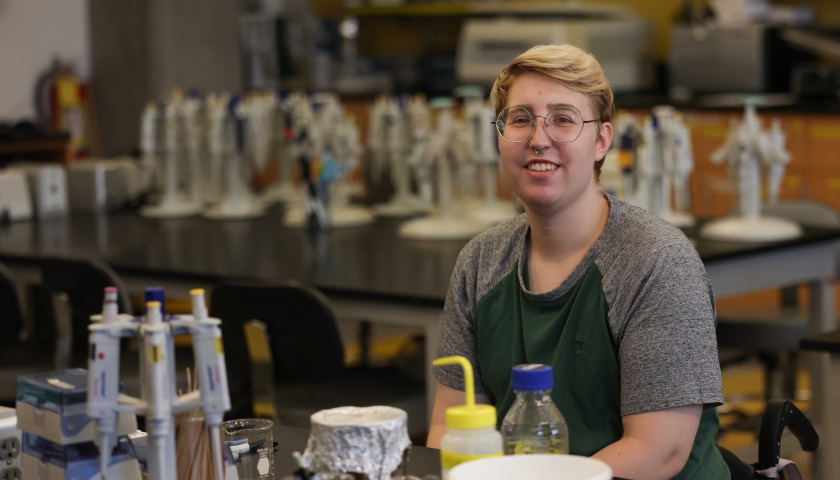 Skylar Rungren, Biochemistry, Class of 2024
As part of a senior thesis project, Skylar Rungren worked alongside Chemistry and Biochemistry Professor Melanie Berkmen. Their work centered on how bacteria cells could provide new applications for antibiotics, and new scientific discoveries involving bacterial mating. This opportunity allowed Rungren to better understand some of the biochemical concepts learned in the classroom and then apply them to certain parts of the lab project.
Rungren, whose goal upon graduation is to work in research for a year while applying to medical school, looks back at this summer's lab experience with pride.
"I found working with others on similar projects is something I really enjoyed," said Rungren. "The lab solidified my plans for the future and gave me the experience necessary to follow through with those plans."