A Career in Development at Boston Children's Hospital
Sawyer Business School MBA adds value to alumna's role at fundraising branch of top pediatric institution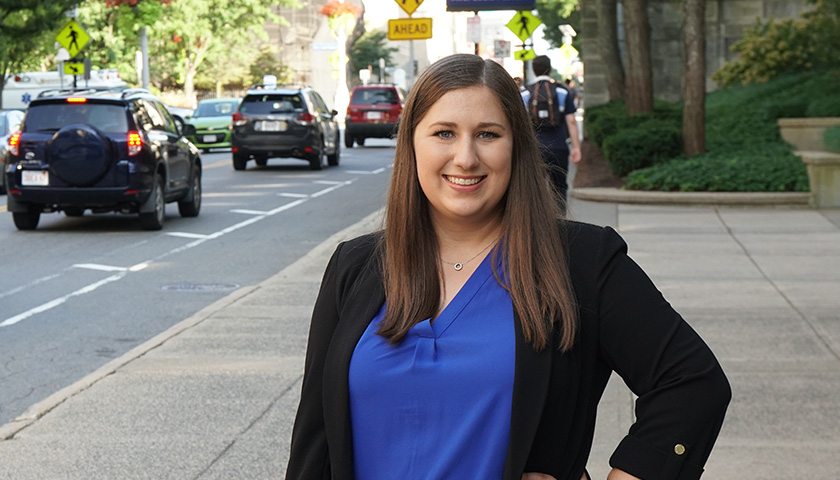 On any day in the lobby of Boston Children's Hospital there are kids of all ages, some of them on their way into the hospital with their parents for doctor visits or even serious medical procedures. Yes, there's the stress and concern that many of these families are feeling. But there's also laughter.
The laughter comes from patient services programs like the Laughter League Clowns, Pawprints Therapy Dogs, or Music Therapists, all of which have been created to help entertain and comfort Boston Children's patients. As important as these programs are, none of them receive insurance reimbursements and would not be possible without philanthropic support from donors and groups like the Boston Children's Hospital League.
The League is one of the many programs that Olivia Curreri, MBA '23, manages in her role as a leadership gifts officer at Boston Children's Hospital Trust. The fundraising branch of the renowned institution, the Trust provides resources to advance the hospital's patient care, research, medical training, and community health initiatives.
Curreri's dedication to that mission is one reason she decided to pursue an MBA. "Before starting my program at the Sawyer Business School, I realized I was looking at my work from an undergraduate perspective," she says. "The MBA program helped me understand multiple perspectives about business and relationships. That's very helpful, especially when it comes to working closely with donors."
Curreri found that what she was learning in class complemented her work at Boston Children's—and vice versa.
"I'd be in class, then go to work the next day and have a new article or something that I learned that was so interesting I wanted to share it with my team," Curreri says. "That happened frequently through the program."
Another helpful skill she learned was project management, something she now uses every day at Boston Children's as she balances a number of programs. She also took Data Management and Modeling, which initially made her nervous because she was unsure how it would help in her day-to-day work. "I'm already seeing the benefit of this course as I work with our reporting team," she says. "I'm able to better converse with them about our needs and what's possible with their reports."
Curreri's academic and personal accomplishments extended far beyond the classroom, and she attributes her growth to a supportive community at Suffolk. She was awarded the MBA Program's Outstanding Academic Achievement Award for the Class of 2023. In addition, Curreri and four of her MBA classmates were able to utilize their classroom expertise when they entered the Questrom Sustainability Case Competition at Boston University in the fall of 2022. With their presentation they outperformed more than 60 other teams and took home the $50,000 first prize. "So much of what we learned in class came up during the competition," says Curreri.
Moving forward, Curreri wants to continue to grow her career at Boston Children's Hospital and use her business skills to support the hospital's mission. "A nonprofit is a business too, right? It's the business of helping people," she says. "There are certain programs that can't happen—like patient services programs—if we're not doing our job."
Contact
Greg Gatlin
Office of Public Affairs
617-573-8428
Ben Hall
Office of Public Affairs
617-573-8092