Going Places
Sawyer Business grad Dat Le has just launched his own national accounting firm in Boston and Las Vegas—and still makes time to teach at Suffolk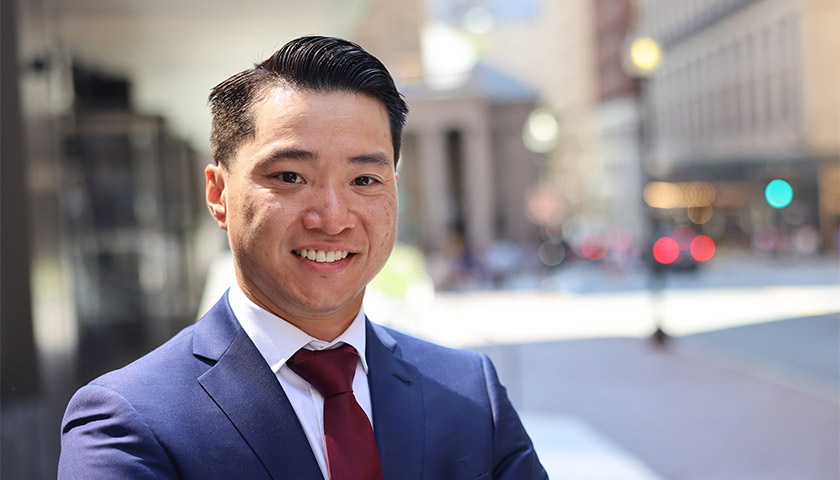 It is a beautiful September afternoon and Dat Le, BSBA '12, MSA '13, is on the move. He just arrived in Boston from Las Vegas, and having recently launched a new accounting firm with branches in both cities, he has places to go and people to see. Business is booming.
"Clients are banging down the door," he says. "The biggest challenge is keeping up with the demand. There are not enough hours in the day."
Le's ability to balance his busy schedule stems from a relentless work ethic, instilled in him by his parents, who immigrated to the United States from Vietnam in 1987 as teenage newlyweds with their infant daughter.
"My parents have worked so hard to provide for me and my family," says Le, who grew up Woburn, and shares being a Suffolk graduate with his sister Thuy (Le) Santos, BS '11, and his brother Huy Le, BS '12. "They are the biggest inspiration in my life."
Le also credits his Suffolk professors with providing him the guidance he needed to start Motta Financial, a national CPA firm he co-founded with a team of other Big Four accounting firm alumni, including his best friend, Nick Raccuia, BSBA '12, MSA '13. Motta's mission is helping underserved individuals, businesses, and nonprofit organizations with tax, accounting, finance, and business advisory services.
"We have a team-first attitude built on doing the right thing," says Le. "I mentor my people the same way my Suffolk professors mentored me." 'The timing was right for us'
'The timing was right for us'
Le brings an impressive résumé to his new role. In Boston, he has worked as a senior auditor for Deloitte, one of the Big Four firms, as well as a consulting manager for WilliamsMarston LLC and a senior manager for Outseer; in Las Vegas, he was a global corporate controller with ANA, Inc.
Le and his partners decided to launch their new firm because they recognized a need within the tax and accounting advisory industry. "Many tax firms were started by baby boomers, and now a lot of them are retiring," Le says. "People are leaving the market, not entering it. We felt the timing was right for us, so we decided to go for it."
Having locations in Boston and Las Vegas also made sense. "Boston is a lot bigger market, while Vegas is more expansive," says Le, who now lives in Nevada.
Motta, which currently serves a rapidly growing client base comprised of businesses, individuals, and non-profits, has built its business largely through networking, referrals, and positive word-of-mouth. "We provide our clients with a comprehensive suite of services to ensure that they never have to worry about their accounting and finance operations," says Le. "We want them to focus on their businesses, and let us focus on their finances."
Le rises every morning at 4:30, hits the gym, and then puts in a 10- to 14-hour workday—seven days a week. He travels to his Boston office several times a month for meetings with his team and to check in with clients. He tries to lead by example, a lesson he learned at Suffolk.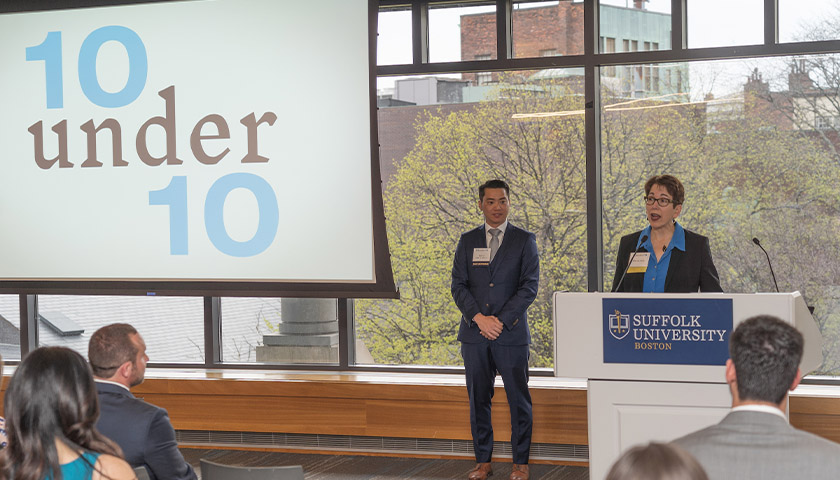 From mentee to mentor
One of Le's longtime mentors is Suffolk Accounting Professor Tracey Riley. "She is probably the most impactful person who has taught or coached me throughout my career," he says. "She has always believed in me and gave me the confidence to start my own firm."
"I always sensed Dat had an entrepreneurial spirit, and now he's proving it," says Riley, who is also the Sawyer Business School's associate dean of online education and learning assessment. "He knows how to lead and inspire by setting a vision and helping others believe in it."
Several years ago, Riley and other members of the Accounting Department started a winter internship program for accounting majors. The "winternship" program included a new Career Launch course designed to better prepare students for the public accounting world.
"I immediately thought of Dat as an instructor, given how successful his career has been," Riley says. "I knew the students would relate to him and that he'd see himself as a mentor to them."
Le calls the chance to share his real-world knowledge "the most fulfilling work I've done. Making an impact on students is something I'm very passionate about," he says, as well as a way that he can help increase recruitment of Suffolk graduates by large firms. Riley adds that Le is literally giving back: Every year he has donated his teaching salary to the Accounting Department to be used to benefit students.
A former member of the Young Alumni Advisory Board at Suffolk, Le was named a 10 Under 10 honoree in 2017, in recognition of his professional accomplishments and his contributions to the community.
Today, Le is excited to get his new business off the ground and is willing to work hard to make it successful. "Starting my own company has always been a dream of mine," he says. "It has happened a lot sooner than I expected."