More than 40 organizations took part in Suffolk's first-ever Career Equity Conference, exploring how to advance inclusion in the workplace
"Belonging is a primal need," keynote speaker Stacey Gordon, author of Unbias: Addressing Unconscious Bias at Work, told an audience of 200 educators, business recruiters, and DEI professionals who gathered at Suffolk on September 29 for the Center for Career Equity, Development & Success's first-ever Career Equity Conference.
What's more, added presenter Jennifer Barthelemy-Nerestant, MPA '21, belonging also makes good business sense.
"A lot of time we don't think of inclusion as a return on investment strategy," said Barthelemy-Nerestant, who leads DEI efforts for the Massachusetts Executive Office of Health and Human Services. "But the level of inclusion that individuals feel as employees is going to impact the amount of effort they're putting into the work that's being done. An inclusive culture is one that creates 100% productivity."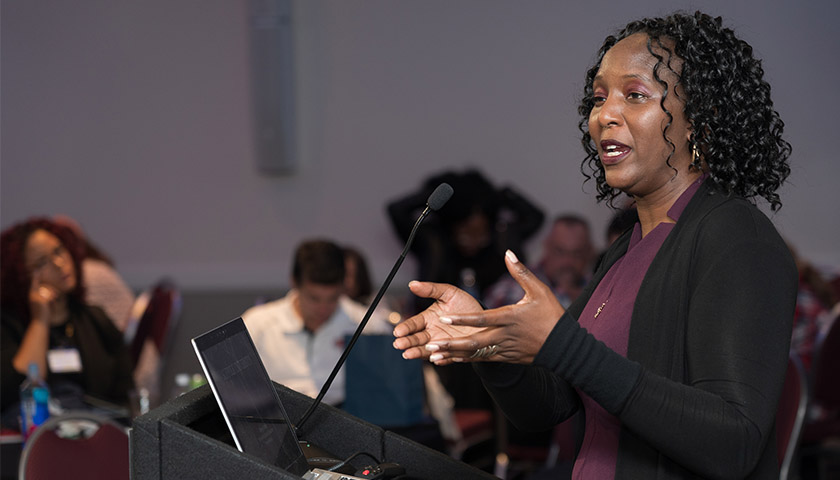 Since re-envisioning its career services program in 2021, Suffolk has been working to foster this kind of inclusion, emerging as a leader in promoting greater equity in career education and in helping businesses better understand how to not only attract, but also retain and promote more diverse talent.
Led by Adesuwa Igbineweka, Suffolk's director of career equity & access and committee members from the Center for Career Equity, Development & Success, the full-day conference featured 15 breakout sessions led by Suffolk faculty and alumni, corporate leaders, and DEI directors and career advisors from higher ed institutions like MIT, Clark, and Northeastern, as well as Microsoft and JFF. Workshop topics included how to expand career pathways for first-generation students of color, LGBTQ+ students and employees, and people with disabilities.
"Many people and organizations are doing incredible work to increase equitable outcomes for students and employees in this space already," Igbineweka said. "We all benefit from having a place to learn from one another, amplify each other's work, and build solidarity for the tough days that exist now and in the future."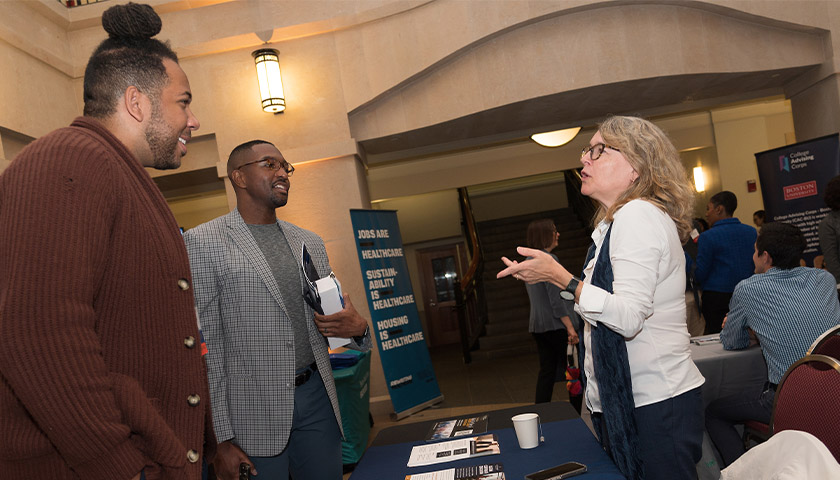 Inclusion begins with intention
A nationally recognized workplace culture consultant, keynote speaker Gordon is the founder of Rework Work, which helps companies develop and implement their DEI strategies and create more equitable work environments. Her address focused on what equity looks like throughout the talent development cycle, and outlined the barriers to inclusion that candidates from historically marginalized communities can experience within organizations.
Many institutions, she said, devote a lot of time and energy to diversity in hiring, without also thinking about building a culture of inclusion to ensure worker retention and satisfaction. That work is essential in more homogeneous workplaces, she said, where employees may initially resist new voices or perspectives. "Language has evolved," she said, "and we also have to evolve."
In her session "'We Hire Only the Best and Brightest'—Are You Sure?," Suffolk Professor Jodi Detjen, an associate dean and the MBA program director at the Sawyer Business School, explored how organizations committed to meritocracy can nonetheless be subject to unconscious bias. She offered a top-to-bottom methodology for resolving biases and enhancing the diversity of an organization's applicant pool.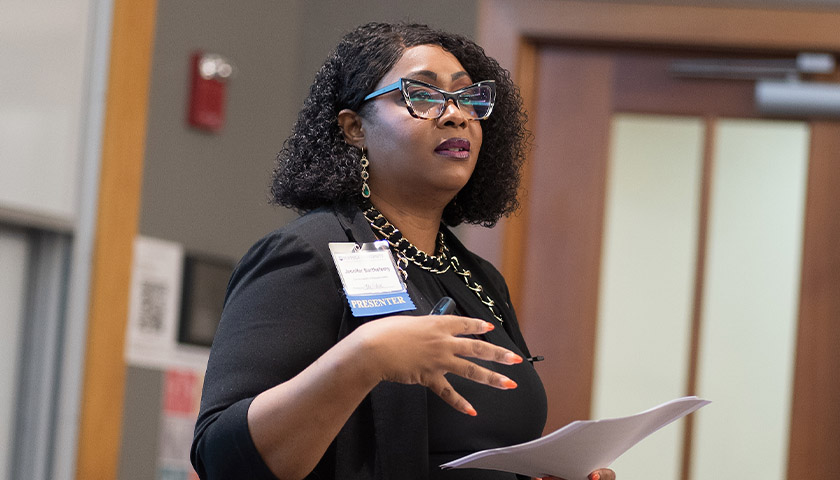 Barthelemy-Nerestant emphasized how crucial intentionality is to advancing inclusion. "When we set our intentions," she said, "we name our values. We're informing others of what is important to us and planning out the course of action we're going to take."
Without clear intentions, she added, individuals and organizations often stumble when they encounter difficult conversations and issues. "It's a lot easier to let things slide because [this work] can be uncomfortable," she said. "But if there's one thing that making spaces inclusive has taught me, it's that the best things come from that 'uncomfortability.'"
Other Suffolk presenters included Career Center Associate Directors Michelle Goldberg, who explored how strengths-based leadership helps increase retention, and Vicky Lee, who examined career education strategies for international students. Ren Lovegood, MHA '22, a Sawyer Business School Alumni Board member and a PhD researcher, addressed ableism in the workplace.
The day concluded with a four-person panel on "The Role of Accountability in the Journey Towards Equity," moderated by Igbineweka. Panelists Monique Cooper, assistant vice provost for academic & career engagement and success at UMass Boston; Ralph Tavares, Jr., vice president for equity and inclusive excellence at Storbeck Search; Caroline Mailloux, senior director for DEI at Sarepta Therapeutics, Inc.; and Courtney Utsey, director of people experience at Akari Therapeutics PLC, discussed their own experiences with accountability and its transformational impact in the workplace.
"Do not build the foundation of success on sand," Tavares advised. "Find the organizations that have equity and inclusion built into their very mission." Better yet, he added, find the organizations that have it built into their budgets.
And as you work to build an inclusive culture, Cooper said, "Go with the willing. Build your base—and then go after the holdouts." She praised Igbineweka as "a trailblazer" for organizing the first-of-its-kind conference.
"The conference was a wonderful opportunity to showcase Suffolk's leadership in the arena of career equity while learning and sharing new ideas and practices with colleagues from higher ed and industry alike," said Dave Merry, associate provost and executive director of the Career Center. Igbineweka expressed her gratitude to all who supported the event, including campus partners and corporate sponsors like Liberty Mutual Insurance, East Boston Neighborhood Health Center, Arbella Insurance, and Andersen. Plans have already been announced to hold a second Career Equity Conference in 2024.