The Intersection of Commerce and Community
Business School event explores the importance of business with purpose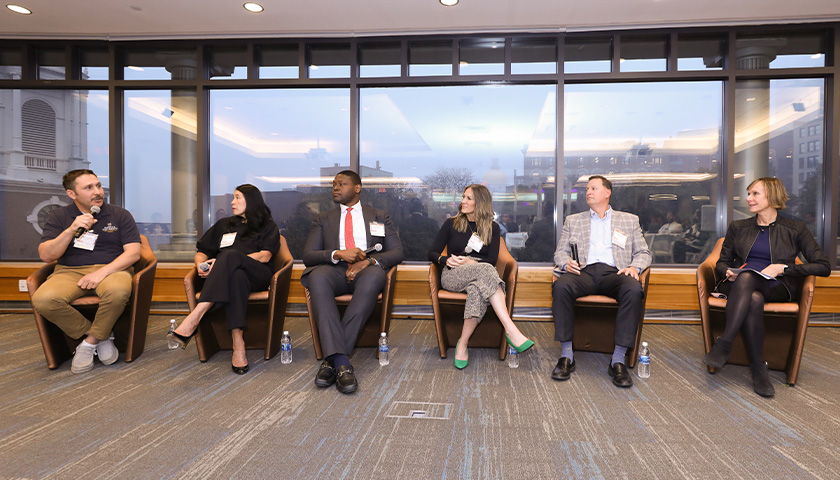 The Sawyer Business School and the Boston Business Journal cohosted an insightful event featuring a panel discussion "Business With Purpose: Beyond the Balance Sheet" that explored how social entrepreneurship can simultaneously drive both profits and impactful change. The panelists, who came from for-profit and nonprofit organizations, shared their ideas on how to move business initiatives impacting society forward and engaged in a robust question and answer session followed by networking.
Three takeaways from the panel:

Business can be a force for good.
In her welcome remarks, Dean Amy Zeng reminded attendees that the Sawyer Business School has been a force for good for decades. She referenced the School's strategic plan, which focuses on what she calls the Four P's: profit, people, policy, and planet. "We are integrating these elements into our teaching research and practice on a daily basis," she said. "Today's event is one example of our commitment to such a purpose."
Professor Chaim Letwin echoed the thought, saying "When I think about this generation of business school students, what's clear to me is they care. They think about doing good for the community. They think about doing good for society. They're not necessarily focused on just doing well for themselves."
There is an increasingly vital link between commerce and evolving community concerns.
Kelvin Moses is senior vice president of investments at Healthpeak Properties, an American real estate investment trust that invests in real estate related to the healthcare industry including senior housing, life science, and medical offices.

Moses readily admitted that, as a for-profit entity, his company has the stated goal of making money. But he acknowledged they can't live in a vacuum. "We can identify ways in which we can be positive if we focus on the voices that are not always heard, especially when we're engaging with the community," he said. "In the process of evaluating what's necessary for a neighborhood, we interact, we ask a lot of questions, we listen, and we incorporate."
Giving all stakeholders a place at the table is good business.
Betty Francisco is the CEO of Boston Impact Initiative, a nonprofit impact investing fund that tries to create more wealth and asset ownership in communities of color. She said that it's vital to ensure developers aren't the only ones who have a say when it comes to housing. "People need to have a voice in the decision-making over what happens to real estate. It's also important to help workers create wealth opportunities for themselves."
Tracy Porter, deputy general counsel at Healthpeak Properties agreed. "I think we all have a shared responsibility to create the world we want to live in," she said. "And the more we can have these conversations and make the connections across those partnerships, I think that's the way forward."
Contact
Greg Gatlin
Office of Public Affairs
617-573-8428
Ben Hall
Office of Public Affairs
617-573-8092