'MidSummer; Kinda?' Debuts at Suffolk
The Theatre Department brings a modern-day Shakespeare to the stage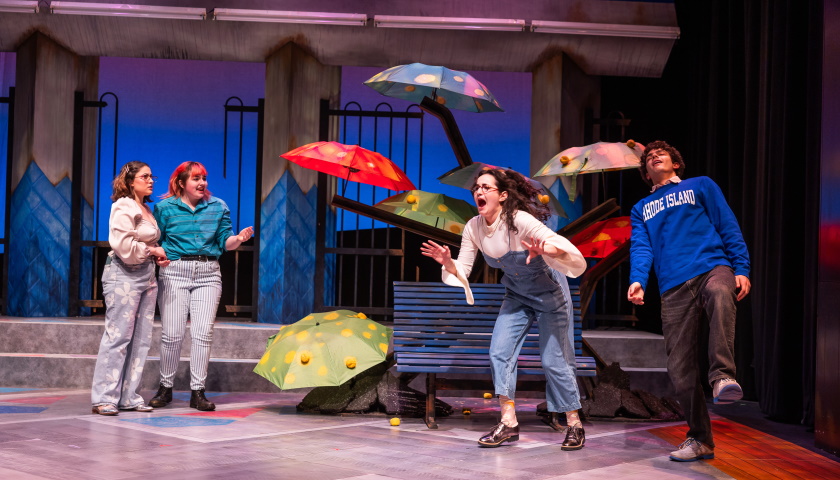 What happens when theater faculty and students put a contemporary spin on one of Shakespeare's most iconic comedies?
Suffolk's answer: MidSummer; Kinda?
Plans for modernizing the work began late last spring when visiting artist and professor of practice Pascale Florestal met with Suffolk students to discuss their fall show. "I was really interested in exploring A Midsummer Night's Dream using today's lens," says Florestal.
MidSummer; Kinda? is playing at the Modern Theatre November 16-19 with a cast of 21 student actors.
Set in a college theater department, the play now follows faculty members as they prepare for the inauguration of the new college president. The lovers and fairies from MidSummer are represented by different groups of students.
Helping keep the inauguration on task is the responsibility of theatre major Katharine Carvalho, Class of 2025. Carvalho portrays technical stage manager Parker, whose job it is to ensure the presidential ceremony goes smoothly. Carvalho has relished working on MidSummer, especially with Florestal.
"I really enjoy the way that she directs," she says. "She keeps it fast paced, but she's also really good at collaborating with everyone. If I have a suggestion or a question or anything I want to discuss with her, she is very present and open, even if it's not something that she necessarily agrees with."
Florestal is education director and an associate producer with Front Porch Arts Collective, a Black theater company committed to advancing racial equity in Boston. Newly appointed as visiting guest artist and professor of practice at Suffolk this fall, she is excited to make her department directorial debut.
"There's always this allure to Shakespeare… and I think the language is something that makes people really nervous or makes them really interested in tackling it. I'm really excited for us to embrace the themes of the story and tackle the things that might be kind of scary for us."
Pascale Florestal
Visiting Guest Artist and Professor of Practice
Almost like a 'rom com'
Rose Beardmore, Class of 2024, is a theatre and English literature major taking on dual assignments as the dramaturg and assistant director. She fell in love with Shakespeare during a semester abroad in London in 2022 and prior work as a Commonwealth Shakespeare Company (CSC) apprentice.
Beardmore describes her directing and performance style as "very melodramatic, some would say comedic, and ultimately youthful" and sees a lot of the same elements in Florestal's adaptation.
"It's almost like a 'rom com.' I think that the whimsy of MidSummer translates very effectively into this college environment where everyone's just kind of trying to fall in love and to experience life to its fullest. I could definitely see somebody sitting down in a movie theater and eating their popcorn to watch this version, but this is so much better than a movie theater because we get to see the actors live and in person."
Beardmore's research involved assembling and presenting a summary of Midsummer Night's Dream to the cast. She was able to draw parallels between the original characters and the ones in Florestal's adaptation while conducting research into the play's conventions.
She says working with Florestal is "absolutely incredible. She's a highly collaborative artist, so whenever there's a moment where she's kind of stepping back from the process, she's been very open to me stepping forward and taking a note here and there and applying it to the actors."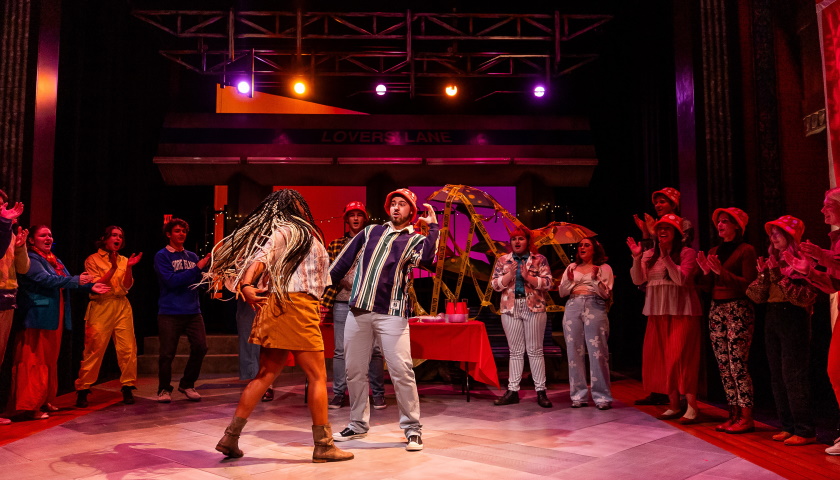 Unpacking Shakespeare
Carvalho adds that part of the contemporary twist is incorporating modern gender representation.
"There's a range of gender identities and sexual orientations that are discussed and represented and that was a big thing for Pascale and the whole production team and cast," says Carvalho. "When you think of classic works you think of a box that things have to get shoved into, and we're sort of unpacking that."
Beardmore agrees. "It's a highly accessible version of Shakespeare that honestly doesn't feel Shakespearean at all. And that is the whole point. It's not elite. It's just very humble and down to earth. It takes place at a college, but that's as classist as it gets."
The creative team for MidSummer; Kinda? includes Lighting Designer Amanda Fallon; Scenic Designer Ryan Bates; Costume Designer Chelsea Kerl; Sound Designer James Cannon; and Properties Designer Elektra T. Newman, BS '18.
About the production
The Suffolk Theatre Department production of MidSummer; Kinda? is an adapted work of William Shakespeare written and directed by Visiting Artist/Professor of Practice Pascale Florestal. The show runs November 16-19 at Suffolk's Modern Theatre, 525 Washington Street, Boston. For tickets, visit www.tinyurl.com/MidSummerSU.