Alexia's Suffolk Story
Suffolk University is filled with endless opportunities. If it wasn't for the Office of Student Leadership & Involvement, I do not know where I would be today.

Your first steps at Suffolk have you feeling like you are a small fish (a student) in a big sea (the city of Boston). However, that city is not that big once you become involved. In my first few months, I had trouble finding where I fit in at Suffolk. Then I started attending organization and club meetings to find my passions. I joined about 10 organizations over my four years here and am the founder of another four. YES, you can create organizations and meet students who have similar interests to yours!

For example, I created the Commuter Student Council. Seventy-five percent of Suffolk's student population [live around Boston]. We were able to hear from them and learn they wanted a space on campus to be able to relax throughout the day, heat and refrigerate their meals, store items daily, and—BEST of all—meet other off-campus students. Thanks to this information, I had the opportunity to create and design the Commuter Student Lounge.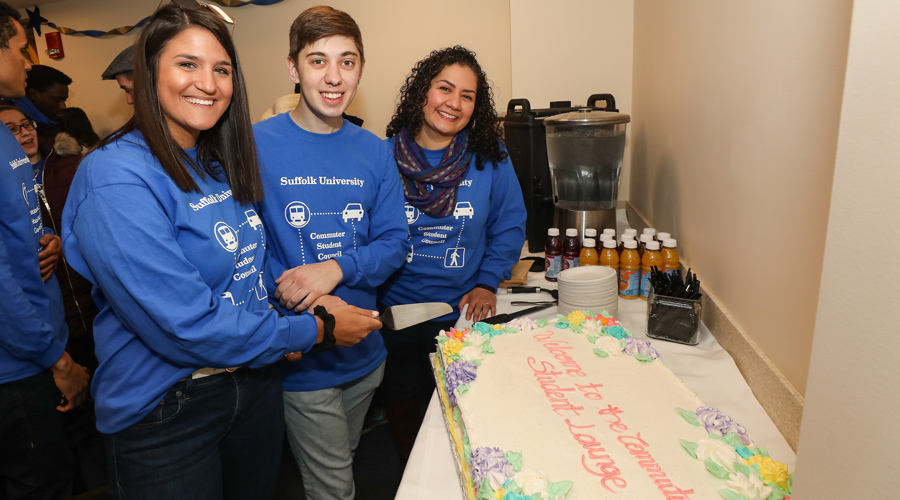 I also founded the Suffolk University Dance Marathon. I was able to find a passionate group of students to help me lead and create a 12-hour all-night event to fundraise for Boston Children's Hospital. Our first year, we raised nearly $10,000 for the kids!

My passion for these organizations even led to the opportunity to create my own major. Plus, I've been able to apply my out-of-class leadership experiences to real life and learn more about how I can make a change for someone—if not a lot of people—in the near future.

All I can say is, I am forever grateful to Suffolk for being so supportive and giving students the opportunity to learn more about their passions and how they can change the world.