Elliot Norton Acting Award Goes to Alumnus Nael Nacer
Alumnus Nael Nacer was honored with the 2015 Elliot Norton Award for Outstanding Actor, Midsize Theater, for his performance in Intimate Apparel at the Lyric Stage Company of Boston. The Boston Theater Critics Association also recognized a Suffolk production and an alumna in nominations for the 2015 awards.
Nacer, a 2007 graduate, appeared in two 2014 Norton-award-winning productions: The Seagull at the Huntington Theatre Company, which won the award for Outstanding Ensemble Acting, and Speakeasy Stage Company's Tribes, which won Outstanding Production by a Midsize Theatre.
In 2013 he was part of the Huntington Theatre Company's Our Town, which won for Outstanding Production by Large Resident Theater and was nominated for Outstanding Ensemble, Large Theater.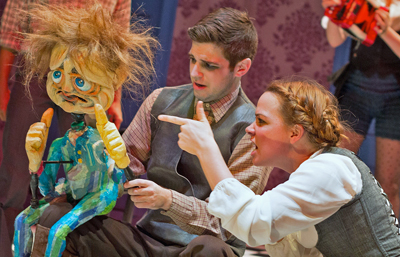 Shockheaded Peter, presented by the Suffolk University Theatre Department in collaboration with Company One, was nominated in three categories:
Outstanding Production by a Small Theater
Outstanding Musical Performance by an Actor—Walter Sickert
Outstanding Design, Midsize, Small or Fringe Theater—Scenic design by Michael Anania, lighting by Justin Paice, costumes by Miranda Giurleo, sound by Joel Simches, props by Brendan Conroy, masks and puppetry by Eric Bornstein
Alumna Lesley Anne Moreau was nominated for Outstanding Actress in a Small or Fringe Theater for her performance in Language of Angels, Happy Medium Theatre Company.
The Elliot Norton Awards, named for the eminent Boston theater critic Elliot Norton, are presented annually. The 2015 ceremony took place on May 11.