Boston Globe Editor Brian McGrory told Suffolk University Sawyer Business School graduates that setting lofty goals and attending to quality will be important in their lives and careers, but that "people with the highest character come out on top," and Suffolk is a school that instills character and values in its students.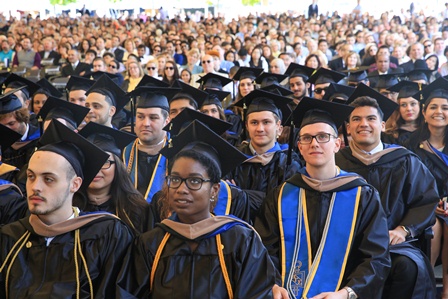 McGrory described his lifelong determination to become a newspaper reporter, a dream realized during the golden days of the industry, before it was rocked by changes brought on by the Internet.
With advertising having shifted from print to online platforms and readers refocused on free online news, McGrory the journalist became editor of the Globe and had to widen his focus to include business and management.
"We decided we're not a newspaper company; we're a journalism company," he said. "We fight tooth and nail every single day to put out a great product."
McGrory translated these observations about the Globe into lessons for the graduates:
"Don't stand still. If you're satisfied, if you don't think you're in any trouble in the business endeavors you enter in the coming years, you're dead wrong. Someone is gunning for you … with the kind of innovation that you probably can't predict yet."
"Quality matters."
Noting that his reporting has given him "a front-row seat on the workings of the human condition," McGrory said that "the people with the highest character come out on top. In business, character and strong values mean not cutting corners … being proud of your product … treating colleagues and employees well."
Growing up in the Boston area, McGrory has long been aware of Suffolk University, its mission and its graduates.
"With your Suffolk education, you are exquisitely prepared for what's next," he said. "To know Suffolk is to have a profound respect for what goes on here, to truly appreciate the character of the school and of its students. ...You have a running start on character and values because your school has instilled them into you."
McGrory gave the address as 946 undergraduate and advanced degrees were conferred at the Sawyer Business School's commencement exercises May 17 at the Blue Hills Bank Pavilion on the Boston waterfront.
McGrory has worked at the Globe for more than 25 years, serving as Metro editor and columnist, White House correspondent, associate editor, and national reporter. Under his leadership, The Boston Globe was awarded the Pulitzer Prize in the breaking-news category 2014 for its coverage of the Boston Marathon bombings. He received an honorary Doctor of Letters degree.
Student Statistics
Sawyer Business School bachelor's degrees: 552
Sawyer Business School advanced degrees: 394
Honorary degrees
The following honorary degrees were awarded during Sawyer Business School exercises:
McGrory, honorary Doctor of Letters degree
John F. Barros, chief of economic development for the City of Boston, honorary Doctor of Commerce degree
Paul Guzzi, president and CEO of the Greater Boston Chamber of Commerce, honorary Doctor of Commerce degree
Anthony Pangaro, principal of Millennium Partners–Boston, honorary Doctor of Commerce degree
College of Arts & Sciences commencement
Gov. Charlie Baker will speak at the Suffolk University College of Arts & Sciences commencement at 2:30 p.m. Sunday, May, 17, at the Blue Hills Bank Pavilion. Baker was sworn in as governor this past January. He has a history of public service dating back to the 1990s, during which he served in the Weld and Cellucci administrations, first as secretary of Health and Human Services and then as secretary of Administration and Finance. Later he led Harvard Pilgrim Health Care out of receivership as its chief executive officer. Baker will receive an honorary Doctor of Public Service degree.
Farm Aid Executive Director Carolyn Mugar also will address the graduates. She joined Farm Aid after its first concert fund-raiser in support of family farmers in 1985 and has long been an activist engaged with issues that include labor, the environment, literacy, toxics, and community empowerment. She also initiated a reforestation project in Armenia. Mugar will receive an honorary Doctor of Public Service degree.
Suffolk University Law School commencement
Massachusetts Supreme Judicial Court Associate Justice Robert J. Cordy and American Bar Association President-Elect Paulette Brown spoke at Suffolk University Law School commencement exercises May 16 at the Hynes Convention Center. Both were honored with honorary Doctor of Laws degrees. More
Brown is a labor and employment law partner and chief diversity officer with the Morristown, N.J., office of Locke Lord Edwards. Her service with the ABA includes chairing the Board of Governors Program Planning and Evaluation Committee. Brown has served on the Commission on Women in the Profession, was a co-author of "Visible Invisibility: Women of Color in Law Firms," and chaired the ABA Council on Racial and Ethnic Justice.
Cordy has served both in public service and private practice. He was a deputy commissioner of the Department of Revenue, associate general counsel in charge of enforcement at the State Ethics Commission, chief of the U.S. Attorney's Public Corruption Unit in Boston, and chief legal counsel to Massachusetts Governor William F. Weld.