A Marathon, Not a Sprint
After he lost his sight, running gave Brian Switzer the confidence to go back to school and fight for disability rights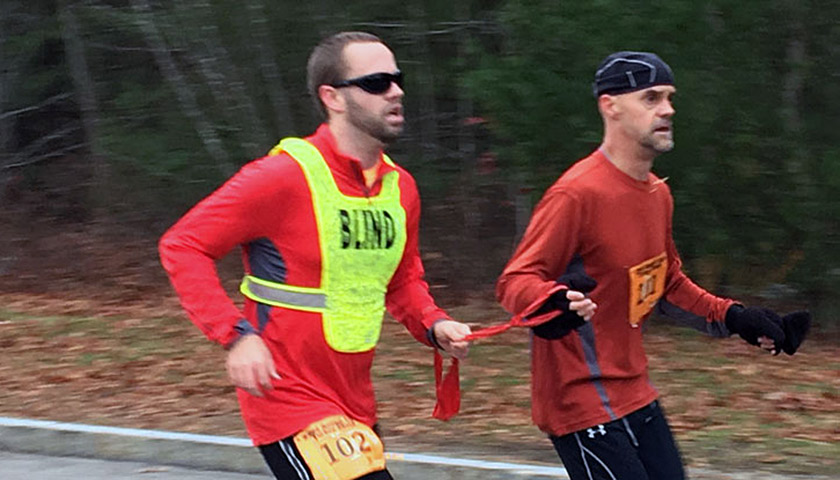 Before he could walk across the stage at Suffolk's commencement, or take his first steps toward a new career in disability advocacy, Brian Switzer first relearned how to run.
When Usher's Syndrome – a progressive condition that causes vision and hearing loss – took Switzer's sight in his early 20s it also ended his career as a high school math teacher. He couldn't see his students' raised hands or read their homework assignments. He felt frustrated and defeated.
Switzer moved home with his parents, unsure how to navigate life with total vision loss.
Finding a workaround
As a teenager, Switzer had run track, but he assumed that part of his life was over. Then his friend Marco suggested they try running with a guide rope between them.
Strange and frightening at first, Switzer put his trust in Marco's vision and directions. He focused on the changes in terrain and condition – from the crunch of dirt roads to the slickness of pavement and the feel of raindrops on his face as he kept pace with his guide. Soon he was hearing the sounds of cheering crowds as he ran his first races in almost a decade.
Switzer started to reimagine his life as a blind person as one with adaptations instead of limitations.
With his teaching career over, Switzer decided to go back to school and to pursue another academic interest: philosophy.
"I wanted to focus on disability rights with a public policy angle," he says. "I don't think society has a great idea of what disability is. We focus on limitations, not the full person, and miss out on the abilities."
Leveling the playing field
When Switzer enrolled in the ethics and public policy graduate program at Suffolk he faced many obstacles a person without vision loss might not realize. Just like running with Marco, Switzer sought out people and resources to help him find creative ways to achieve his goals.
Disability Services staff was there from the beginning, connecting Switzer with high-tech workarounds like screen-reading software for textbooks and syllabi – and practical information like where to walk his guide dog between classes.
"Professors and classmates went out of their way to help," says Switzer. "Security staff was great, too. They reached out on my first day and offered assistance navigating campus."
Switzer's network of support allowed him to excel at his studies, culminating with his graduate thesis this winter on "Justice for the Disabled," a thorough examination of the ways in which society has failed to establish equal conditions for disabled people.
Passing mile markers and milestones
In the past few years Switzer has run more than 10 marathons with various guides and his specially trained running guide dog, Intrigue. In 2016, he ran the Boston Marathon.
"Running Boston had been a lifetime dream, but after going blind I thought I had missed my chance," says Switzer. "Thanks to Marco, I decided to try. I had run the Equinox Marathon in Alaska, which requires you to run up a mountain and back down again. That was harder than Heartbreak Hill. Boston was an incredible experience."
Though he's accomplished many things in his 27 years – and continues to run, traveling to Genoa, Italy, in April for a half marathon – Switzer says his proudest moment will be graduating from Suffolk in May. He plans to pursue further study in the emerging discipline of disabilities and justice, seeking to level the playing field with proactive policies and adaptations that don't place further burdens on individuals with disabilities.
"It was a lot of work, but very personal. So far, the field of disabilities and justice has been led by able-bodied people. It's lacking a disabled voice. I can support my arguments with my own experience."