The Solemn Duty of Reporting on Tragedy
Alumnus Andrew Scheinthal describes the emotional toll of documenting horrific events
When news of the school shooting at Marjory Stoneman Douglas High School in Parkland, Florida, came over the scanners, Andrew Scheinthal and his colleagues at WSVN-Miami hoped for a false alarm.
That happens frequently in journalism—reporters rush to the scene only to find a non-event. Unfortunately, the reality in Parkland was the worst-case scenario, with 17 students and staff dead and many others wounded.
Scheinthal—a 2012 broadcast journalism graduate and former Suffolk in the City reporter—covers everything from hurricanes to political rallies. He won a regional Emmy award for his team's coverage of a shooting at the Fort Lauderdale Airport on his first day on the air in Miami. When tragedy strikes close to home, it takes a toll.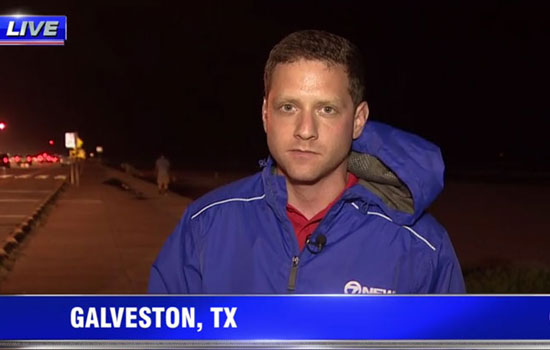 The scene this morning in #Parkland, where investigators are still trying to understand why a 19-year-old opened fire at #MarjoryStonemanDouglas , killing 17. @wsvn pic.twitter.com/oOGxE3F94g

— Andrew Scheinthal (@AScheinthalWSVN) February 15, 2018
"I had covered the Las Vegas shooting, but it was easier to feel slightly removed," says Scheinthal. "Parkland is twenty minutes from my house. I see the impact on our community every day."
The days that followed the Parkland shooting were grueling, physically and emotionally. Scheinthal and his fellow reporters kept going, talking to survivors and families.
"It's important to cover these events to inform the public, but also to document the history. We take our responsibility very seriously. No one enjoys interviewing families who've just lost their children, or students who've just lost their friends—but it's important to tell their stories."
"I think about Parkland every single day," he says. "Parkland in particular shows the importance of media and journalism. We're the ones fighting to make sure accurate information gets out there, and that any failures come to light."
One month later, another disaster hit Scheinthal's area when the Florida International University commuter bridge collapsed, killing six people. He was on the scene as information trickled out about the situation, reporting the breaking news while victims' names and conditions were still unknown.
Heartbreaking news out of Southwest Miami Dade. This is the scene where a pedestrian bridge collapsed at @FIU. Several vehicles are still trapped underneath. FHP says several people were killed. @wsvn pic.twitter.com/ZuBdMT0zTS

— Andrew Scheinthal (@AScheinthalWSVN) March 15, 2018
"When these types of events unfold, a lot of people look to us for information because the police are less accessible," he says. "We can't release any information until the police confirm it, and often we don't have information at all. It's not uncommon for us to be helping people in between our reports and connecting them with resources."
The news cycle moves quickly, but stories like Parkland and the FIU collapse stay with the reporters who cover them. Finding small bright spots amid the devastation helps Scheinthal cope:
"The kids we interviewed in the direct aftermath of the shooting now have a national platform. I'm so proud of them. Watching them become activists at such a young age is the silver lining to this tragedy."