Taking His Cues from the Pros
Theater major Rory Lambert-Wright is one of six chorus members described by the Boston Globe as "excellent and indispensable to the rapid-fire storytelling and scene-shifting" of Virginia Woolf's Orlando at the Lyric Stage Company.
Actor Rory Lambert-Wright has leapt from the Suffolk stage to a professional acting role in Virginia Woolf's Orlando at the Lyric Stage Company.
He is one of six chorus members described in a Boston Globe review as "excellent and indispensable to the rapid-fire storytelling and scene-shifting" of a play that transcends time, place, and gender.
The play, a collaborative effort between Suffolk's Theatre Department and the Lyric Stage Company of Boston, was adapted by Sarah Ruhl from Woolf's novel Orlando and follows a man who wakes up as a woman after a wild night in 17th century Constantinople and begins navigating the world from a different perspective.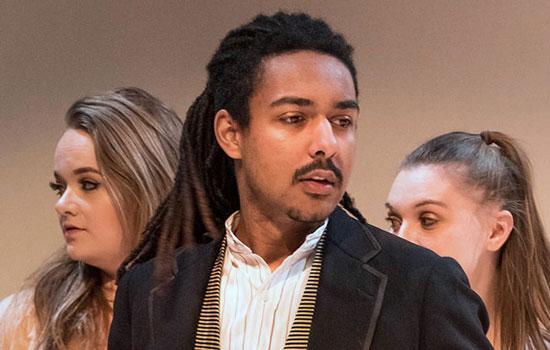 Learning from the pros
"As a chorus, we narrate, provide exposition, and work together to build the story," says Lambert-Wright, Class of 2019. "You always have to be engaged in what's going on, because it's not the responsibility of the chorus to play characters, but to communicate the story to the audience."
Lambert-Wright, who takes on the guises of a puppet show performer, a sea captain, and two women with whom Orlando had affairs, says: "I keep taking cues from other members of the cast. They are helping me to learn that the more attentive I am, the better I can perform in the show."
Lambert-Wright has appeared in Suffolk's presentations of Orlando—presented in spring 2017 at the Modern Theatre—Rent, and Margo Veil, and he has designed four campus productions. This has been his first opportunity to work with professional actors.
"It's a lot of fun and has given me the chance to develop contacts with people working in the field," he said. "I'm finding out that the industry is a business like anything else."
Wide-ranging exposure to theater arts
Lambert-Wright describes his three-year involvement with the Theatre Department as "incredibly immersive."
"I have been able to explore acting, design, stage management, and directing," he said. "Being a theater major has helped me to develop a better understanding of everything it takes to make a production."
Staging a 5-century story
The story of Orlando spans five centuries, which presented a challenge for lighting designer Steve McIntosh, who is also technical director for the Suffolk Theatre Department. He worked closely with set designer Richard Chambers, a Suffolk professor, and the costume designer to make certain everything meshed well.
"We use about 250 cues and around 120 lights in the show," said McIntosh. "Everything you see from the moment you walk into the theater is a decision that I have to make. "If I've done my job well, people don't notice what I've done at all. What I do should support the story, not be the story."
Suffolk production roles
McIntosh applauded the efforts of Amanda Hackney, Class of 2020, who worked as an assistant lighting designer on the play.
"It helped her make connections with other professionals and learn the difference between working in a professional setting compared to an educational experience," he said.
Orlando director A. Nora Long, formerly of Suffolk's Theatre Department and now associate artistic director of the Lyric Stage Company, had directed the Theatre Department's production of the play last spring. This connection brought about a partnership with the Lyric Stage Company that integrates Suffolk students, faculty, and alumni in the current production.
In addition to Lambert-Wright, McIntosh, Hackney, and Chambers, production members from Suffolk working on Orlando include:
Sara Kerr, Class of 2019, assistant dramaturge
Elektra Newman, Class of 2018, assistant set designer
Erica Lundin, Class of 2017, assistant director
Lauren Burke Class of 2017, assistant stage manager
"What a wonderful opportunity for our entire community," said Professor Marilyn Plotkins, chair of the Theatre Department. "We're extremely proud of everyone who contributed to this important and timely production."